How Many Calories In A Chipotle Burrito? NY Times Finds Average Order Contains 1,070 Calories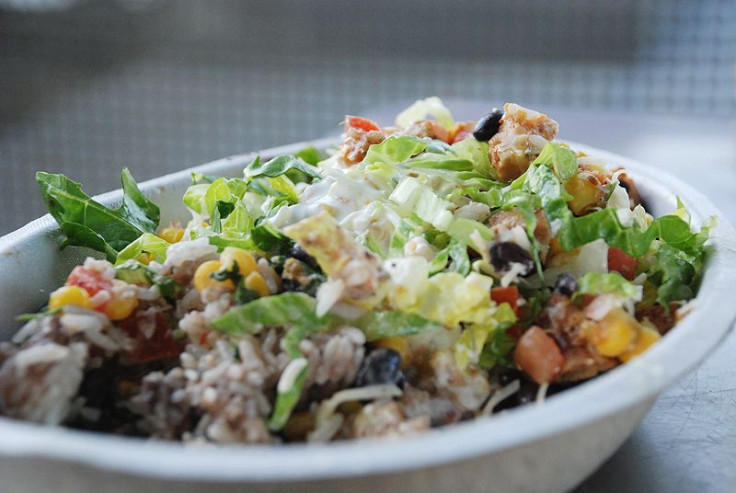 With over 1,600 stores throughout the United States, Chipotle has become one of the defining chain restaurants in a category known as "fast-casual" dining. We've all been there at least once; you wait on that long line, choose between a burrito, burrito bowl, or tacos, and then customize everything else that goes into it. The end result can either be a light three tacos with meat; some salsa and a bit of sour cream; or a behemoth burrito bowl stacked with rice, beans, veggies, steak; three kinds of salsa, cheese, sour cream, and lettuce. Oh, and don't forget the guac — that's going to cost extra.
If you've ever wondered how many calories go into your order — because it's hard to tell with only a caloric range listed — The New York Times is on it. In a report published on Tuesday, the newspaper found the average order has about 1,070 calories, which is over half of the Food and Drug Administration's (FDA) daily recommended caloric intake. In fact, The Times found 90 percent of the meals in its data set, which included 3,000 meals in about 1,800 GrubHub orders, were over 625 calories, or about one-third of the daily recommended calories.
What's going into these burritos that makes the caloric content so high? It really all came down to how many things people added onto their orders. The tortilla wrapping alone clocks in at 300 calories, which is why Chris Arnold, communications director for Chipotle, told The Times it's good to go with a burrito bowl. But limiting portions and ingredients is important, too. Cheese, sour cream, and guacamole all raise caloric content, but if you really want those, then you might have to sacrifice the rice or beans. Also, let's not forget about sodium and saturated fat content, both of which are abundant in Chipotle's food.
To see a more detailed breakdown of calories and other nutrients, and to measure up your order, check out The Times's report.
Published by Medicaldaily.com