How To Prepare For Take Your Dog To Work Day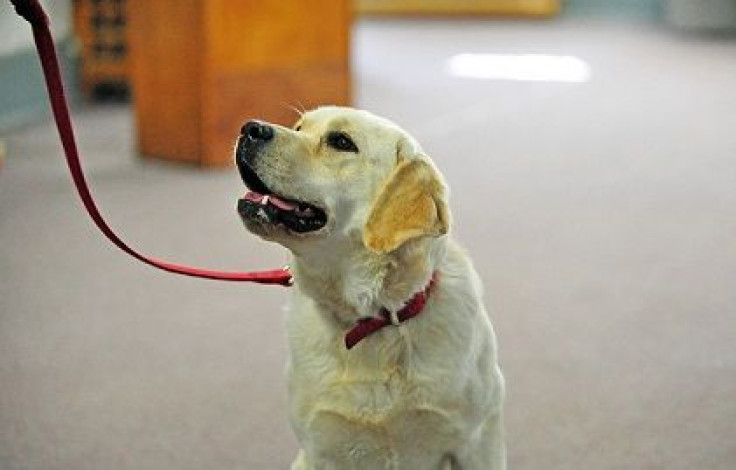 If you've been longing to bring your dog to the office, consider asking your boss to celebrate Take Your Dog to Work Day (TYDTWDay) this Friday, June 21st.
Participating companies can celebrate canine companionship, promote pet adoptions, and possibly extend the festivities for the entire week of June 17-21, designated as — you guessed it — Take Your Pet To Work Week.
Since its launch in 1999 by Pet Sitters International (PSI), the annual TYDTWDay continues to celebrate the human-canine bond and encourages pet adoption from humane societies and animal shelters. Employers are encouraged to make room for furry, four-legged friends on this day and to help raise awareness for homeless dogs. The site even offers tips to sway your boss or HR department to plan a company event.
But if your boss still isn't convinced, a recent statement published by the American Heart Association (AHA) revealed that pets, particularly dogs, may protect their owners from heart disease.
According to the AHA statement, in a study of more than 5,200 adults, dog owners were shown to engage in more walking and physical activity than non-dog owners, and were 54 percent more likely to get the recommended level of physical activity.
"In essence, data suggest that there probably is an association between pet ownership and decreased cardiovascular risk," said Glenn N. Levine, M.D., professor at Baylor College of Medicine in Houston, Texas, and chair of the committee that wrote the statement after reviewing previous studies of the influence of pets.
"What's less clear is whether the act of adopting or acquiring a pet could lead to a reduction in cardiovascular risk in those with pre-existing disease."
Levine doesn't recommend that we all rush out and buy a pet with the sole purpose of reducing cardiovascular risk. Further research is still needed to better understand the link between dog ownership and reduced risk of heart disease. But numerous studies show the positive health benefits of dog ownership.
How to Show Your Support
Discuss
Boast of the benefits if your company participates. Tempt your boss with this tidbit: 55 million Americans believe that having a pet in the workplace leads to a more creative environment.
Or this one: 38 million people find that the work environment is more productive if a pet is present.
Mention some reading material to get your boss on board. Like From Wags to Riches: How Dogs Teach Us to Succeed in Business & Life by Robert Vetere, president of American Pet Products Association, a compilation of insights and observations from CEOs who learned valuable lessons from their dogs.
Download the TYDTWD Action Pack to get started and show your support.
Sponsor
Promote adoption through rescue. Ask representatives to visit your office with adoptable pets, or to bring information about their organization to distribute to staff.
Contact your local humane society. Every county has a chapter of the National Humane Society — you can search for a location near your office.
Educate your staff about the benefits of dog ownership and rescue by providing them with educational materials.
Advertise
Send emails and memos describing why your company plans to celebrate TYDTWDay.
Post flyers alerting staff as to how they can support the cause.
Sure, it's a fun day, but consider rules and regulations regarding dogs in the office. Remind pet owners to come prepared with dog food, bowls, treats, toys, and — maybe most important of all — a pooper scooper and baggies in case of accidents.
Promote
Find fun ways to celebrate. Invite a photographer to take pet photos. Hold a cutest dog contest or arrange a doggie relay.
Set up an area in your office to accommodate your sponsor organization. This way, they can have a reserved space to provide information and keep animals on-site for adoption.
Invite additional animal professionals, like a local vet or dog trainer, who can provide educational or canine health information.
Learn more about getting involved.
Published by Medicaldaily.com