The Pandemic Won't Even Leave Santa Alone
For parents of children who Still Believe, don't be surprised if the reality of Covid-19 prompts questions, concerns, tears. Will he be safe? Will he still be able to travel if people are supposed to stay home?
Most of these don't have answers, and some children may end up asking the ultimate question, "Does Santa exist?"
So, should parents keep alive the myth of Old Saint Nick?
Who's Benefiting?
Parents need to ask themselves if perpetuating the myth benefits them more, said Yesenia Marroquin, PhD. There is comfort in traditions, and when children lose Santa they also leave behind a phase of childhood. 2020 has been difficult and scary for many people, and parents may want to hold onto tradition and childhood a little longer. But, if Santa is more about the parents than the kids, "then that may not be as helpful," explained Dr. Marroquin. Dr. Marroquin is a clinical psychologist at the Children's Hospital of Philadelphia.
If children are already figuring out the Santa myth for themselves, they may be skeptical. The Santa myth is getting more elaborate this year, explaining not only how he can deliver presents to all children, but also how he can avoid Covid-19, or work around travel restrictions. Added layers of white lies may strain credulity for children who are already questioning Santa. But, others might take comfort in the familiar story being updated to include Covid-19. Dr. Marroquin explained that parents or caregivers likely know what's best because all kids will react differently.
Losing Santa can be painful. "I've had situations in my profession where I've had parents come crying to me because someone in a kid's class told them that there's no Santa," said Scott Roth, PsyD, "In my experience, this year people have been adding to the lie, they've been crafting stories around the stories." Dr. Roth is a psychologist in New Jersey. Dr. Roth added another reason to keep Santa alive: peer pressure. If all the children in a child's class believe in Santa, then parents might feel pressure to keep Santa alive in their house too. Conversely, if all a kid's friends have moved on, parents might feel the need to tell their child, so they aren't left out.
For many families, the decision of what to do about Santa might be made for them. Much of America appears to be moving ahead with Santa this Covid-19 Christmas. Google and NORAD are both "tracking Santa." The Jolly Elf has made numerous appearances, and NPR reported earlier this month on Santa using technology or plexiglass shields to ask kids what they want for Christmas. So, regardless of what an individual family does, there seems to be a desire to keep Santa in Christmas this year.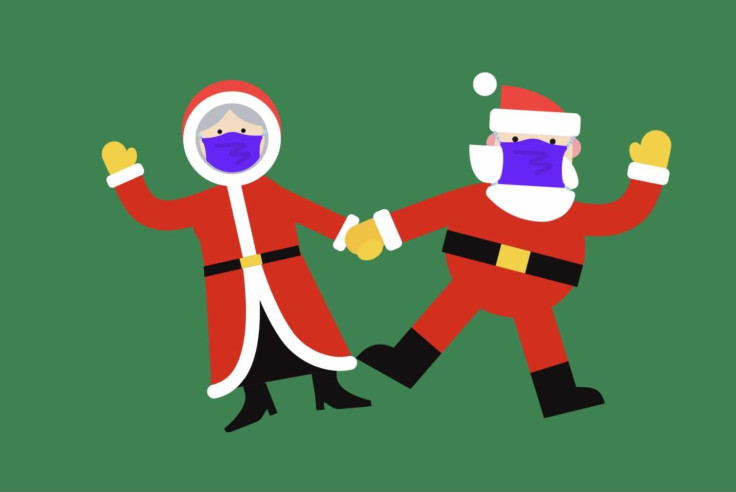 Even without Covid-19, some children stop believing in Santa every year. Dr. Marroquin said that the transition away from Santa is natural and normal, and likely something kids will initiate themselves. "So at around six to nine years of age...they start to think 'I don't know if Santa can fly that fast to go around the world," she gave as an example.
Although it may be painful for parents, it is actually a good thing. As children put the pieces together and use their burgeoning critical thinking skills, Santa may become less and less plausible. "I think that as a parent or caregiver, there will be some sense of loss of possible innocence," Dr. Marroquin explained, but she said it is also encouraging because it means "...we're doing the job that we are supposed to do as parents or caregivers,'" she said. But it isn't just critical thinking skills; learning about Santa can be a first step to adolescence. "I think it also breaks this myth that our parents are pure," Dr. Roth said, describing it as "...an entree into this world where we start questioning our parents as purveyors of truth and good."
Just as a first Christmas or first picture with Santa can be a milestone in a young child's life, learning there is no Santa is a milestone of a different kind that just shows she is growing up.
Keeping the dream alive
For families that are still #TeamSanta, they can adjust the Kris Kringle myth to the reality of 2020. "Something that may be helpful is tying Santa into what the CDC recommendations are," said Dr. Marroquin. She suggested talking about leaving hand sanitizer for Santa, or a prepackaged treat instead of homemade cookies -- this way, letting kids adjust their typical Christmas traditions to accommodate the facts of the pandemic. Families should get creative, provided "the child is at that place where they are continuing to be invested in the concept of Santa," Dr. Marroquin explained. This goes back to the idea of 'who is this for,' and that families know best. Even for families with older children, putting out "cookies for Santa" might feel like a nice way to add some holiday spirit. There is no wrong answer.
Getting creative will also help in how to celebrate Christmas, with or without Santa. Dr. Roth said his family is keeping their "elf on the shelf" in a glass jar for his mandatory 14-day quarantine. For families who won't be celebrating together, working out how to do virtual Christmas parties or Covid-19-safe cookie exchanges takes that same out-of-the box spark.
Setting the rules
Of course, Santa isn't just about spreading joy and cheer -- some parents use the Big Guy to control behavior. Dr. Roth said some parents use Santa as a pitch hitter for themselves to ask the proverbial "have you been naughty or nice?" Pitch hitting may not be the best idea. Dr. Marroquin advised parents to keep Santa out of good behavior. She suggested keeping the magic and the tradition separate and having year-round standards for how kids should act "and then allowing kids to face the reasonable consequences if they're not following through."
Her suggestions are borne out by research: a 2016 study in the British Medical Journal on hospital visits by Santa found that his visit had no influence on behavior, crime, or school attendance, but that behavior was instead strongly linked to how affluent an area was. Although there is limited research, it isn't clear that the threat of coal does anything to influence children's behavior. "I haven't seen any peer-reviewed literature that looks at kids' behavior in non-believing households, or Jewish households or Muslim households or atheist households, versus people who believe in Santa," said Dr. Roth.
Mixed Messaging
In all of this Santa talk, is there any risk it will dilute the Covid-19 message? After all, grandparents are also often older, live far away, and bring presents on Christmas. How can Santa be safe while they're in danger? "The only other thing about Santa is that he's supernatural-ish," said Dr. Roth, "You can build on the myth that way," he said. For instance, Dr. Roth suggested reminding kids that "grandma and grandpa aren't using reindeer" to travel about.
Kids who are invested in Santa should be encouraged to keep believing; Dr. Marroquin said there's nothing wrong with using the magic of Santa to answer some of the tougher questions about how the old elf is staying safe this year. Even scientists are doing it. Anthony Fauci, MD, told USA today, "Santa is exempt from this because Santa, of all the good qualities, has a lot of good innate immunity."
We all need the magic of the holidays
It wasn't just Dr. Fauci hopping on the Santa train, or, more accurately, the Santa sleigh. A recent paper published in The Australia and New Zealand Journal of Public Health seriously investigated how Santa could operate safely. "Following our public health guidelines we conclude that COVID‐Safe Santa will be a super‐spreader of good will and joy to all in 2020. And heaven knows 2020 needs it!" they wrote, ending their paper with a request that he bring them a "safe and effective vaccine by Christmas."
Considering recent vaccine news, maybe there is a Santa Claus. (Just saying.)
"I do think that there is power, in tradition, and there's comfort in tradition," said Dr. Roth, "And what we can do to preserve tradition helps us cope with some of the other awfulness that's going on."
Published by Medicaldaily.com