HPV Vaccine Beliefs Don't Lead To Risky Sexual Behavior In Teens, Dispelling Prevention Controversy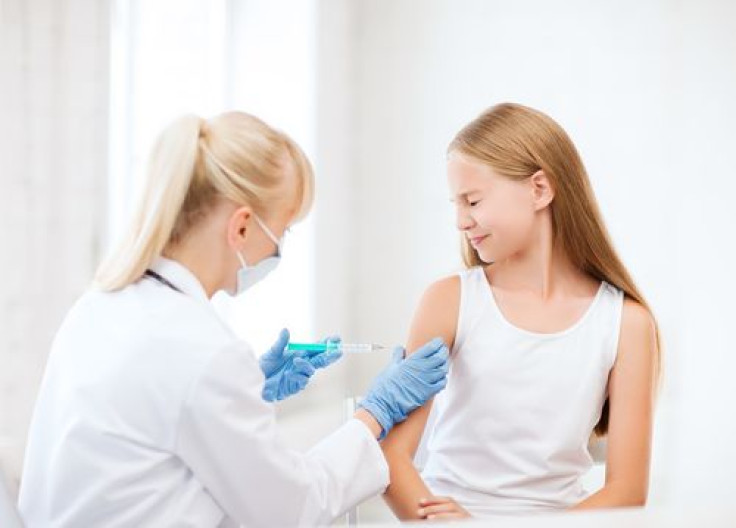 Despite many parents' fear that acknowledging their daughters' sexuality may cause her to make riskier decisions when it comes to sex, a new study suggests that one concession in particular — getting young teen girls vaccinated for HPV (human papillomavirus) — produces far safer outcomes than ignoring it.
A common misconception in parenting is that exposing children to a specific subject necessarily makes that thing more desirable, especially if parents forbid it. Sex is one of those things. Yet despite the fact HPV is far and away the leading cause of cervical cancer worldwide, and that nearly all sexually active adults will contract the virus at some point in their lives, many parents refuse to get their children vaccinated. According to the Centers for Disease Control and Prevention, all boys and girls aged 11 or 12 should receive the vaccine.
Researchers from Cincinnati Children's Hospital Medical Center now show that such parent fear may be baseless, as a survey of more than 300 girls and women, both sexually experienced and not, showed that vaccination did not result in greater sexual risk-taking two and six months after vaccination. Girls and women aged 13 to 21 didn't begin having more sex or more unsafe sex, nor did they think protection was less important after getting the vaccine. Most did not believe the vaccination protected against other STIs.
"We hope this study reassures parents, and thus improves HPV vaccination rates," Dr. Jessica Kahn, study author and physician in the division of adolescent medicine at Cincinnati Children's said in a statement. This "in turn will reduce rates of cervical and other cancers that can result from HPV infection."
Kahn and her colleagues administered surveys to 339 subjects, who responded to questions on HPV awareness, risks, attitudes toward the vaccine, beliefs about the need for safer sexual practices after vaccination, and knowledge about how to practice safe sex (for those experienced) and beliefs about initiation (for those inexperienced).
The vast majority of respondents agreed HPV vaccination didn't eliminate the need to practice safe sex. It also didn't give the majority of subjects the impression they were now more protected against other sexually transmitted diseases. Indeed, this heartened Kahn and her colleagues, as it now arms medical personnel with more data to back up their recommendations to families.
Most people who contract HPV never develop symptoms or worrisome health issues, and roughly 90 percent of cases disappear on their own within two years. But for those whose infections worsen to include other conditions and diseases, such as genital warts or cancer, generally if a physician catches the infection's spread early the new condition can be treated. There is no direct treatment for HPV itself. The best form of prevention remains vaccination. For people who did not receive the vaccine when they were younger, the CDC recommends vaccination through age 26 for women and through age 21 for men.
Based on the current research, much work remains for people like Kahn and her team. HPV vaccines are most effective when patients receive all three doses over a six-month period, though not all patients receive all three. According to CDC data, while rates did increase between 2010 and 2012, the gains were small — 48.7 to 53.8 percent for one dose and 32 to 33.4 percent for all three — something Kahn hopes physicians can begin to change through direct contact with patients.
"Data demonstrating that HPV vaccination does not lead to riskier behaviors will allow clinicians to provide accurate, evidence-based information to address the concerns of parents and thereby increase vaccination rates," Kahn said.
Source: Mayhew A, Kowalczyk Mullins T, Ding L. Risk Perceptions and Subsequent Sexual Behaviors After HPV Vaccination in Adolescents. Pediatrics. 2014.
Published by Medicaldaily.com