HPV Vaccine Significantly Lowers Infection Rate Among Teen Girls, Uptake Still Slow In Some Communities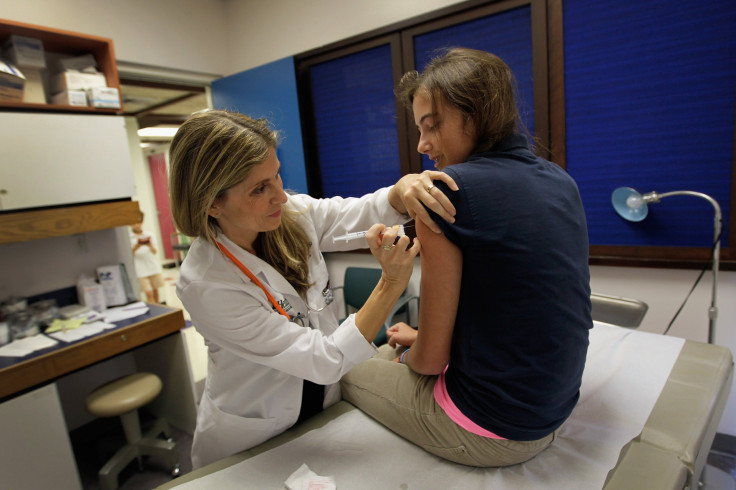 The Centers for Disease Control and Prevention (CDC) since 2006 has recommended the human papillomavirus (HPV) vaccination for young girls and boys aged 11 to 12 — and since then, a new study reveals there's been a 64-percent decrease in HPV prevalence among teen girls. There's also been a 34-percent decrease among young women aged 20 to 24.
The study, published Monday in the journal Pediatrics, cited previous studies have found declines in HPV prevalence and genital warts among teen girls living in the United States since the HPV vaccination program was introduced. But, the latest findings "extend previous observations of quadrivalent HPV vaccine impact and examine cross-protection." The quadrivalent vaccine, also referred to as 4vHPV, targets HPV-6, -11, -16-, and -18. These numbers represent particular HPV strains, of which there are over 100 different types.
Study authors analyzed data from the National Health and Nutrition Examination Survey (NHANES), including demographic information, sexual history, and self-collected vaginal samples. Overall, at least one HPV vaccine dose was reported by 51.4 percent of females aged 14 to 19; 32.6 percent aged 20 to 24; 14 percent aged 25 to 29; and 3.3 percent aged 30 to 34.
Compared with "the prevaccine era," study authors found 4vHPV type prevalence was significantly lower overall in the vaccine era — 18.6 percent versus 10.8 percent; and among those vaccinated; 18.6 percent versus 2.1 percent. The greatest decline in 4vHPV type, though, was among teen girls. This age group reported the highest vaccine coverage, which includes at least one vaccine dose between 2009 and 2012.
Study authors also found "high vaccine effectiveness" for prevention of 4vHPV types within the vaccine era at 89 percent.
"The vaccine is more effective than we thought," said Debbie Saslow, a public health expert in HPV vaccination and cervical cancer at the American Cancer Society, according to The New York Times. "As vaccinated teenagers become sexually active, they are not spreading the virus, so they also protect the people who haven't been vaccinated."
While vaccine coverage was seen as higher than in the first four years of the vaccine era in the U.S., coverage is still low — and it may be lower across different countries and communities. For example, in England and Scotland, where the bivalent HPV vaccine was introduced, decreases were observed in HPV-16, -18, as well as related types, the authors wrote. In Australia, where 4vHPV was introduced, HPV-6, -11,-16 and 18, prevalent among women aged 18 to 24, decreased from 37.6 percent to 6.5 percent. In 2013, a national survey found that 57 percent of 13- to 17-year old girls had received at least one dose, and 38 percent had received three to five doses of the vaccine.
A separate study from the American Association for Cancer Research (AACR) also recently reported teen girls living in high-poverty communities and majority Hispanic communities in the U.S. are more likely to have received at least one dose of HPV vaccine than those living in low-poverty communities and communities of other racial and ethnic compositions.
Dr. Kevin A. Henry, an assistant professor in the department of geography and urban studies at Temple University in Philadelphia, led the AACR study and stated "the most important geographic factor affecting HPV vaccine initiation was the racial and ethnic composition of the community." Henry and colleagues found the highest HPV vaccine rate was among girls living in communities where the majority of the population was Hispanic (69 percent), and the lowest rates were among girls living in majority non-Hispanic white (50 percent) and non-Hispanic black communities (54 percent). These rates, however, were dependent upon the racial composition of the community in which the girls lived.
"The higher HPV vaccination rates among girls living in poor communities and majority Hispanic communities, which also tend to have high poverty rates, are encouraging because these communities often have higher cervical cancer rates, but continued cervical cancer screening of vaccinated and unvaccinated women is needed because the vaccine does not cover all cancer-causing HPV types and sexually active women could have been infected prior to vaccination," Henry said.
It's worth noting, too, HPV affects women and men differently, hence the CDC's recommendation both young girls and boys get vaccinated. Tech Times recently reported men have twice the risk of getting HPV-related cancers compared with women, with middle-age white men in particular at high risk of developing diseases compared to other racial and ethnic groups. The HPV-16 strain infection is associated with "nearly two of three of these oral cancers in the U.S. and in many other western nations."
Per the Times, study authors plan to include young boys in future studies.
Lead study author Dr. Lauri E. Markowitz, a medical epidemiologist at the National Center for Immunizations and Respiratory Diseases, a division of the CDC, said stronger provider recommendations are important for increasing vaccination coverage. Perhaps the latest study will help spread this idea and uptake will pace at a more desirable rate.
Source: Markowitz LE, Liu G, Hariri S, et al. Prevalence of HPV After Introduction of the Vaccination Program in the United States. Pediatrics. 2016.
Published by Medicaldaily.com