HS Football Deaths Re-Open TBI Controversy: How Can Kids Play The Sport More Safely?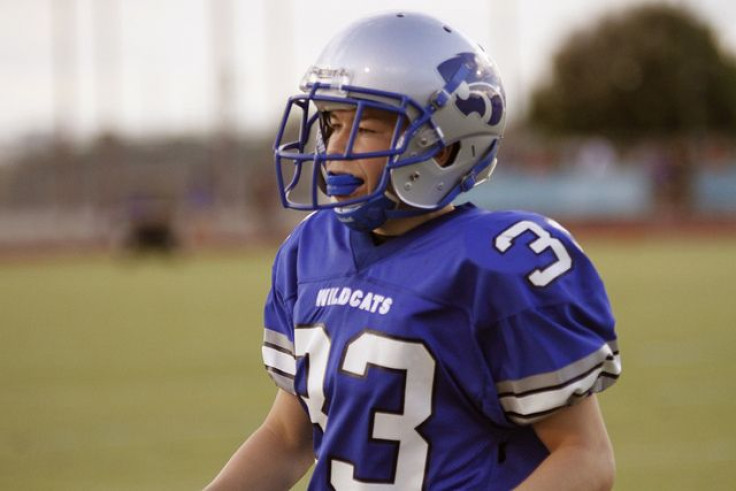 In the last week alone, three high school football players across the country have died as a result of on-field injuries — rehashing a debate that first began in the mid-2000s and tends to cycle through periods of dormancy and revival with the beginning of each season.
The National Football League has been wrestling with the issue of traumatic brain injury (TBI) since 2002, when neurologists first discovered traces of the brain disease known as chronic traumatic encephalopathy, or CTE. Players were spending a decade on the gridiron, hurling themselves at each other, and all the while turning their brains to applesauce. In a recent examination of 79 deceased athletes, CTE was found in 76 of them.
The latest news of deceased high school athletes suggests the debate isn't confined to the professional level. It's on the local peewee fields that kids learn how to tackle — or more accurately, how not to tackle. They learn that tackling with your head may lead to injury, but they quickly find out it also makes for bigger, more show-stopping hits. When the threat of injury is negligible, tackling with anything that's less than what you've got starts to seem like a waste.
There is some good news. According to data from the National Center for Catastrophic Sport Injury Research, in 2013 there were only eight direct fatalities and nine indirect fatalities because of high school football. But while we're a far cry from the 26 direct fatalities of 1968, indirect fatalities are making something of a comeback. Smarter football helmets and pads are keeping players safe in-game, but things like preexisting conditions and heat-related illness are still in their heyday.
Charles Henderson High football player Demario Harris died of a suspected brain hemorrhage on Sunday, Sept. 28 after collapsing on-field during a game the previous Friday. Neurologists told the family the injury was unrelated to football, though an autopsy is still pending. A North Carolina player, Isaiah Langston, collapsed during pregame warmups on the same Friday. And Tom Cutinella, who played for Shoreham-Wading River High School on Long Island, died Wednesday Oct. 1 after colliding with another player in a game earlier that day.
Scientists aren't sure what to make of this data. Equipment is safer than it's ever been, but no amount of carbon fiber and moisture-wicking material can stop a coach from running two-a-days in August. The problem is compounded by a sheer lack of resources. Science has no way of checking for players' risk of injury given their preexisting conditions.
"Those kind[s] of injuries are very rare, they're catastrophic, they will happen, and there's no real way of preventing them through equipment," Dr. Jeffry Kutcher, director of the University of Michigan NeuroSport concussion program, said in an interview with The New York Times. "That's going to happen any time there are impacts to the head of significant force."
The same rules that have always applied still do. Kids and professional athletes alike must learn to tackle without leading with their heads. Even the Centers for Disease Control and Prevention have developed a program, the Heads Up initiative, designed to get kids, parents, and coaches aware of the risks posed by headfirst tackling.
Maybe youth sports organizations can do a better job using the information than the NFL has so far. In July, a federal judge approved a landmark settlement in an ongoing concussion lawsuit that granted more than 4,500 retired athletes compensation for the head injuries they suffered while under contract with the league.
In the lawsuit, the players argue they were not made aware of the specific health risks, which makes you wonder: Which sport did they think they were playing?
Published by Medicaldaily.com