'Hydration Station' Spa Cures Hangovers With IV Drip: Clinic Provides B12, Oxygen, And Fluids For Party Crowd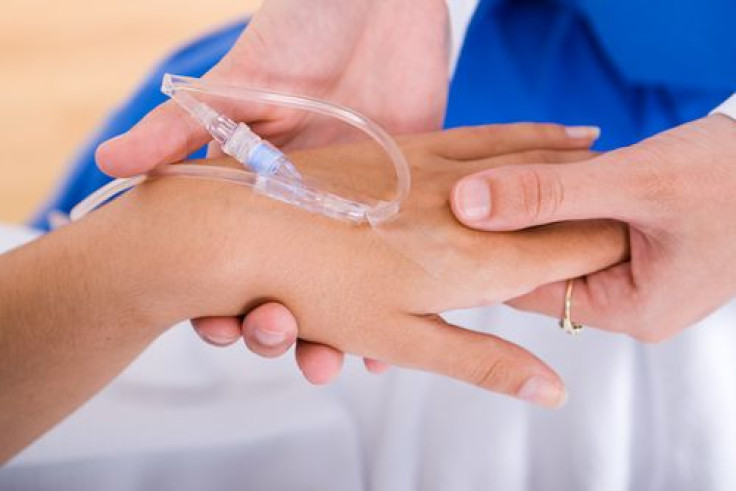 The cure to the flu, muscle soreness, or the infamous Friday-Saturday night hangover all lie within the confines of an Atlanta spa: Hydration Station.
The clinic, described as a cross between a spa and a doctor's office, located on the top floor of the Shops of Buckhead strip mall, caters to a diverse client with one purpose: to rehydrate their bodies. The procedures offered by the clinic are done by licensed medical professionals in a clean, soothing environment to treat the effects of various illness and hangovers, according to Hydration Station's website.
"People come in, they want to share stories about the last marathon they were in, or if they are here for a little over-indulgence, they like to talk about their night out," said CEO Keith McDermott to Business Insider.
Previously, McDermott assumed his clients would prefer private rooms when he designed the office, but he soon realized "it has become the exact opposite."
The treatments have become more of a social thing where clients are seated in cushy seats, have an intravenous line into their veins that releases a combination of sterile saltwater, vitamins, and anti-nausea drugs, all while playing with Hydration Station's selection of tablets or just simply watching TV.
Typically, the spa's treatments range in price from $29 to $99 and can include any of the following: two liters of hydration fluid, oxygen, a Vitamin B12 shot, multivitamins, and medications to combat nausea and inflammation, Atlanta Magazine reports. The place also offers $39 monthly memberships for regulars.
The most popular package at the spa is the $29 "Baptism," which includes one IV bag and 15 minutes of oxygen. One IV bag is equal to drinking more than two gallons of water. "Baptism" and other treatments usually last up to 45 minutes and are done by paramedics that work for the spa part-time. At the Buckhead location, the company has eight to 10 paramedics on a rotating basis.
Athlete and owner of the gym CrossFit Tucker, Luke Davis, has visited the clinic at least 10 times since it has opened, he shared with Business Insider. Davis usually gets the $99 "Niagra Falls" package, recommended for those who are in "deathbed territory," for training purposes. The package includes up to two liters of hydration (or two IV bags), a choice of either Zofran (anti-nausea), Toradol (anti-inflammatory) or Pepcid (anti-heartburn), 30 minutes of oxygen, vitamin B12, and an oral antioxidant and multi-vitamins to go.
"It really helps with recovery after a really strenuous workout," Davis said. "We can recover so much faster and can train again the next day."
Hydration Station isn't the first to pioneer the idea of an IV cure for hangovers. McDermott admits a Google search told him about the similar service provided in Las Vegas that operates from a tour bus called Hangover Heaven. The bus services provide an IV drip that contains electrolytes and other solutions to cure dehydration, the anti-nausea drug ondansetron, and the anti-inflammatory drug ketorolac, lasting about 45 minutes. The rise in popularity of IV treatments to cure hangovers could lead to more similar practices opening across the nation putting into question if it's safe.
"All of these medication are used quite frequently and their safety profile is excellent," Dr. Robert Shesser, chairman of George Washington University's Department of Emergency Medicine, told Business Insider. The concept of hydrating someone who is intoxicated is also a standard procedure he believes although the scientific argument behind it isn't "strong." A typical hangover doesn't warrant the necessity of an IV drip.
The Mayo Clinic says unpleasant signs and symptoms of a hangover, such as fatigue, thirst, headaches, and nausea are commonly due to the body feeling dehydrated. Alcohol causes the body to produce more urine which leads to a lack of hydrating fluids in the body and therefore leads to thirst, dizziness, and lightheadedness. The simple cure for a hangover lies in staying hydrated, eating bland foods, taking a pain reliever and getting rest.
To learn about home remedies for hangover cures, click here.
Published by Medicaldaily.com