Hydrocephalus Shunt Surgery Treats Baby Roona Begum's Swollen Head [PHOTOS]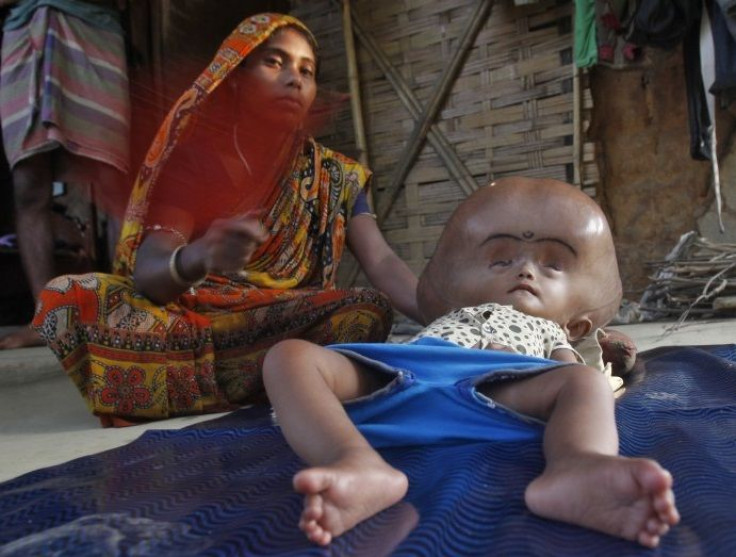 Roona Begum, a 15-month-old Indian child who drew international concern last month when photos of her dangerously swollen head surfaced, was successfully treated with life-saving hydrocephalus shunt surgery this morning, reported the Agence France-Presse (AFP).
Baby Roona was born with a rare neurological disorder called hydrocephaly, which caused her head to swell to a circumference of 38 inches before the surgery-almost double its normal size.
Neurosurgeon Sandeep Vaishya estimated that Roona's swollen head weighed about half of her total weight before she was treated, he told the news agency, and the fluid buildup in her brain was so great that she was unable to lift her head or move on her own.
Luckily, today's treatment seems to have been successful.
"The surgery went perfectly, much better than expected," Vaishya announced in an exclusive interview with AFP earlier today.
Roona's treatment was possible because of the kindness of strangers. Her parents, a young couple from the village of Jirania Khola in northeast India's Tripura state, were too poor to afford necessary care for their debilitated daughter as her condition worsened.
Her father, 18-year-old Abdul Rahman, is an illiterate laborer who earns only about $2.75 a day at a brickmaking factory. The complex hydrocephalus shunt surgery that could help her, however, cost about $2,300.
Rahman told AFP that "the doctor said there were no guarantees she would survive" after she was born. "I figured we would do our best for as long as we could and Allah would help us with the rest."
After AFP published pictures of her in April, however, the family received a windfall. With the aid of donations, the private Fortis flagship hospital in Gurgaon, outside New Delhi, offered Roona's parents free treatment.
What Is Hydrocephalus?
Hydrocephalus is named after the Greek words for "water" and "head," and results from a pressurized buildup of cerebrospinal fluid, a clear liquid that cushions the nervous system, in the ventricles of the brain.
The condition can be present at birth or acquired later on in life, and its causes are still poorly understood.
Since hydrocephalic infants don't yet have hard skulls, the fluid pressure causes the head to rapidly expand. In addition to a swollen head, the condition can cause vomiting, seizures, and downward shifting of the eyes.
About one or two of every 1,000 babies may be born with hydrocephalus, according to the National Institutes of Health (NIH). While many can go on to lead normal lives if they are diagnosed and treated early enough, the condition can stunt cognitive and physical development. If it progresses too far, it can be fatal.
How the Hydrocephalus Shunt Surgery Worked
The most common treatment for hydrocephalus is shunt surgery, also known as ventriculoperitoneal shunting, in which a flexible tube is surgically inserted into a brain ventricle through the skull. The shunt in the brain redirects fluid to another part of the body through a catheter, where it can be easily reabsorbed by the bloodstream.
Because Roona had such a large amount of accumulated fluid, Vaishya's team first drained much of it from her swollen head until it had shrunk by a third. The shunt surgery was carried out afterward, allowing the remaining excess fluid to drain into her abdomen.
The AFP reported that Roona gained consciousness soon after, prompting her mother, 25-year-old Fatema Khatun, to burst into tears at the sight of her bandages.
Roona's father spoke for both of them when he told AFP that he was incredibly relieved to hear that the shunt surgery went well.
"It's been a stressful wait," said Rahman.
Roona Begum's Future
It's unclear what Roona's quality of life will be as she grows older, Vaishya told AFP, but she certainly has a better chance now than she would have without the shunt surgery.
After seeing the initial AFP article, two Norwegian students started an online fundraising campaign for Roona's future care which has raised $52,000 to date.
The shunt will prevent her head from swelling again, Vaishya said, but her head is still too big for optimal function.
In subsequent surgeries, Vaishya's team "will remodel her skull, move the bones and fix them with plates to reduce her head size so she can grow normally," he explained to AFP.
She will also need significant physical therapy to strengthen her weakened neck muscles, and a nutrient-rich diet to strengthen her body enough to let her move on her own.
Roona's parents are hopeful, and grateful for the intervention.
"Her treatment would have been impossible," he told Barcroft Media last month, "had it not been for the press and hospital people who have helped us."
Sources:
A Kannampilly. Indian medics conduct 'perfect' op on baby's swollen head. AFP. May 15, 2013.
A Dey. Indian girl with swollen head needs 'miracle': parents. AFP. April 13, 2013.
"Hydrocephalus Fact Sheet" NINDS. February 2008.
L Jasmin. Ventriculoperitoneal Shunting. Medline Plus. December 2011.
S Nelson. Roona Begum, Indian Girl With Severe Hydrocephalus To Have Life-Saving Surgery. Huffington Post. April 19, 2013.
Published by Medicaldaily.com