Ibuprofen Outperforms Oral Morphine For Treating Pain Of Children's Fractured Limbs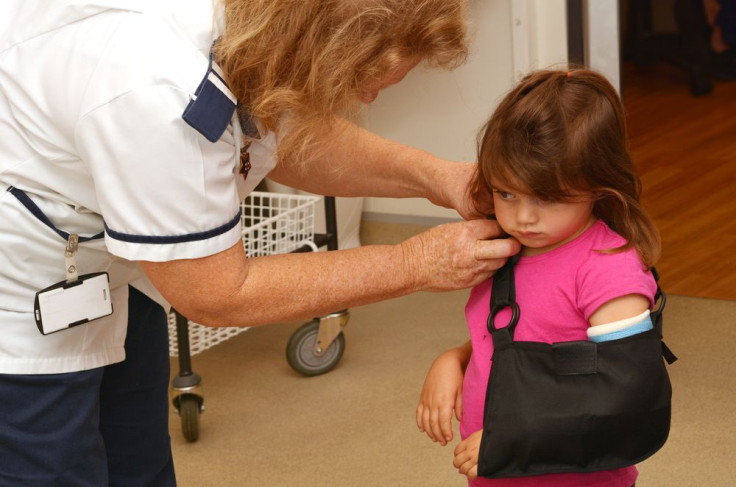 Children often suffer a fractured limb due to their rough-and-tumble lifestyle and tend to experience the most severe pain in the first 48 hours after sustaining the injury. In an effort to limit the amount of pain their patient is in, doctors will administer oral morphine despite its possible side effects. A recent study published in the Canadian Medical Association Journal (CMAJ) has confirmed that ibuprofen is just as effective in relieving pain for children with a broken limb without the possibility of adverse events.
"Evidence suggests that orally administered morphine and other opioids are increasingly being prescribed," Dr. Naveen Poonai, London Health Sciences Centre and Western University, London, Ontario, said in a statement. "However, evidence for the oral administration of morphine in acute pain management is limited. Thus, additional studies are needed to address this gap in knowledge and provide a scientific basis for outpatient analgesic choices in children."
Poonai and his colleagues recruited 134 children between the ages of 5 and 17 who experienced a fracture that did not require surgery to compare the effects of morphine versus ibuprofen. The research team estimated that fractures account for 10 to 25 percent of childhood injuries. While 66 participants received oral morphine, the remaining 68 received ibuprofen. Both medications successfully quelled the pain of children participating in the study; however, ibuprofen did not result in the adverse side effects caused by morphine, including drowsiness, nausea, and vomiting.
"Given that morphine was associated with significantly more adverse effects, we conclude that ibuprofen remains a safe and effective therapy for outpatient management of children's fracture pain," the authors added. "We hope that our results will provide clinicians with a foundation for rational analgesic choices for children with fractures who are discharged from the emergency department."
Doctors will often turn to prescribing morphine for children in pain over safety concerns involved with codeine. According to the Food and Drug Administration, codeine prescribed within the recommended dose range can still lead to fatal overdoses in children. A warning issued by the FDA in August 2012 revealed that a risk for overdose is especially high for children who are "ultra-rapid metabolizers," children with livers that convert codeine to morphine at a higher rate than normal.
Source: Lin K, Bhuller G, Poonia N, et al. Oral administration of morphine versus ibuprofen to manage postfracture pain in children: a randomized trial. CMAJ. 2014.
Published by Medicaldaily.com