Icahn Offered to Settle With Forest Before Battle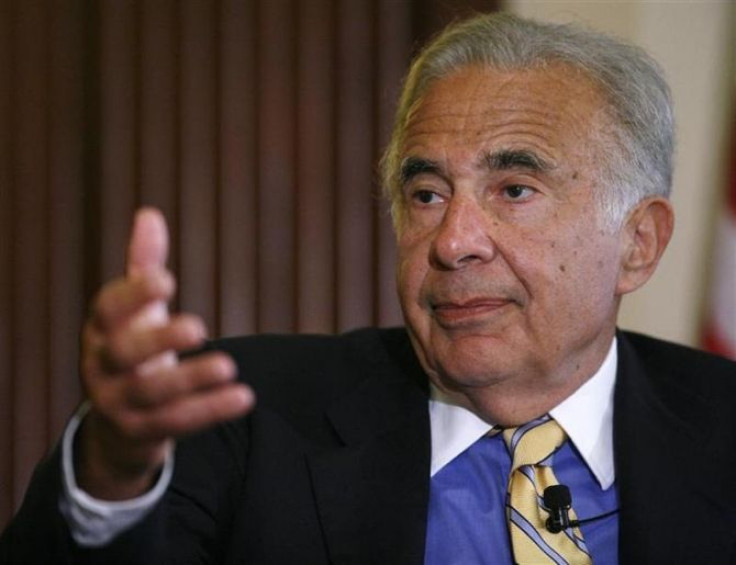 Activist investor Carl Icahn said he had initially tried to avoid a proxy fight against Forest Laboratories Inc and had offered to take at least two seats on the U.S. drugmaker's board, but he was rebuffed, leading to a battle that is becoming increasingly bitter and personal.
Icahn, Forest's second-largest shareholder with a stake of about 10 percent, re-launched a proxy battle against the maker of the Lexapro antidepressant in recent months and has now nominated four directors for Forest's board, after losing a similar battle for board seats last year.
The growing hostility, with Icahn and Forest's CEO even dragging in the records of their respective sons, shows that both sides have dug into their positions, which could make for a drawn-out battle. It could also worry Forest investors as they weigh the costs of a distracted management in a proxy fight.
Icahn said in an interview late on Monday that prior to launching the latest proxy fight, he told CEO Howard Solomon, 84, that Forest's expenses were too high and that the company did not have a good succession plan. He told Solomon he would nominate one independent director and one person from Icahn's firm to the board.
When Solomon told him that he did not want to replace any of the current directors, Icahn said he offered for Forest to keep its existing board while adding two of his nominees.
"I said, 'This company has major problems. I certainly, as the second-largest shareholder, would like to avoid a proxy fight. I don't think it has been managed well. I am very concerned about the succession planning. I am very concerned about the fact that you are going to be down 80 percent in earnings," Icahn said he told Solomon, referring to the company lowering its earnings forecast after it lost patent protection for its blockbuster Lexapro antidepressant.
Icahn told Solomon he was not there to take control of Forest and noted his track record in investing in biotech companies, but to no avail. "And he called me back. He just said, 'The board doesn't want you on.' And that was the end of it."
Icahn, whose healthcare investments have generated more than $2 billion in profits over the past six years, has said the share prices of Amylin Pharmaceuticals Inc, Biogen Idec, Genzyme Corp and ImClone Systems Inc increased by about 175 percent, 180 percent, 48 percent and 132 percent, respectively, from the time his representatives joined - or announced they were joining - those boards.
Forest and its CEO hit back at the billionaire investor's criticisms on Monday, and in a sign that the battle is turning increasingly bitter, took a swipe at the 76-year-old investor's record with his own son, Brett Icahn.
Forest said its board had hired executive search firm Spencer Stuart to find a successor to Solomon and urged its shareholders to vote for its slate of 10 director nominees and to reject the four candidates put forth by Icahn. Forest will hold its annual meeting on August 15.
In a letter to Icahn, Solomon said the company had consistently said it was open to constructive discussions. "However, you have never made an effort to engage with us outside the context of a proxy contest - and your discourse thus far has shown a striking lack of strategic ideas," he said.
Shares of Forest closed up 1.3 percent at $35.93 on the New York Stock Exchange on Monday.
DEFENDING THEIR SONS
Solomon defended his son's record, and pointed out that the investor had nominated Brett Icahn to boards of public companies.
"I note that you chose to elevate your son Brett - following his 'movie making' career - not only to executive positions within your organization, but also to positions of responsibility to shareholders as a director of public companies," Solomon wrote.
Forest said its independent directors are leading the search process, which includes the consideration of internal and external candidates. The company said it had a deep management bench, which included David Solomon, who was promoted to senior vice president for corporate development and strategic planning in November 2010.
Icahn refuted Solomon's assertion that the company had developed its most robust drug pipeline during the period that David Solomon had responsibility for business development.
"So his strategic planning got you in the mess you are in now," Icahn said. "How can you define as 'thriving' a company whose earnings are down 80 percent year-to-year, based on their own guidance?"
Referring to his own son, Icahn said: "I don't think there is a comparison. While he has had approximately 10 years' experience and he and his partner ran $300 million and made a 100 percent return over the last two years, I still would never think at this point in his life of making him CEO of a company or even the head of strategic planning."
ICAHN NOMINEES
Forest also took aim at Icahn's nominees to its board, including Eric Ende, who is leading the proxy fight against the company for the activist investor.
Forest said Ende, who was also nominated by Icahn last year, had received the fewest number of votes of any of the 14 director nominees in 2011. The company also took aim at Ende's compensation arrangement with Icahn, saying it gives the nominee an incentive to "favor Icahn's profits over the interests of the rest of our shareholders."
Reuters earlier reported the unusual arrangement, where Ende stands to get 1 percent of Icahn's profits over $47.50 per share of Forest. That means, for example, if Icahn were to sell his Forest shares at $50 apiece, Ende would receive $659,000.
Icahn's other three nominees are Pierre Legault, who until recently was CEO of biotechnology firm Prosidion Ltd, a unit of Astellas Pharma; Daniel Ninivaggi, president of Icahn Enterprises; and Andrew Fromkin, former CEO of Clinical Data Inc, a company Forest bought last year.
Forest said Ninivaggi is a salaried employee of Icahn Enterprises with no pharmaceutical experience, while Fromkin and Legault have limited relevant experience. The company also said it believed Fromkin was conflicted because of a prior association with Clinical Data.
(Reporting By Paritosh Bansal; Editing by Chris Gallagher)
@ 2012 Thomson Reuters. All rights reserved.