Illinois Schools Required To Provide Insurance For Student Athletes Under 'Rocky's Law': Could Other States Follow Suit?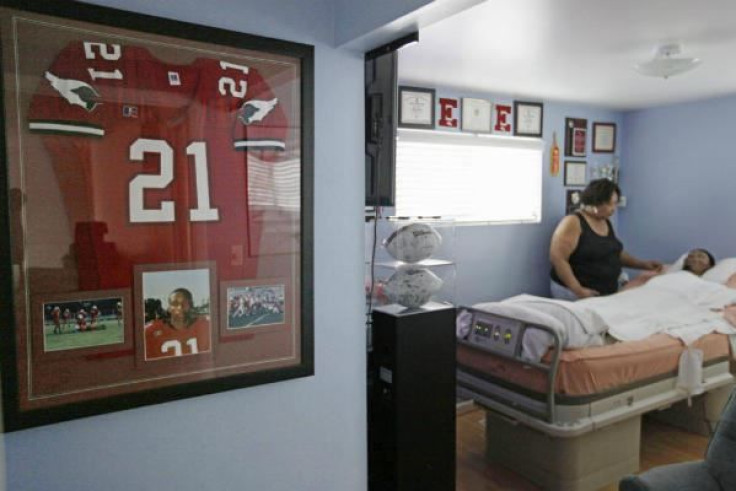 In response to the death of high school football player Rasul "Rocky" Clark, who was paralyzed during a game, the state of Illinois will require all in-state high schools to offer catastrophic insurance coverage for student athletes.
The move is an expensive one, but after Clark's school district's $5-million insurance plan wasn't enough to cover his injuries alone, the state reviewed its policies. Eisenhower High School in Blue Island, Ill., lost Clark on January 5, 2012 after his 12-year struggle from a game-time tackle in 2000 that paralyzed him from the neck down. After his medical bills maxed out the school's insurance cover, Illinois decided to reevaluate policy in order to support its student athletes who run the same risk of Clark's fate.
Clark's fragile condition, after the fatal football tackle his junior year, left him with infections and one partially paralyzed lung. He required round-the-clock home health care, which was paid by his alma mater school district, but once the money ran out, his mother took on the financial pressures to keep her son alive.
Just one week before his injury, Clark vowed that he would buy his mother a house once he earned enough money as a professional athlete.
Despite his condition, Clark finished high school and was wheeled across the stage to accept his diploma. His ability to function was made possible by the care provided by the district's insurance policy and, according to Clark, he assumed it would be renewed once the $5-million insurance ran out.
Dr. Charles Beck, who cared for Clark for eight years, wrote a letter to the school and insurance company claiming that "the loss of these benefits eventually is going to lead to his demise."
On Sunday, Illinois Gov. Pat Quinn signed the bill, named "Rocky's Law" after the former athlete, that will require both public and private schools to provide a minimum insurance policy of $3 million in benefits or a minimum of five years of coverage for related medical injuries that were experienced on the field.
Quinn hopes that the new law will "provide more comfort to sports families across Illinois." This will likely be a reassurance to many because participation in organized sports is on the rise with nearly 30 million children and adolescent participants in sports across the United States, according to the Centers for Disease Control and Prevention.
Illinois' mandate is unique, as high school districts don't typically require coverage for student athletes' injuries, instead burdening families with the unexpected emotional and financial tragedy. But given that an estimated two million injuries, over 500,000 doctor visits, and 30,000 hospitalizations each year are seen among high school athletes, the law may be necessary.
Illinois wants to make sure student athletes, including cheerleaders and marching band musicians, are protected under "Rocky's Law." These student athletes will be required to sign a waiver. The high school contract will indicate to students the risks involved in sports and ask them for proof that they have their own health insurance in the case of injury. If these students do not have their own health insurance, the schools will offer a low-cost plan of their own, which can also be used to cover additional costs.
Warren Zola, a sports law professor at Boston College's Carroll School of Management, says that the Illinois mandate is part of a "growing trend where the rights of athletes are being considered at a far greater level than they ever were for what is clearly a violent activity."
Published by Medicaldaily.com