India To Be Declared Polio-Free After Three Years Without A Reported Case: WHO Expected To Make Announcement In March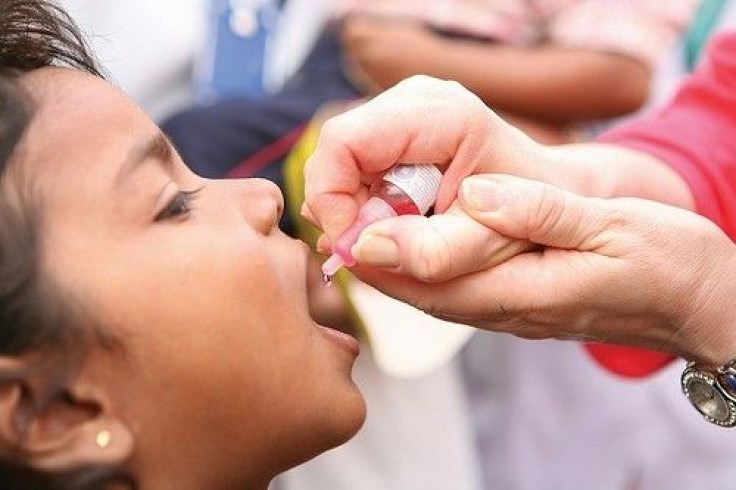 Health officials in India say the country has not reported a polio case since 2011, making it the second disease India has possibly eradicated due to immunization. In order for the World Health Organization (WHO) to declare a country or region polio-free it must first complete three years without a reported case, a feat that is being regarded as one of India's most successful public health stories. Once the WHO confirms the country free of infection, the organization is expected to formally declare India polio-free in March.
Vaccination efforts were carried out by around 2.3 million volunteers who administered immunizations to 170 million children. The last reported case of polio in India belonged to Rukhsar Khatoon, an 18-month-old from India's West Bengal state, who was initially paralyzed by the disease in January 2011. Due to the urging of family members, Rukhsar has never received the polio vaccine. In spite of some pain in her right leg, Rukhsar has full function of her lower body after regaining feeling.
Back in 2009, 741 polio cases were reported in India accounting for more than half of all polio cases in the world. The WHO estimates polio vaccination efforts have prevented over 1.5 million childhood deaths and stopped 10 million children from losing function in their legs. India is expected to receive official polio-free status next month after the WHO concludes its investigation.
"India's success is arguably its greatest public health achievement and has provided a global opportunity to push for the end of polio," said WHO Director General Margaret Chan after India achieved one year without any reported polio cases. "The Global Polio Eradication Initiative is in full emergency mode and focused on using this momentum to close this crippling disease down. Stopping polio in India required creativity, perseverance, and professionalism — many of the innovations in polio eradication were sparked by the challenges in India. The lessons from India must now be adapted and implemented through emergency actions to finish polio everywhere."
According to the WHO, polio or poliomyelitis is an infectious disease caused by a virus that targets the nervous system, in some cases resulting in paralysis. One out of every 200 polio infections leads to irreversible paralysis, usually in the legs. Between five and 10 percent of people who experience paralysis will die as the disease shuts down their breathing muscles. Although preventable, once it is contracted polio is incurable and tends to affect children under the age of 5.
The Global Polio Eradication Initiative was launched back in 1988 with support from the WHO, Rotary International, the Centers for Disease Control and Prevention, UNICEF, and the Bill and Melinda Gates Foundation. Polio cases have decreased by more than 99 percent since the launch of the GPEI. Currently, Nigeria, Pakistan, and Afghanistan are the only three countries in the world to be considered polio-endemic.
Published by Medicaldaily.com