Two Indian Generics Makers End Battle To Copy Drugs Amid Patent Debate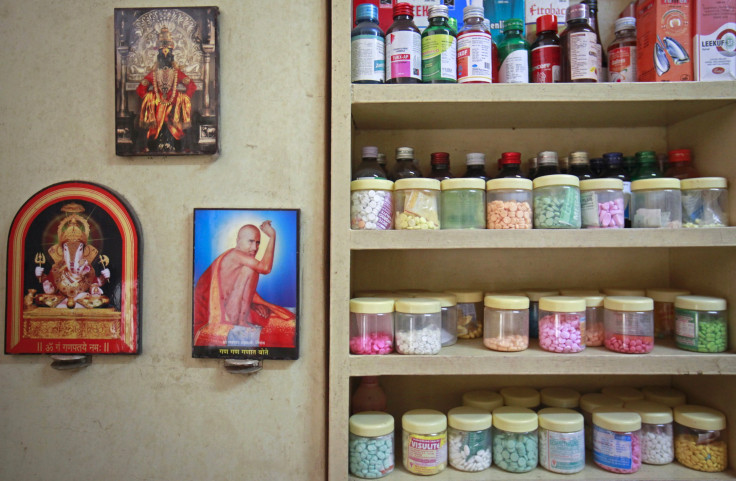 Two Indian drugmakers said they had given up a battle to copy drugs developed by Bristol Myers Squibb and AstraZeneca, blaming a lack of government support for cheap generics and pressure from Big Pharma.
Both companies, BDR Pharma and Lee Pharma, had been seeking so-called compulsory licenses that override patents and allow generics firms in India to launch cheap copies of medicines manufactured by big Western drugmakers.
But now the two mid-sized generics players say their efforts have been thwarted by Prime Minister Narendra Modi's target to boost foreign investment in India and the resulting emphasis on protecting intellectual property, which is getting in the way of the government's promise to provide cheap drugs for the poor.
"There is no point in pursuing it anymore," Dharmesh Shah, BDR's managing director, told Reuters.
The debate over cheap drugs is hugely emotive in India, home to 1.2 billion people, most of who live on less than $2 a day. It grabbed fresh headlines last month after a U.S. business lobby group said New Delhi assured it that compulsory licenses would no longer be issued for commercial purposes.
India's commerce ministry, however, said there was no change to its policy, although campaigners and watchdogs including India's National Human Rights Commission said they were worried about what looked like a shift in direction.
India first issued a compulsory license for a medicine in 2012, allowing Natco Pharma to sell a copy of German drugmaker Bayer's cancer drug Nexavar at a tenth of the original price. The move was criticized by large multinationals.
But BDR's application to copy Bristol Myers' cancer drug dasatinib, with an aim to sell it at about $122 for a month's course versus the original price of about $2,491, was rejected in 2013.
Lee Pharma was rejected in January this year after a second review of its application seeking to make a cheaper form of AstraZeneca's type 2 diabetes drug saxagliptin. The patent controller said Lee did not make a strong enough case.
Both BDR and Lee said they were now no longer appealing, in moves they described as emblematic of an exasperated industry.
"If the government itself is not inclined then why unnecessarily slog on this issue?" said A. Venkata Reddy, Lee's managing director.
A health ministry official did not comment and referred the matter to the commerce ministry. Officials at the commerce ministry declined to comment. India's Controller General of Patents and Trademarks, part of the commerce ministry, did not respond to requests for comment.
MAKE IN INDIA
Modi, who came to power in 2014, has led a campaign to boost investment and manufacturing to speed up growth and create jobs, and is also reviewing the country's patent rules. A new intellectual property policy is due out soon.
As a result, enthusiasm for compulsory licenses has cooled among government officials, industry executives and lawyers representing BDR and Lee told Reuters.
Rajeshwari Hariharan, the lawyer who represented Natco in the 2012 case, said other companies had considered applying for licenses, but dropped plans. She declined to name them.
Sujay Shetty, who leads the life sciences practice for consultants PwC in India, agreed the government would be reluctant and use licenses sparingly.
But he added: "You can never say never in India because of pressure on prices and access to medicines."
India represents a lucrative market for drugmakers, especially in diseases such as cancer and diabetes, as the population ages and gains weight. The country already has a $15 billion generics industry.
But stringent regulations around clinical trials and price control on medicines have made the operating environment tough.
Several large Indian drugmakers also aspire to expand to countries like the United States and Europe, another reason to strike friendly deals with Big Pharma.
In recent months, several Indian firms have struck such licensing deals, under which profit-sharing and drug prices are decided mutually by companies. In contrast, the government sets royalty rates for compulsory licenses.
(Additional reporting by Ben Hirschler in LONDON; Editing by Clara Ferreira Marques and Himani Sarkar)
Published by Medicaldaily.com