Indonesian 'Smoking Baby' Drops 40-A-Day Habit For Junk Food; How Addiction Is Affecting His Health [VIDEO]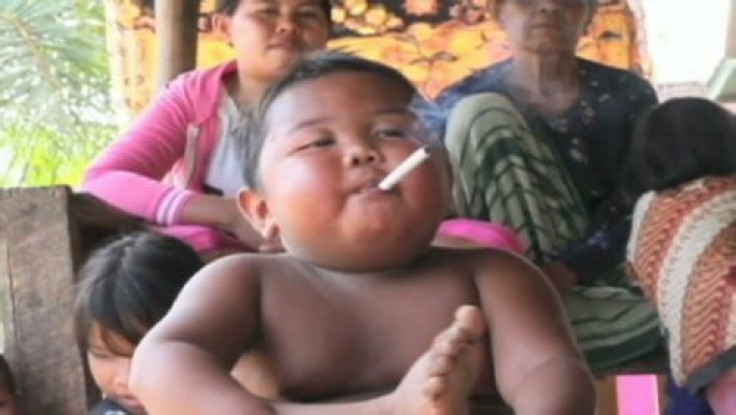 When pictures surfaced of Aldi Rizal puffing away on a cigarette back in 2010, most people found it humorous, and failed to recognize the possible life-threatening consequences that the young boy faced by smoking at 2 years old. Aldi's family, from the small fishing village of Sumatra, Indonesia, is now happy to report that the toddler has kicked his 40-cigarette a day habit. Unfortunately, he's now addicted to junk food.
"There are many people still offering Aldi cigarettes, but Aldi says no. He says 'I love Kak Seto. He would be sad if I started smoking again and made myself ill,'" Aldi's mother, Diane told The Sun. "At first when we were weaning Aldi off the cigarettes he would have terrible tantrums and I would call Dr. Seto for help. But now he doesn't want them."
After the videos of Aldi chain smoking his cigarettes came to light, the Indonesian government launched a nationwide campaign to curb the number of young tobacco users. Smoking is a huge problem in Indonesia, where it is estimated that two thirds, or 67 percent of the male population, is considered a regular tobacco user. With lenient laws governing tobacco sales, Indonesia also faces a rising epidemic with young smokers.
"Over 31 percent of Indonesian children smoke a cigarette before the age of 10," president of the Campaign for Tobacco-Free Kids, Matthew Myers told CBS News. "Over 80 percent of Indonesians who smoke start as teenagers or younger. The reason is that the Indonesian government has completely failed to educate its public and has allowed the tobacco industry to engage in marketing practices that haven't been permitted in the United States for years."
In hopes of freeing Aldi from his nicotine addiction, the toddler and his mother were taken to the capital city of Jakarta, where they received therapy sessions in order to teach Aldi how to live without cigarettes, The Daily Mail reported. Aldi and Diane were both taught the dangers of smoking and its health implications, especially before the age of 10.
Now, at 5-years-old, Aldi is tobacco free, however, his addictive personality has found a new source for pleasure: food. Aldi currently weighs just over 55 pounds, around 15 lbs. over the normal weight for a 4-year-old, and has been deemed extremely unhealthy by his doctors.
Thanks to nutritionist Fransisca Dewi, who has put Aldi on a strict diet reducing the amount of carbohydrates and condensed milk he consumes, Aldi is finally on his way to his ideal weight and health. "His ideal weight is 17kg to 19kg. He's 24kg already. I think it is difficult for them. The mother says Aldi is a spoiled kid. If Diana wants to forbid him eating, it will be hard," Dewi told The Sun. "She will need the cooperation from the entire household. One obvious thing is they let him have too much condensed milk. He drinks three cans a day and eats too many carbohydrates."
Published by Medicaldaily.com