IndyCar Driver, Dario Franchitti, Suffers Broken Back And Ankle After Shocking Crash [VIDEO]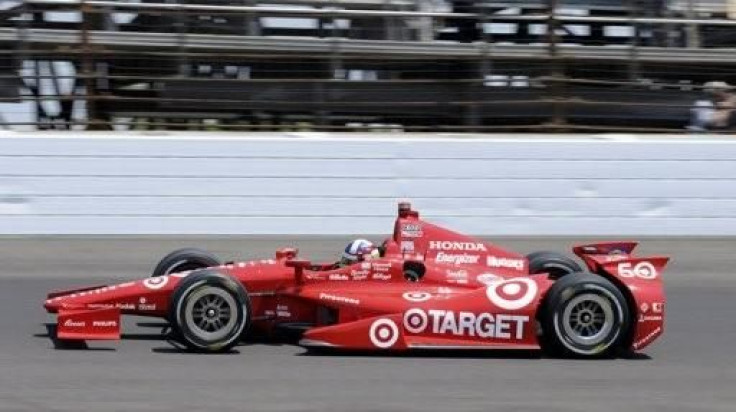 IndyCar driver, Dario Franchitti, is recovering from two fractured vertebra, a fractured right ankle, and a concussion following an alarming crash that occurred during Sunday's Houston Grand Prix. Thirteen crowd members, including two who required hospitalization, suffered injuries as a result of debris that flew into the stands, according to the Houston Fire Department.
Coming up on the fifth turn of the race, Franchitti's car made contact with Takuma Sato, sending both drivers into the fence, the Associated Press reports. Pieces of Franchitti's and Sato's cars were launched into the stands where unsuspecting onlookers were seated.
Drivers Scott Dixon and Will Power were reminded of the 2011 Las Vegas Motor Speedway crash that claimed the life of Dan Wheldon. Wheldon's car caught fire following a 15-car wreck that canceled the IndyCar season finale.
"The smells and the visuals, for me, and even talking to Will, you have the remnants of Vegas popping into your head with you coming around the corner and you can't drive through it because there's a field of debris," Dixon said. "There was no near the amount of damage that we saw (in 2011), but seeing the replay was a big shock."
Franchitti is expected to "remain in Houston for a few days" after undergoing surgery on Sunday night to stabilize his right ankle. The three-time Indianapolis 500 winner took time to thank his fans for their support during his recovery.
"Thank you to everyone for all the well wishes. They mean a lot to me," Franchitti said in a statement. "I would also like to send my best to all the fans involved in the accident and hope that everyone is alright."
Published by Medicaldaily.com