Inequality And The Environment: People Of Color Live In Areas With More Air Pollution
Nitrogen dioxide, which pollutes the air and is linked to asthma symptoms and heart disease, comes mostly from vehicle exhaust and power plants. Researchers at the University of Minnesota found that, on average, people of color are exposed to 38 percent higher levels of nitrogen dioxide (NO2) outdoor air pollution when compared to white people. "Our study provides a great baseline to track over time on important issues of environmental injustice and inequality in our country," said Dr. Julian Marshall, a civil engineering associate professor in the College of Science and Engineering and co-author of the study.
According to the Environmental Protection Agency (EPA), which is required by law to monitor NO2, all areas of the country presently meet the national standard (set at 53 ppb) for annual NO2 concentrations. In fact, average NO2 concentrations nationwide have decreased by more than 40 percent since 1980. The EPA expects concentrations will continue to decrease as a result of newer car regulations.
Yet a recently published study used satellite data and land use information to investigate nitrogen dioxide pollution throughout the continental U.S. (excluding Alaska and Hawaii), with a particular focus on all 448 urban areas defined by the U.S. Census. For the present study, the researchers took this process a step further and combined pollution information with U.S. Census data about where people live. In particular, the team studied NO2 levels in urban areas and compared neighborhoods within the cities based on populations defined by the U.S. Census as "nonwhite" or "white."
What did the research team discover? Their results offered evidence of substantial environmental disparities… and these inequities occurred nationwide. The team found that New York, Pennsylvania, and Illinois had the largest gaps between whites and nonwhites, irrespective of income, in terms of exposure to NO2. Following these three, the states with the largest difference in levels of exposure to NO2 between whites and nonwhites were:
Michigan
New Jersey
Rhode Island
Massachusetts
California
Wisconsin
Connecticut
Missouri
Ohio
Kentucky
Indiana
Minnesota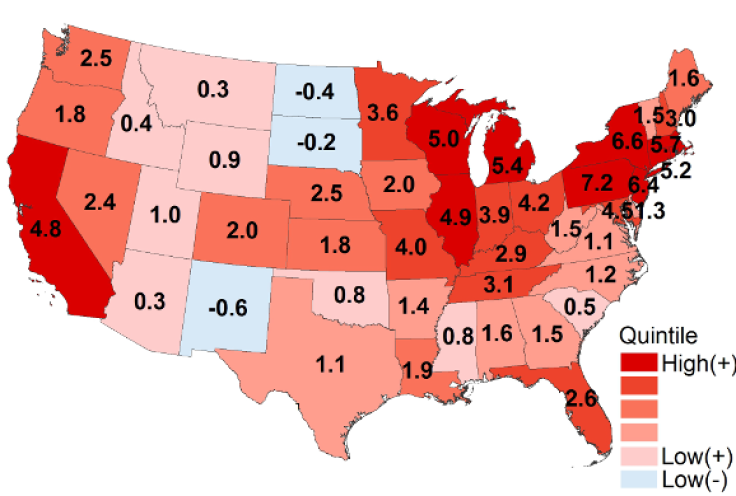 Oddly, in most areas, race mattered more than income in explaining differences in NO2 exposure. The urban areas with the largest exposure differences were New York/Newark, Philadelphia, and Bridgeport/Stamford, Conn. "The next step in the research would be to look at why this disparity occurs and what we can do to solve it," said Dr. Lara Clark, civil engineering Ph.D. student and co-author of the report. To illustrate the significance of their results, the researchers estimated that if nonwhites breathed the lower NO2 levels experienced by whites, it would prevent 7,000 deaths from heart disease each year.
Source: Clark L, Marshall J. Millet D. National patterns in environmental injustice and inequality: Outdoor NO2 air pollution in the United States. PLoS ONE. 2014.
Published by Medicaldaily.com