Influenza Vaccine Offers Up To 6 Months Worth Of 'Moderate, Sustained' Protection During Flu Season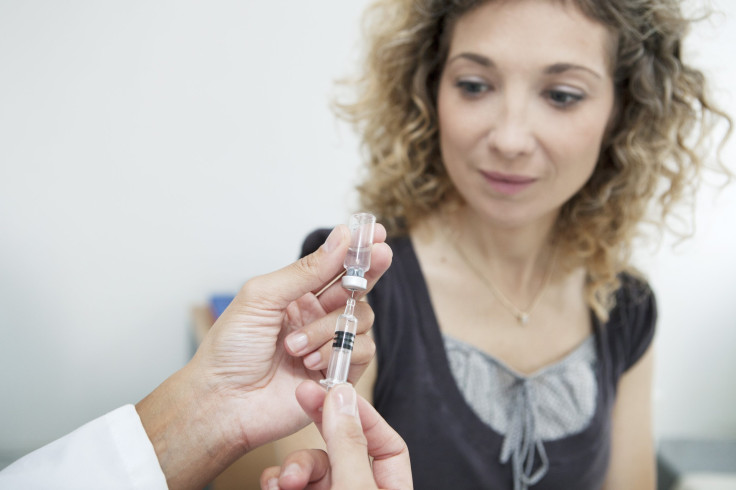 Your next flu shot may protect you for as long as six months, new research presented this week at the 2015 International Conference on Emerging and Infectious Diseases (ICEID) suggests.
Studying 1522 people over the course of four years, the study authors found the vaccine proved to be moderately effective in preventing influenza throughout most of the flu season.
"Previous studies have found that protection from contracting influenza declines over time following influenza vaccination due to decreasing antibody levels," said lead author Dr. Jennifer Radin in a statement . "However, we found during this study that those who received the vaccine had moderate, sustained protection up to 6 months post-vaccination, the duration of most influenza seasons. This means flu vaccination reduced one's risk of a doctor's visit by approximately 50-70%."
According to the authors, though there's plenty of research demonstrating the many benefits of flu vaccination, there's been less effort spent on the question of vaccine length.
"Few studies have assessed how quickly protection against influenza declines within a year following vaccination, specifically among US populations," said Radin, a member of the Naval Health Research Center in San Diego, CA.
Radin and her colleagues studied non-active personnel working at the Department of Defense who visited one of three outpatient facilities in San Diego and Great Lakes, Illinois during the flu seasons of 2010-2011 to 2013-2014. They specifically keyed in on those who presented symptoms of respiratory illness, including coughing, fever and sore threat, and estimated the prevalence of flu in their study sample by testing a smaller sample of the participants. They also determined the participants' vaccine status by examining their medical records or through interviews, which allowed them to calculate the flu shot's average vaccine effectiveness (VE).
While the vaccine's effectiveness remained fairly stable throughout the first six months, it appeared to lose complete strength afterwards. Still, the duration of protection observed in the study may be enough to suggest a slight tweaking of the flu vaccine schedule, which is normally recommended to be taken in early autumn, a fair length of time before the start of the flu season.
"Administering flu vaccines closer to the start of flu season may slightly increase effectiveness of the vaccine, the authors concluded. "However, the flu season starts at different times each year, making optimal timing difficult to predict. Consequently, early flu vaccination may still offer the best overall protection."
According to the Weekly U.S. Influenza Surveillance Report , published by the Centers for Disease Control, the current 2014 -2015 flu season has seen 145 influenza-associated pediatric deaths, the second highest death toll seen in the past four years.
Source: Radin J, Hawksworth A, Myers C, et al. Influenza Vaccine Effectiveness During 2010-2014: Maintained Protection Throughout Duration of Influenza Season Among US Department of Defense Beneficiaries. ICEID 2015. 2015.
Published by Medicaldaily.com