The International AIDS Conference Returns to the U.S., Clinton Vows "AIDS-Free Generation"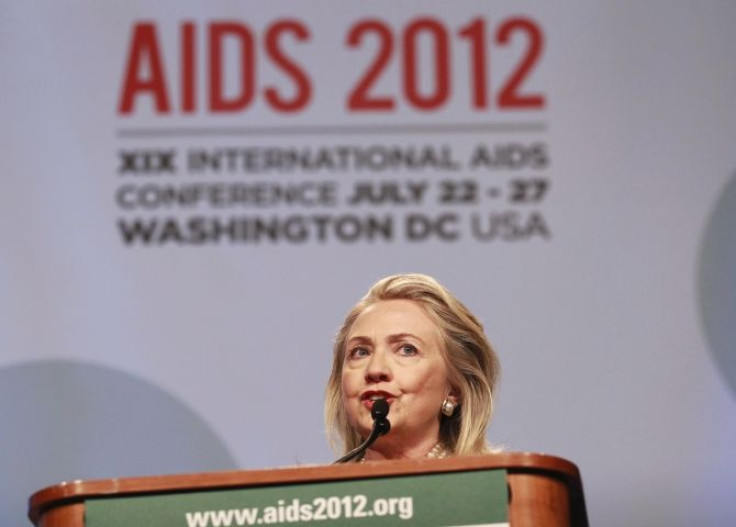 As the International AIDS Conference enters its 19th year, U.S. secretary of state Hillary Clinton began her keynote speech making sure the nation knows that the United States is committed to achieving an AIDS-free generation.
Clinton assured those present in Washington. D.C. that there will be more than $150 million devoted to new U.S. strategies aimed towards the battle against AIDS, programs that will cease mother-to-child transmission and preventative effects of expanded voluntary male circumcision.
The goal is to attain an AIDS-free generation, which means no child will be born with the virus, teens will have a reduced chance of coming in contact with the virus and those who are already infected will gain accessibility to treatment.
According to Clinton the funding for the antiretroviral drugs currently covers 4.5 million people and by 2013 the number will have increased to six million.
The government is also becoming more involved in funding for voluntary male circumcision. Thus far, the U.S. has supported 400,000 circumcision procedures and will provide $40 million for South Africa's plans to provide voluntary male circumcision for an estimated million men and boys in the following year.
In addition, Clinton stated the U.S. will allot $80 million to assist with improving treatment for HIV-positive women.
The International AIDS Conference made its return to America due to the Obama administration has dropped its 2009 ban against the U.S. allowing people to enter the country.
The United Nations reports there is an estimated 34 million people living with HIV. However, UN reports the number of worldwide AIDS-related deaths fell from 2.3 million in 2005 to 1.8 in 2010, to 1.7 this year.
Clinton advocates for the ending of discrimination in order to reach those at high risks, such as workers, men in same sex relationships and those in Africa.
In the global effort to create an AIDS-free generation, $16.8 billion was raised for HIV treatment and prevention programs.
"If we're going to beat AIDS we can't afford to avoid sensitive conversations and we can't fail to reach the people who are at the highest risk," Clinton said. "Humans might discriminate, but viruses do not."
With this being the first International AIDS Conference in the U.S. since 1990, Clinton shouted "What would an AIDS conference be without a little protesting? We understand that. Let me say five words we have not been able to say for too long: Welcome to the United States!"
Published by Medicaldaily.com