Internet Goes on Strike Against SOPA Act, Wiki Not Done Yet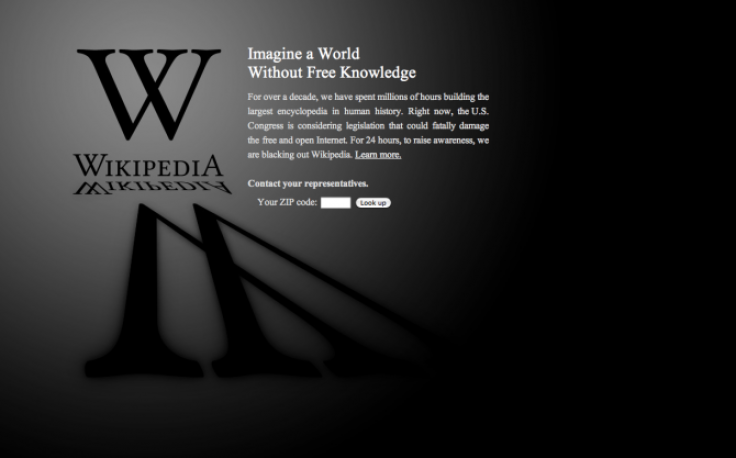 After the 24-hour blackout in protest against proposed legislation known as the Stop Piracy Act and Protect Intellectual Property Act, officials at Wikipedia say they're not done yet.
"Thank you for protecting Wikipedia…We're not done yet," reads the header of the often used Wikipedia website that generates millions of visitors a day.
Wikipedia along with thousands of other website protesting against SOPA and PIPA, blacked out their content for 24 hours on Wednesday.
According to Wikipedia, more than 162 million people saw the Wikipedia blackout page and more than 12,000 people commented on the Wikimedia Foundation's blog post announcing the blackout, while more than eight million looked up their elected representatives' contact information via the Wikipedia tool.
Wikipedia also announced that Anti-SOPA and PIPA topics began trending globally on Twitter immediately after the blackout began.
But despite the Internet strike and scare among many daily Internet users the SOPA and PIPA Act are still advancing in Congress.
Wikipedia noted SOPA sponsor Lamar Smith stated that the House of Representatives will push the bill forward in February and Senate sponsor Patrick Leahy still plans for a PIPA vote on January 24.
In speaking out against the Stop Online Piracy Act, SOPA, which will prevent access to United States subscribers to a foreign infringing site, allowing target sites to disappear, former Vice President Al Gore, said it will serve a threat towards vibrancy of the internet in a CareerBuilder event on January 5th.
The video of Gore speaking out against SOPA was posted onto YouTube and then taken down the next day.
In the video Gore said that "there is hardly anything as important then to save and protect the vibrancy and freedom of the Internet."
Gore said that although the proponents of SOPA had a legitimate complaint, the bill would threaten aspects of the Internet.
"The Internet is bringing life back to democracy," Gore said.
"Anything that would serve a threat in the vibrancy and freedom of the Internet in the future, I'm against."
Published by Medicaldaily.com