Postpartum IUD Is Safe, Effective; Has Potential For Low-Cost Family Planning In Developing Countries
There was a time when people used anything to crush garlic in the kitchen. But then someone realized the process would be easier and more convenient with a specialized tool, hence the garlic presser. Now, a new study published in Global Health: Science and Practice demonstrates this same concept can be applied to postpartum intrauterine devices (PPIUD), the T-shaped form of contraception that lasts up to 10 years. Don't worry, there's no crushing involved.
"People have been inserting IUDs postpartum, or immediately after birth, for quite a while: If there's no hemorrhage after the placenta is out, the IUD goes in," lead study author Dr. Paul D. Blumenthal, a professor of obstetrics and gynecology at the Stanford University Medical Center, told Medical Daily. "It's just that we haven't thought enough about it. We've seen enough of a demand and interest that if we're going to continue to provide them, then we really need something specific to this purpose."
Blumenthal and his collaborators have developed a new inserter for PPIUDs. Unlike conventional inserters, this one has an extra-long sleeve that makes it easier for providers to place an IUD at the top of a woman's uterus. This way doctors avoid manual insertion with their fingers or forceps, methods that increase the risk of contamination, infection, and damage to the birth control device, according to the study.
What's more, the new inserter also comes with a longer string that makes it easier for women to tell when the device moves out of place, which increases the risk of an unintended pregnancy.
Eighty women living in India tested the new device. Doctors inserted the IUD within 48 hours of delivery, then performed an abdominal ultrasound to make sure it was placed correctly. Six to eight weeks later, the women had another ultrasound to make sure the device was in the right place.
The results showed the PPIUD was convenient, safe, and worked as well as Blumenthal and his colleagues thought it would. It didn't increase women's pain level; they actually reported the same amount of pain they had experienced just moments before during delivery, which, in India, does not include anesthesia or epidurals. And in all but six cases, the IUD stayed in place. Blumenthal is now working on a larger, clinical trial that compares the effects of the new PPIUD with a conventional device applied with forceps.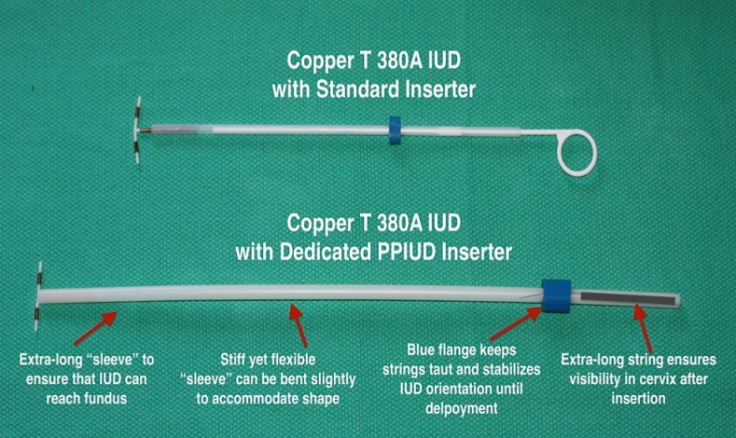 Not only does the new device suggest that postpartum family planning is taking off, as Blumenthal put it, it could also be a major step toward bridging the disparity in overall services offered to women around the world. For starters, Blumenthal prices the device at about $1. Pregna International, a collaborator in the study, has said it wants to bring it to market. This would reduce the financial barriers that prevent many women from choosing this form of birth control, Dr. Renee van de Weerdt, senior technical adviser on reproductive health commodities at the United Nations Population Fund, told Medical Daily.
"One of the success stories of the PPIUD is that it doesn't require a medical intervention, just a skilled midwife or physician," Weerdt said. "But in rural areas, trained health workers may not be available. Some countries, too, are biased toward the IUD and believe it's inappropriate for younger girls, or rather, is better suited for women who have already had a baby."
The fund provides low-priced, quality contraceptives to women around the world, giving them options that Weerdt believes are the cornerstone of successful family planning.
That's a sentiment echoed by Jacqueline E. Darroch, senior fellow at the Guttmacher Institute, who estimates that an unmet need for modern contraceptives led to 54 million unintended pregnancies and 79,000 maternal deaths in developing countries in 2013. A separate survey from the Population Reference Bureau found that in many of the poorest countries, fewer than one in five married women use a modern method of birth control. Fewer services are linked to lower demand, Darroch told Medical Daily, and women need to be able to make informed choices when it comes to their reproductive health. Ideally, they would have access to actual birth control and trained providers who have ongoing provisions to keep up their skills and counsel women appropriately.
For women with limited access to birth control and trained professionals, postpartum is a serendipitous time to insert an IUD, Blumenthal said; everyone is already there. He added that the World Health Organization and Centers for Disease Control and Prevention have recently changed their PPIUD criteria, making the procedure a more acceptable choice for women and giving providers the go-ahead to consult more with their patients.
It's worth noting that the inserter alone won't bridge the disparity in family planning programs in developed and developing countries, Darroch said. The IUD is one of a number of very good contraceptive methods, but just because it's great doesn't mean it's perfect for every woman at every stage of life. Women ultimately have to choose what is best for them and their partners.
Source: Blumenthal PD, et al. A Dedicated Postpartum Intrauterine Device (PPIUD) Inserter: Pilot Experience and Proof of Concept. Global Health: Science and Practice. 2016.
Published by Medicaldaily.com