Iowa Cancer Patient On Trial For Growing Marijuana: Should Non-Psychoactive Extracts Be Treated Like The Real Stuff?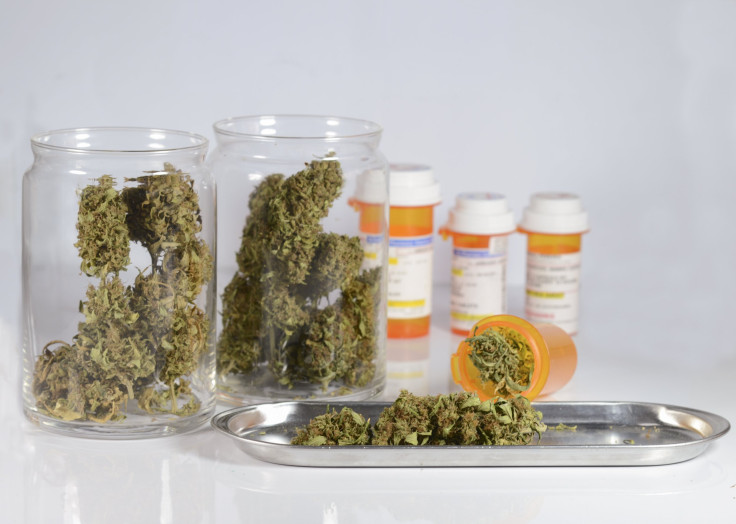 States are slowly coming to terms with the evidence that medical cannabis can treat and ease symptoms for disorders like epilepsy, cancer, and AIDS. But some states, including Iowa, are making it difficult for patients to access marijuana, and even more difficult for them to use their illness as a defense in court.
One man, 48-year-old Benton Mackenzie, suffers from an aggressive and rare form of cancer that attacks the blood vessels — and he's been placed on trial in Iowa for possession of marijuana, facing up to five years in prison. Recently, despite his tumors growing and his condition worsening, a judge ruled that he can't use his terminal cancer as a defense in his trial pressing charges for marijuana manufacturing and conspiracy.
Non-Psychoactive Cannabidiol (CBD)
Mackenzie was arrested in 2013, when police raided his parents' home in Long Grove, Iowa and seized 71 marijuana plants. He was making cannabidiol, or CBD, which is a non-psychoactive compound in cannabis, in order to treat his tumors. CBD has been shown to have anti-inflammatory properties as well as analgesic, or pain-relieving, effects — without the psychoactive, or "getting high" effect of delta-9 THC. Thus, CBD has been considered to have far more medical benefits than THC. Mackenzie's trial brings many issues into question, one of which is whether non-psychoactive cannabis extracts should be treated with the same prohibition as typical recreational marijuana that people smoke to get high, which affects the brain and central nervous system, altering a person's consciousness and behavior. While many states have begun acknowledging the positive health benefits of CBD, Iowa lags behind.
According to the Facebook page Free Benton Mackenzie, which provides updates on the trial as well as graphic photos of his physical condition, Mackenzie claimed that his tumors had grown to the size of a grapefruit during his offer of proof on July 8. At the trial, he is covered with a blanket and is often seated in a wheelchair, as depicted by the following tweets from Brian Wellner:
"I'm not allowed to mention anything," Mackenzie said. "I'm not allowed to give proof why I was using. Now, there is no fair trial." Mackenzie, his wife, Loretta, and his 22-year-old son are all facing charges of marijuana possession and could serve up to five years in prison. "If I'm found guilty, I'm a dead man," Mackenzie said.
Cannabis And Cancer
Medical cannabis has been used by chemotherapy patients to reduce side effects of the treatment such as nausea and vomiting, and has also been used to treat epilepsy, AIDS, pain, and muscle spasticity. Typically, patients who use medical cannabis can access it through vaporizing or smoking buds, eating cannabis extracts, or taking capsules and even oral sprays. Medical cannabis is federally outlawed in the U.S. but legal in certain countries, including Austria, Canada, Czech Republic, Finland, Germany, Israel, Italy, the Netherlands, Portugal, and Spain. However, 23 U.S. states, as well as Washington, D.C. have removed the medical use of marijuana from criminal law — meaning people can't be arrested and jailed for growing marijuana for the use of treating medical conditions. In other words, these states have "decriminalized" medical marijuana.
In addition to its use in chemotherapy and epilepsy, some preliminary studies have shown that cannabis may have antitumor effects. According to the National Cancer Institute, a study in mice and rats showed that it might help protect against tumor development, through induction of cell death, the impairment of cell growth, and prevention of metastasis. Cannabinoids may have the ability to kill tumor cells while leaving the healthy cells safe. In addition, cannabinoids have also been shown to reduce pain. However, since the evidence is not yet conclusive and more research is needed to solidify it, many lawmakers remain stalwart in their views on medical marijuana.
Iowa's Medical Marijuana Laws Compared To The Rest Of The Country
Recently, Iowa passed a "Medical Cannabidiol Act" that allows the use of cannabidiol extract (CBD) for medicinal purposes — but only pertains to patients with intractable epilepsy. In addition, the epilepsy must not have "been responsive to other treatment options," and the patients' neurologists must believe that "no other satisfactory alternative treatment options exist for the patients." Though this gives certain people with epilepsy access to CBD, the law is still extremely limiting for others like Mackenzie, who suffer from different — but equally severe — conditions.
"The change in law benefits only a small group of Iowans with the most organized lobbying efforts," the Des Moines Register editorial board wrote. "Other sick Iowans should have legal access to marijuana extracts, too. These include people with painful and debilitating conditions like cancer, spinal cord injuries, and severe arthritis, who may benefit from the drug. But if these people obtain cannabis oil, they will still be considered criminals in this state."
Meanwhile, as Iowa's state court fumbles over Mackenzie's trial, what many consider a ridiculous situation, other states such as New York have been taking steps forward to make medical marijuana more accessible — and safe. Terming it the "Compassionate Care Act," which was signed into law by Gov. Andrew Cuomo on July 5, New York will now ban marijuana smoking but will mandate individual dosing of medical cannabis in all forms to help patients who need it.
"The use of marijuana as a medicine is remarkably uncontroversial at the bedside of a cancer patient or a child suffering from convulsions who might be helped," Dr. Steven Patierno, a professor at the Duke University School of Medicine and deputy director of the Duke Cancer Institute, wrote in The Wall Street Journal. "As this consensus has grown into broad public acceptance, many state legislatures have leapfrogged federal prohibition and the Federal Drug Administration process to allow medical use of cannabis."
Though the recent New York law may still need some tweaking moving forward, "[b]y treating medical marijuana like other medicines, New York shifted the debate into the mainstream of modern medicine and set a much-needed national standard of care," Patierno wrote.
Published by Medicaldaily.com