J.A. Happ Released From Hospital One Day After Line Drive Connected With His Head [VIDEO]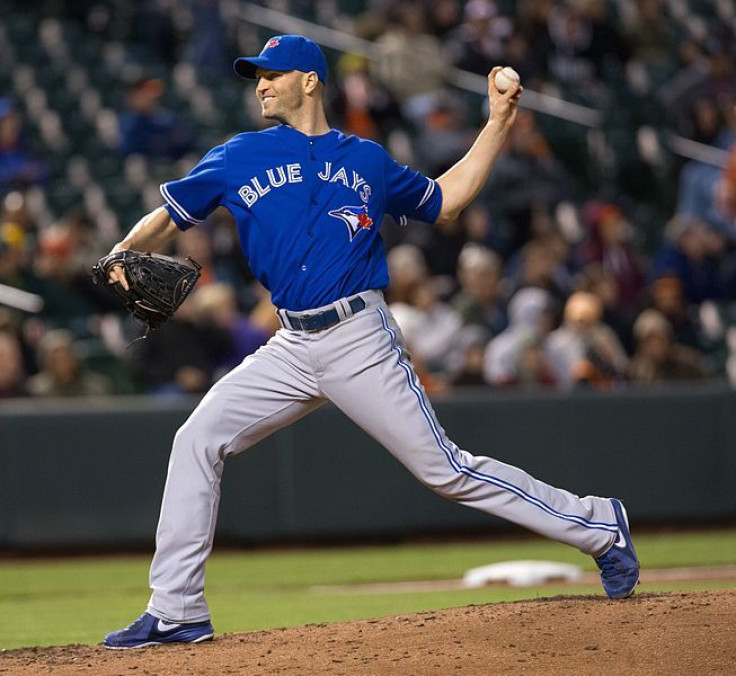 A scary scene unfolded at Tropicana Field on Tuesday after a line drive fired back to the mound struck Toronto Blue Jays pitcher James Anthony "J.A." Happ directly on the head.
Fortunately, Happ was discharged from Bayfront Medical Center in St. Petersburg, Fla. on Wednesday after doctors upgraded his status to good condition, the Associated Press reported.
The horrifying incident took place in the second inning when Tampa Bay Rays center fielder Desmond Jennings rocketed the fastball right back at the unsuspecting pitcher. Happ's attempt to shield his head using his glove was unsuccessful. The ball's impact was heard throughout the entire stadium.
Fellow Blue Jays pitcher R.A. Dickey said it was like hearing two bats, the first was the ball hitting the bat and the second was the ball hitting Happ's head.
Happ was left riving in pain on the mound until medical personnel carted him off the field by way of a stretcher. Displaying his positive outlook, the Blue Jays lefthander mustered up the strength to give the crowd a wave on his way out of the stadium.
A statement released by the hospital said Happ suffered a head contusion and a laceration on his left ear. He has been placed on the 15-day disabled list so that his progress can be monitored.
"I'm in good spirits, I definitely appreciate the support of the baseball community. It's been overwhelming, the messages and kind words I've been getting. I just want to thank everyone for that, and I look forward to getting back out there soon," Happ said in the statement.
Happ received a great deal of support from players around the league including Washington Nationals standout Bryce Harper who tweeted "Thoughts and Prayers out to JA Happ! Scary moment! Hope you are okay brotha! #bluejays #MLB"
Arizona Diamondbacks pitcher Brandon McCarthy is no stranger to the incident that's considered every pitcher's worst nightmare. A line drive that ricocheted off of his head this past September left McCarthy with a brain contusion, an epidural hemorrhage, and skull fracture.
"Truly hope J.A Happ is OK and that his family, friends and everyone else in the Toronto organization is holding up through this tough time," McCarthy wrote on his Twitter.
Published by Medicaldaily.com