Jaime Herrera-Beutler Returns To Congress For Syria Vote After Giving Birth To Baby Who Survived Fatal Potter's Syndrome [VIDEO]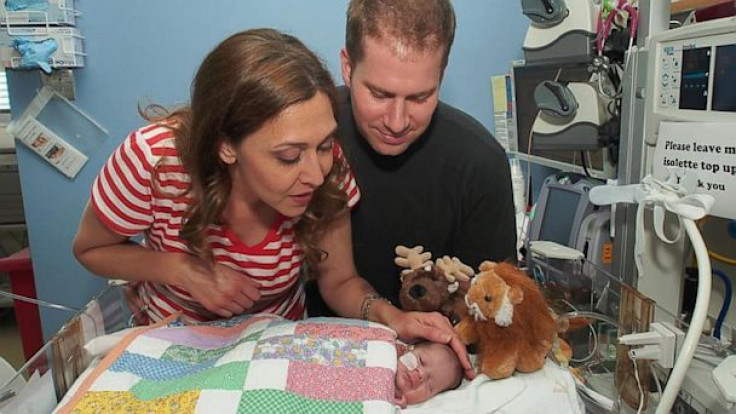 Washington Republican Rep. Jaime Herrera-Beutler is set to return to D.C. next week to participate in Congress' vote on the crisis in Syria. Hererra-Beutler gave birth to her daughter, Abigail, in July. Deemed a "miracle baby," Abigail is perhaps the only known baby to have survived Potter's syndrome, a usually fatal condition that impacts a baby's lungs or kidneys.
"Our daughter had a 100 percent fatal diagnosis, and she'll be 8 weeks on Monday," Herrera-Beutler's husband, Dan, said. "We and many people around the country have spent a lot of time praying for her. We don't know exactly how it all worked out, but we know for sure she's a miracle."
Potter's syndrome is a condition that causes a failure in the development of the lungs and kidneys due to insufficient levels of amniotic fluid surrounding the fetus. In most cases, babies with Potter's syndrome are stillborn. However, in Herrera-Beutler's case — despite a very grim prognosis — she decided to try a never-before-used amnioinfusion treatment at Johns Hopkins Hospital. The treatment involved injecting saline into Herrara-Beutler's womb in hopes of giving Abigail's lungs a chance to develop.
Abigail was born two months early, but the fact that she survived is a triumph for this previously untested Potter's syndrome treatment.
"The doctors and nurses were prepared for the worst, but immediately after she was born, she drew a breath and cried," Herrera-Beutler said. "After a few minutes, it was clear that her lungs were very well developed for a baby born so early. The infusions had stopped the Potter's Sequence."
Herrera-Beutler said that she will not resume full congressional duty until Abigail is healthy enough to go home. But she will travel to D.C. for key votes, including the vote on Pres. Obama's plan to strike Syria over its use of chemical weapons.
"We hope to come home with Abigail as soon as possible, but the truth is we don't know precisely when that will be," Herrera-Beutler said in a statement.
Published by Medicaldaily.com