Jake Locker Injury: Titans QB Hospitalized After Hurting Right Hip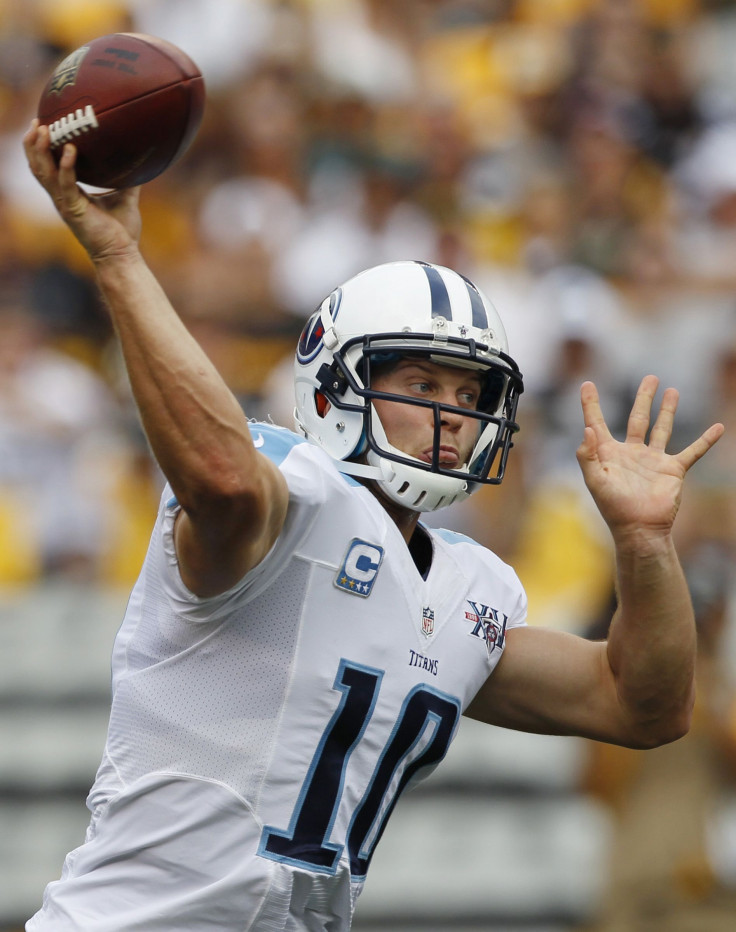 The Tennessee Titans' 38-13 win over the New York Jets in LP Field turned out to be bittersweet for the players and their fans. In what might have been the best game of his National Football League (NFL) career with an 18-of-24 passing for 149 yards and three touchdowns during the first half of the game, Titans quarterback (QB) Jake Locker suffered a right hip injury in the third quarter.
In a dominant first half by the Titans with 11:14 remaining in the third quarter, Locker was hit by Jets defensive linemen Muhammad Wilkerson and Quinton Coples as he went down while throwing a pass, USA Today reports. Locker landed in an uncomfortable position on his right leg and lay completely still on his back while Titans staff examined him on the field. The Titans QB was carted off LP Field as he gave the home crowd a thumbs up. Fans chanted "Jake, Jake, Jake" as Locker was being taken to the locker room.
"I could tell he was in pain. He was wincing," Collin Mooney, the Titans fullback who was the first to reach Locker, told USA Today. "The first thing he asked was, 'Did he catch the ball?' That's Jake for you." While the pass fell incomplete, the Titans QB helped his team reach a 24-6 lead during the first half of the game.
Speculations as to whether Locker was rushed to Saint Thomas Medical Center for emergency surgery were addressed by Titans coach, Mike Munchak, who said the team's staff observed that the hip injury didn't look dislocated, reports Sports Illustrated. Locker was sent to the hospital in an ambulance to undergo further tests on his right hip, a person informed Ian Rapoport, NFL media insider. A team source told Rapoport that Locker would be spending the night in the hospital for further observation.
The Titans staff does not believe that Locker dislocated his right hip, but they do want to know how much damage was done to the area, which is something that doctors will unveil on Monday. Locker's right hip injury may not be season-ending, but the general consensus is that it could be a one- or two-month injury at most, according to ESPN.
In football, hip injuries account for approximately 10 percent of all injuries. The most common hip injury is a hip pointer, which causes swelling and bruising at the site of injury. This type of injury can be painful for athletes and usually requires them to be on crutches during the first few days after the injury, along with stretching and strengthening of the muscles once the pain has lessened, according to Phoenix Children's Hospital. Athletes may return to their sports once they show they have regained full strength and range of motion. While Locker's hip injury diagnosis has yet to be determined, his injury could be more severe than a hip pointer.
The Titans will look to Ryan Fitzpatrick again to carry out the team while Locker recovers from his right hip injury. The Titans (3-1) will face the Kansas City Chiefs (4-0) next Sunday in LP Field.
Published by Medicaldaily.com