Japan Apologizes To 'Comfort Women' Used As Sex Slaves During World War II; Survivors Still Suffer Psychological Effects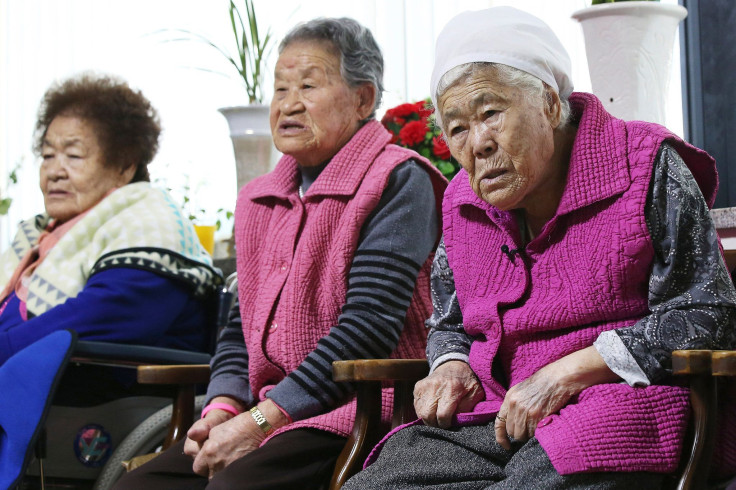 It's been over 70 years since hundreds of thousands of South Korean women were turned into sex slaves by the Japanese military during World War II. But on Monday, South Korea and Japan finally reached an apology agreement. Of the 238 South Korean women who've come forward as so-called "comfort women" since the end of the war, only 46 are alive to witness Japan's pledge of 1 billion yen ($8.3 million), which will go to a foundation meant to provide health care and other services to victims, most of whom are now in their 80s and 90s.
"The issue of 'comfort women' was a matter which, with the involvement of the military authorities of the day, severely injured the honor and dignity of many women," said Japan Foreign Minister Fumio Kishida on Monday during a news conference in Seoul, South Korea, according to The New York Times. "In this regard, the government of Japan painfully acknowledges its responsibility."
Women suffered through sexual slavery from as early as the 1910s until Japan's World War II defeat in 1945. During this time, the Japanese military would invade villages in their neighboring country, kidnap women, and place them in military brothels scattered across several countries. It was not uncommon for 14-year-old girls to be forced into performing sexual acts on soldiers.
Now 89 years old, Kim Bok-dong was one of those girls. In an interview with CNN, she recalled seemingly endless days in which soldiers lined up outside the brothel, typically from noon to 8 p.m. "When it was over, I couldn't even get up. It went on for such a long time," Bok-dong said. "By the time the sun went down, I couldn't use my lower body at all. There are no words to describe my suffering. Even now, I can't live without medicine. I'm always in pain."
The meeting came to a conclusion after 12 rounds of negotiations spanning as far back as spring 2014. Once officials reached an agreement, they concluded the issue of comfort women would be "finally and irreversibly solved" — and that bilateral ties would be strengthened between the two countries. However, several advocates for former comfort women say the deal isn't enough to compensate for the pervasive torture. Historians continue to debate how many women were sent to be sex slaves, although current estimates hover around 200,000.
"It's a humiliating diplomacy for South Korea to give a bushel only to get a peck," the Korean Council for the Women Drafted for Military Sexual Slavery said, according to The Times. "The agreement is nothing but a diplomatic collusion that thoroughly betrayed the wishes of comfort women and the South Korean people."
According to the American Psychological Association, victims of sexual slavery experience complex physical and psychological harm, including: starvation, exposure to sexually transmitted diseases, beatings, rape, and gang rape, post-traumatic stress disorder (PTSD), depression, anxiety, suicide, and substance abuse. Considering this, some victims say money will not make up for the dozens of years of abuse, which was largely kept in the dark even after it ended.
"The agreement does not reflect the views of former comfort women," said 88-year-old Lee Yong-soo, a former comfort woman, according to The Times. "I will ignore it completely. We are not craving for money. What we demand is that Japan make official reparations for the crime it had committed."
Yong-soo said Japan must admit legal responsibility and offer formal, personal apologies to the women who were affected. Instead, she says the agreement is simply a political tool meant to repair the two countries' relationships. Adding to their dissatisfaction, the women were not present during the negotiations.
The agreement isn't enough, Hiroka Shoji, an East Asia researcher at Amnesty International, told The Times. "Until the women get the full and unreserved apology from the Japanese government for the crimes committed against them, the fight for justice goes on."
Published by Medicaldaily.com