Jay-Z Parody Video, 'Bald So Hard,' Offers A Lighter Take On Childhood Cancer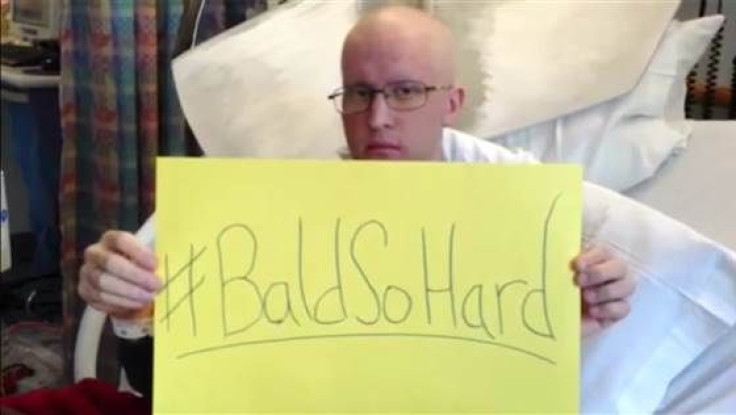 Nineteen-year-old Tom Gillin shows cancer patients they can have fun too. His "Bald So Hard" music video, a parody of rapper Jay-Z's "Ball so Hard," offers viewers a look into his life with Leukemia. It's already gone viral on YouTube, and yes, it is very funny.
"Bald so hard my head got shiny, bright glare behind me. What's a brush, what's a comb, what's a bad hair day, can you please remind me?" the teen raps in the video. This is how Gillin describes losing his hair from chemotherapy. He jokes a lot about his bald head, and explains his life at Children's Hospital of Philadelphia through lyrics. Doctors and other staff at the hospital rap along with him — the music video was filmed at the hospital.
"I made this video to explain the everyday life of a cancer patient in a more unique way," Tom said at the end of the video. He wanted to change the way people look at cancer. Instead of sharing a depressing story, he wanted to make people laugh. Ever since he was diagnosed with acute myeloid leukemia during his freshman year at the Univerisity of California, Los Angeles, Gillin has been at the hospital fighting the disease. Leukemia is a cancer of the white blood cells, and is the most common form of childhood cancer. Acute myeloid leukemia is the form of the cancer more commonly found in adults, according to the Centers for Disease Control and Prevention.
Although there are days that he's extremely exhausted from chemo, Gillin is able to regain his strength to do the things he loves, like making music videos. He said he'd love to meet Jay-Z, and possibly even collaborate on an album. His video has already gotten over 60,000 views, just in time for Child Cancer Awarness Month this September.
Published by Medicaldaily.com