Jerry Sandusky 'Trying To Get Better' In Letters From Prison: Could Pedophilia Be A Biological Disorder?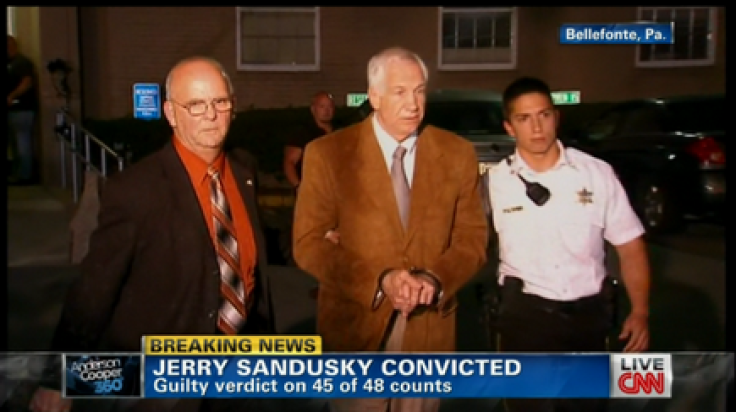 Convicted sex offender Jerry Sandusky penned two letters from prison in which he seems extremely introspective about what he's done. In the letters, he describes his "personal battles" and says that he's "trying to get better." Some experts believe that sex offenders like Sandusky — those who are sexually attracted to young children — are victims of a biological predisposition.
According to TMZ, the letters were sent to Sandusky's pen pals in May and June. The former Penn State coach has maintained contact with various pen pals since beginning his 30- to 60-year prison sentence nine months ago. Sandusky was convicted of 45 counts of sexual abuse against 10 minors.
"For now, my main purpose is to endure, learn from, and grow from this experience," he said in the letters.
Perhaps what's most notable in Sandusky's letters is his desire to position himself as the victim and not necessarily the transgressor. It is not uncommon for those imprisoned to feel as though they've suffered a grand injustice, but some researchers believe that pedophiles — adults who are sexually attracted to young children — do suffer from a biological disorder.
A recent Los Angeles Times article explored the roots of pedophilia and pointed to research that suggests that a predisposition to pedophilia may be as biologically uncontrollable as other sexual preferences like heterosexuality and homosexuality.
The research, which was conducted by the Center for Mental Health and Addiction in Toronto, first looked at physiological indicators like height and dexterity to find commonalities among pedophiles. Then, the researchers looked at intelligence quotient (IQ) and magnetic resonance imaging (MRI) brain scans. What they found may surprise you.
About 30 percent of the pedophiles studied were either left-handed or ambidextrous. That number is triple the rate than that seen in most other groups of people. On average, pedophiles are close to an inch shorter than average people. The average IQ among the pedophiles studied was 10 points lower than average. James Cantor, the head researcher in these studies, also found that pedophiles had less white matter in their brains.
"Seeing a child sets off the same neural response that men typically experience around an attractive woman," the Los Angeles Times explained.
While there still needs to be more research performed on the subject, the little that has been done shows that our criminal justice system may be penalizing people for a biological predisposition. On the other hand, research has also shown that many pedophiles are able to control their sexual urges.
Southern California Public Radio spoke with psychiatrist Fred Berlin and psychologist Hy Malinek on the subject and came to this conclusion:
"While many perpetrators of child sexual abuse are motivated by violent tendencies, and usually choose relatives as their victims, pedophiles are more likely to see children as romantic partners. Their sexual preference may be as biologically innate as any other, and although many pedophiles struggle with their desires, many are able to control their sexual urges."
It is a topic that will certainly draw much debate as more and more researchers try to remedy pedophilia and child sexual abuse. In the meantime, you can read the full letters in Jerry Sandusky's handwriting here.
Published by Medicaldaily.com