Joey Chestnut, Winner Of Nathan's Famous Hot Dog Eating Contest, Consumes More Than 25,000 Calories In Quest For Mustard Belt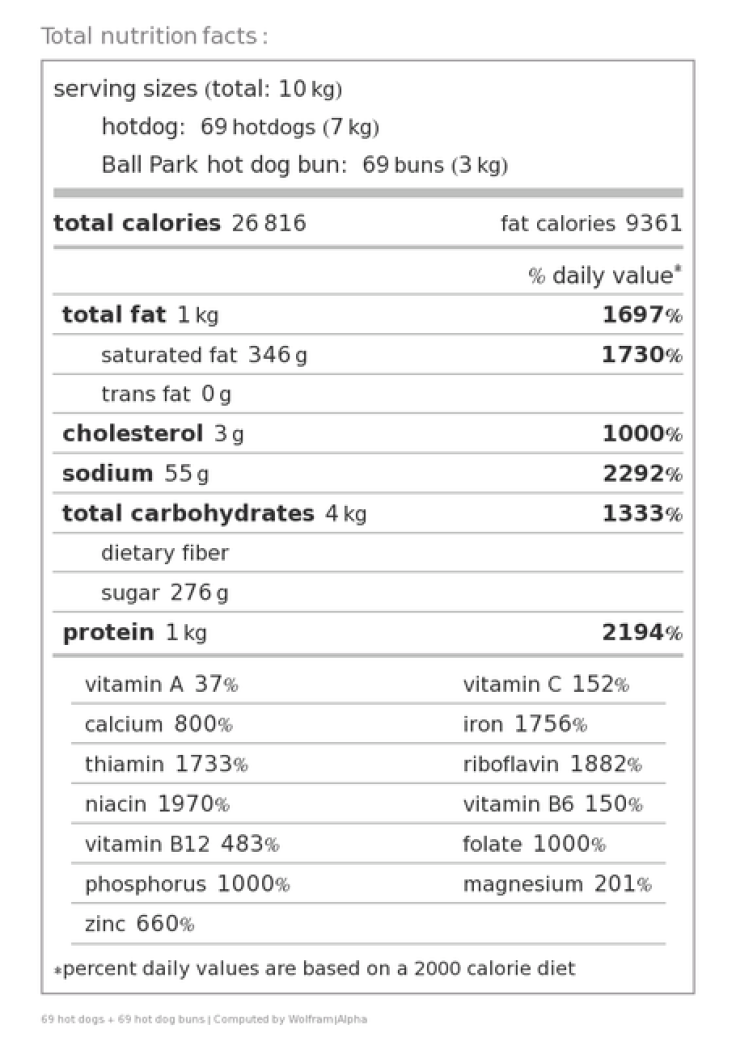 Joey "Jaws" Chestnut took his 7th consecutive title at the Nathan's Famous Hot Dog Eating Contest Thursday, scarfing down 69 hot dogs and buns (HDB) and totaling over 25,000 calories digested in a matter of 10 minutes.
Chestnut's feat came at the Mecca of competitive eating contests — Nathan's Fourth of July Hot Dog Eating Contest — which takes place each year at New York's Coney Island. In the 10 minutes allotted to all competitors, participants must eat as many HDB as possible without having a "reversal of fortune," as the contest's rules state. Chestnut topped his previous record of 68 dogs on Thursday, managing to ingest an estimated 26,816 calories — as many as the average person consumes in two weeks.
One Nathan's hot dog, already a filling meal for some, contains 290 calories, 17 grams of fat, and 710 milligrams of sodium. The average Ball Park hot dog bun, meanwhile, contains 120 calories. Extrapolated to 69 dogs and buns, Chestnut's gustatory triumph inundates his body with 1kg of total fat, 1kg of protein, 55g of sodium, and 3g of cholesterol — or 1,000 percent of his daily-recommended intake, according to a 2,000-calorie diet.
Chestnut was all smiles (somehow) after winning the heralded mustard belt and $10,000 prize.
"Seven is not the end," Chestnut told the Daily News Thursday. "Ten is looking more and more likely."
Competitive eaters, who participate under the governing body of International Federation of Competitive Eating, don't consume their fuel in the same way as the average person, both in technique and quantity.
"These competitive eaters are an interesting group of people who seem to have abilities that many people in the normal population don't have," said gastroenterologist Dr. David Metz, who added that eaters have the ability to suppress a hormone that makes them full. "As the food starts emptying into the small bowel, that switches on hormone stimuli. If those are dampened or blocked, you can eat beyond it."
And despite a tempting misconception, many competitive eaters are on the thin side. Any extra body fat prevents the stomach from expanding to its full capacity — sometimes ballooning to four times its standard volume. Strict workout regimens and diet preparations keep calorie spikes, such as Thursday's, from doing permanent damage.
Competitive eaters have also been known to chew several pieces of gum at once to build strength in their jaw muscles, allowing Chestnut, for example, to keep his pace of two hot dogs at a time.
Chestnut's other competitive eating records include downing 9.8 lbs. of pork ribs in 12 minutes, 78 matzoh balls in eight minutes, and 22.5 gyros in 10 minutes, among many others.
To train for such events, Chestnut regularly expands his stomach with milk, water, and protein supplements. Three days before winning a chicken wing-eating contest, he drank multiple gallons of water in under one minute and ate dozens of chicken wings to acclimate his stomach to the food. He maintains a competition weight between 210 and 225 lbs.
″I will not stop until I reach 70," he said at the 2012 Hot Dog Eating Contest. "This sport isn't about eating. It's about drive and dedication, and at the end of the day hot dog eating challenges both my body and my mind."
Published by Medicaldaily.com