John Oliver's 'Jeff The Diseased Lung' Hits Times Square For Anti-Smoking Awareness Flash Mob
Every year Big Tobacco meets to implement innovating tactics to generate a new consumer base to replace those who have died from using their product or have quit because of health complications — by turning to youth for a new generation of smokers. Those who smoke triple their risk for premature death, leading to half a million tobacco-related deaths in the United States each year, according to the Centers for Disease Control and Prevention. That's when tobacco control advocacy groups step into the ring as the David against Goliath.
Shana Narula is no stranger to tobacco control advocacy and policy. As the campaign coordinator for the global public health non-profit Action on Smoking & Health, Narula organized the demonstration's dance routine for The Campaign for Tobacco-Free Kids youth and Corporate Accountability International, who rallied at Big Tobacco's annual shareholders' meeting on Wednesday.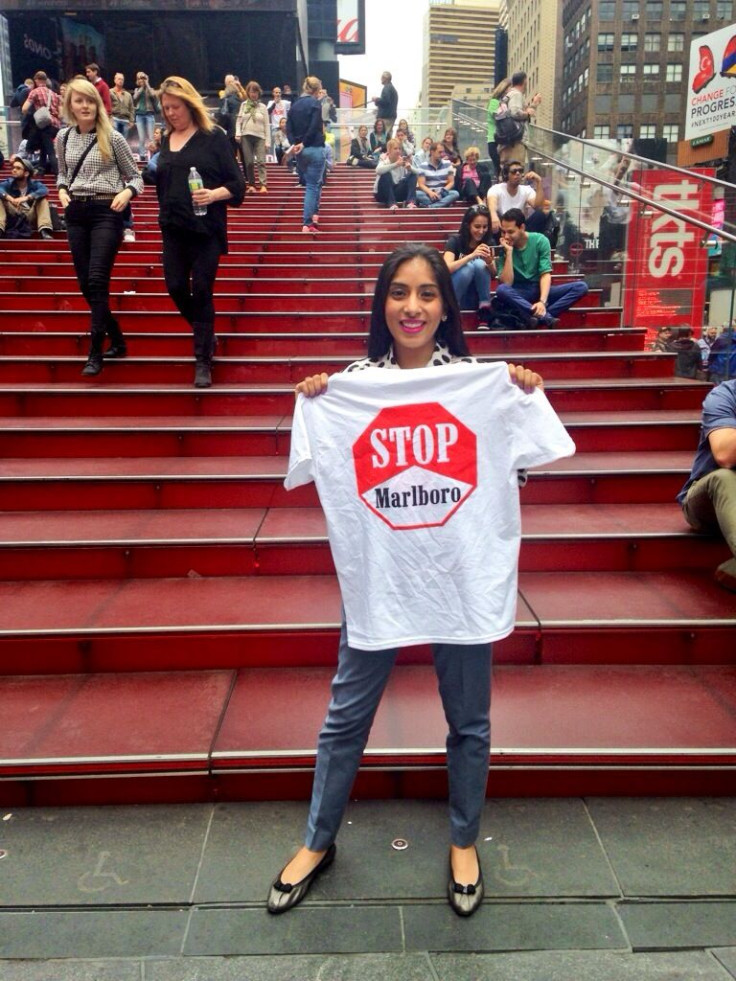 "They're up there talking about more ways to use their deadly product and to make profit off of it," Narula told Medical Daily. "Tobacco has the kind of campaign that attracts youth with sex and adventure and risk-taking, and if you'll notice that's not something that takes place in the United States. It's illegal in the United States for tobacco companies to market toward youth, but that doesn't stop them from marketing to other places around the world."
Philip Morris International (PMI) shies away from using the same campaign tactics in America because of the laws governing against it. However, in 60 other countries a packet of cigarettes is marketed as prevalently as a bottle of soda. Advertisements plaster bodegas, the sides of trucks, and cigarette shops wait outside schools akin to the commonality of a coffee cart. In order to shine a spotlight on the injustices Narula outlines, she stepped in to choreograph a four-step dance routine for fellow anti-tobacco advocates to follow in Times Square.
Anti-Tobacco's First Flash Mob

"The whole concept is to use Jeff and the hashtag #JeffWeCan and #StopMarlboro to show that these marketing tactics are not allowed and tobacco is still the leading cause of preventable disease and death in the world," Narula said. "And the fact is it's the only consumer product that when used as intended, it kills its user. This is very, very unique — no other consumer product does this. Most people think that tobacco is not really an issue in this country anymore and that's completely not true. That's what we want to shed light on today, in a fashion where people will take notice."
The flash mob demonstration idea came from John Oliver's HBO TV show, which aired in February, revealing PMI's global participation, legislative, and campaign efforts to lure consumers. It was there, in front of millions of viewers, Oliver introduced "Jeff the Diseased Lung." The new bright pink mascot, donning a cowboy hat, boots, and a drooping cigarette, represented a hybrid between the infamous Marlboro Man and a lung ravaged with cancer — a design fit for anti-smoking campaigns to rally against Big Tobacco.
There, at the epicenter of Times Square, Narula, TFK youth, and other anti-tobacco allies stood on the pavilion with Jeff waiting for 12:10p.m. Unsuspecting tourists and soon-to-be spectators surrounded the bright red TKTS steps like multicolored ants beneath the gigantic plasma screens, poster boards, and flashing tickers.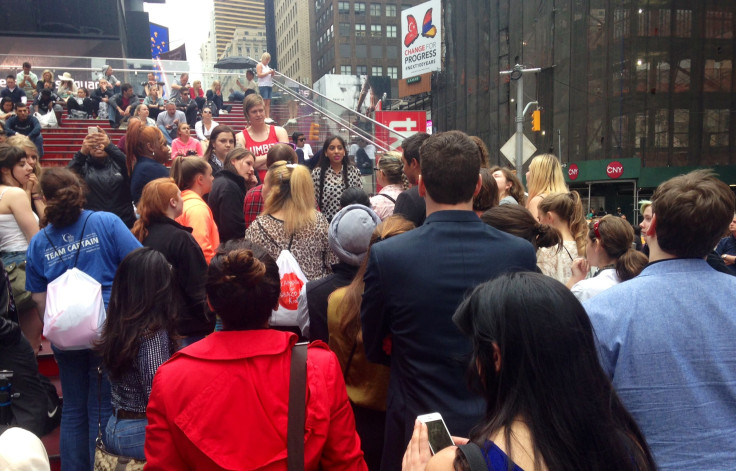 Fifty flash mob dancers stood at the ready for Narula's signal. Police officers were among the crowd, one even taking a picture with Jeff just minutes before it began. When the moment came, the group synchronized, onlookers clapped and tried to join in to sing along: "We don't want your cigarettes. Jeff we can!" Although the dance lasted for less than two minutes, ending with Jeff rolling around on the floor in a coughing fit and loss of breath, the message was delivered to the public.
But what happened just before the flash mob was the real center of attention for advocates. Sitting in a building nearby, corporate heads with political and economic clout gathered to go over their portfolios and explained to their shareholders why their stocks dropped over 16 percent since 2012.
John Oliver's HBO hit anti-tobacco campaign mascot at Times Square flash mob.

Photo courtesy of Medical Daily
Inside Big Tobacco's Annual Meeting
The annual shareholders' meeting, held in the Empire State Ballroom of the Hyatt Hotel, included PMI, the world's largest international tobacco corporation, with its team of executives and board members. The makers of Marlboro, the number one cigarette brand, also sells products in more than 180 markets worldwide.
Corporate Accountability International (CAI), an organization designed to safeguard public health and human rights, also made it to Big Tobacco's meeting. As a membership organization, all they needed was to borrow proxy stocks purchased by one of their members in order to participate in shareholder activism. Having an ear on the inside provides CAI with an unveiling approach to Big Tobacco's plans for the future.
"This year the objective of the board and the executives who were speaking was to console any shareholder concerns over the fact that the tobacco industry is clearly being pushed into a corner and is being seen as a plague to society," international organizer for CAI's Cloe R. Franko, who attended the meeting, told Medical Daily.
Currently, PMI is coming off of two years of decreased profits — decreases they haven't seen in decades. What happened to Big Tobacco? Exactly 10 years ago, the World Health Organization rolled out the Global Tobacco treaty, the first ever public health and corporate accountability treaty. Today it has been ratified by governments representing nearly 90 percent of the world's population. It enshrines the strongest regulations for curbing the tobacco epidemic and for governments to pass policies.
"I think that is very much the cause for the decrease in profits of the tobacco industry and cigarette sales," Franko said. "I think Philip Morris International's shareholders' meeting is a very unique one in that they are no longer trying to play the PR game to attempt to convince the general public that they are a responsible corporation. And as a result, the entire demeanor in there is very much one of justification, of the impacts of the tobacco, of shoving the personal responsibility back on to individuals who smoke, and honestly one of lies. Time and time again, the executives will either distort facts or blatantly lie about numbers in order to essentially discredit the statements of TFK Youth and CAI staff, and allies."
Published by Medicaldaily.com