John Stamos's Disneyland Date With 19-Year-Old Amputee, Kaitlyn Dobrow, Who Lost Limbs Because Of Bacterial Infection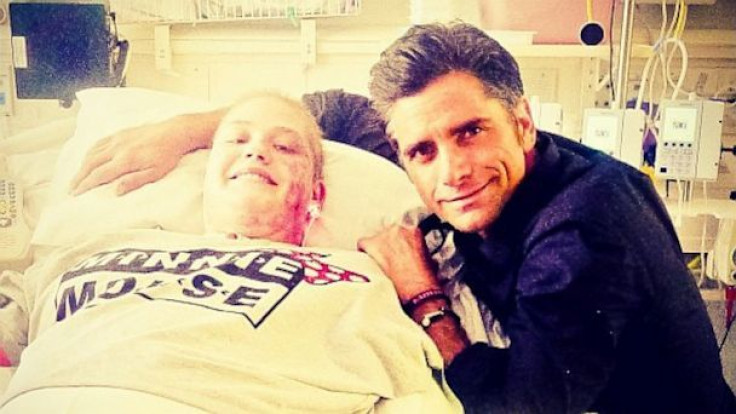 2013 is a year that Kaitlyn Dobrow, 19, won't soon forget, but for an unfortunate reason. After developing a severe bacterial infection, the California native was forced to undergo multiple amputations of all four of her limbs. But now, she finally has something to look forward to: a Disneyland date with John Stamos.
Back in February, Kaitlyn woke up with a pounding headache and extreme bouts of nausea that she and her mother Kathi assumed was the flu. After Kaitlyn was unable to get out of bed, Kathi called paramedics who rushed her daughter off to the emergency room.
When she arrived at UC Irvine Medical Center, both doctors and her mother suspected meningitis, but her condition was far worse. Doctors diagnosed Kaitlyn with meningococcemia, a potentially life-threatening infection in the bloodstream.
This deadly infection is caused by the bacteria Neisseria meningitidis, which Kaitlyn believes she contracted while swimming in a nearby lake. Six months later, the brave 19-year-old has endured six surgeries, four limb amputations, and severe damage to her skin.
"Kaitlynn has had an amazingly positive and courageous attitude throughout this illness and is determined to have a happy, fulfilling life, believing that God has an awesome plan for her future. She is my hero," said Kathi.
The Dobrow family's troubles don't stop there. Besides hospital bills, the family will have to purchase a new home and vehicle in order to accommodate her needs. To pay for Kaitlyn's extensive medical bills and other requirements, her mother has started a fundraising account on GiveForward.com that has already accrued $77,736 in donations.
On Monday, the Facebook page "Caring for Katie" posted a photo of Full House star John Stamos at Kaitlyn's bedside. The same photo on Stamos's Instagram was accompanied with this caption: "I'm ONLY doing this cause they asked. I said no press. but this story is a must read- plus me and katie have a date to Disneyland."
Kaitlyn and Stamos will have to wait for her physical rehabilitation, but neither of them contain their excitement. "We're planning our trip to @disneyland !!!" read a post on Stamos's Twitter. Isn't Uncle Jessie the best?
Published by Medicaldaily.com