Johnsons & Johnson, Other Drugmakers To Join Forces to Make Millions of Ebola Vaccine Doses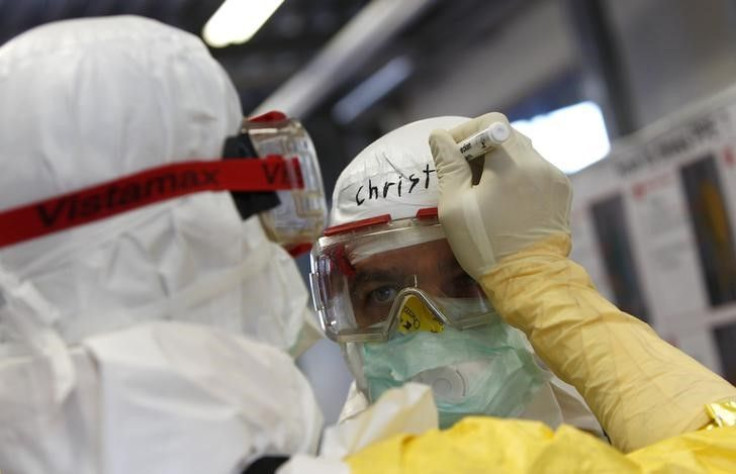 LONDON (Reuters) - Leading drugmakers plan to work together to accelerate development of an Ebola vaccine and produce millions of doses of the most effective experimental product for use next year.
Johnson & Johnson said on Wednesday that it aims to produce at least 1 million doses of its two-step vaccine next year and has already discussed collaboration with Britain's GlaxoSmithKline, which is working on a rival vaccine.
The U.S. group's head of research Paul Stoffels said the two companies would support each other's work and could combine their vaccines if that made sense, while other companies without an Ebola treatment are ready to provide production capacity.
There is currently no proven vaccine against the deadly disease but several companies are racing to develop products. Clinical tests on GSK's vaccine and another from NewLink Genetics are under way, while human tests on J&J's vaccine will start in January.
The World Health Organization (WHO) hopes that tens of thousands of people in West Africa, including frontline healthcare workers, can start receiving Ebola vaccines from January as part of large-scale clinical trials.
"I have spoken with (GSK chief executive) Andrew Witty over the past few days several times as colleagues on how we are going to solve this," Stoffels told reporters. "It might even be that we have to combine their vaccine with ours." J&J said the accelerated work on its Ebola vaccine, which has been helped by recent advances in technology, would yield 250,000 doses by May.
The company plans to test its vaccine for safety and immune response in healthy volunteers in Europe, the United States and Africa from early January, having committed up to $200 million to accelerate the program.
BOOST FOR BAVARIAN NORDIC
West Africa's Ebola outbreak began in March and has killed more than 4,500 people, most of them in Liberia, Sierra Leone and Guinea, according to the WHO.
Outbreaks in Senegal and Nigeria have been declared over by the WHO and there have been a handful of cases in Spain and the United States.
The J&J vaccine was discovered in collaboration with the U.S. National Institutes of Health (NIH) and includes technology from Denmark-based Bavarian Nordic, which will now receive a cash injection from the American healthcare company. The total potential deal value for Bavarian Nordic could be more than $187 million, including upfront payments, milestone payments based on product progress, a supply contract and the purchase by J&J of shares in the Danish biotech business.
Bavarian Nordic's share price jumped 20 percent by 1045 GMT (0645 EDT) after the announcement of J&J's plans. J&J has simplified and fast-tracked its vaccine program in the light of the world's worst Ebola outbreak.
It had been working to develop a vaccine against both the Zaire and Sudan strains of Ebola, as well as a related condition called Marburg disease. However, it is now also developing a vaccine targeting only the Zaire strain behind the current epidemic, which should yield results faster.
PROMISING SIGN
Although the safety and effectiveness of J&J's and other experimental vaccines has yet to be proven, they have provided good protection against the Zaire strain of Ebola when tested on macaque monkeys, which is seen as a promising sign that they are likely to work in humans.
Like a number of experimental vaccines against various diseases, J&J's vaccine uses a common cold virus, called an adenovirus, to carry its payload.
Immunization with the J&J vaccine, which was developed by its Crucell unit in the Netherlands, consists of two injections: one to prime the immune system and a second to boost the response.
By contrast, researchers are testing a single shot of GSK's vaccine. How safe and effective J&J's product will be in humans remains to be seen, but in clinical trials more than 1,000 people received similar vaccines from Crucell for other diseases with no apparent ill effects, offering some reassurance.
Bavarian Nordic, meanwhile, has used a similar approach in producing a smallpox vaccine that has been stockpiled around the world and tested on more than 7,000 people. (1 US dollar = 5.8566 Danish crown)
By Ben Hirschler
(Additional reporting by Supriya Kurane in Bangalore; Editing by David Goodman)
Published by Medicaldaily.com