Jon Basso, Owner Of Heart Attack Grill, Comes Off As Bad As His High-Calorie Burgers In New Showtime Series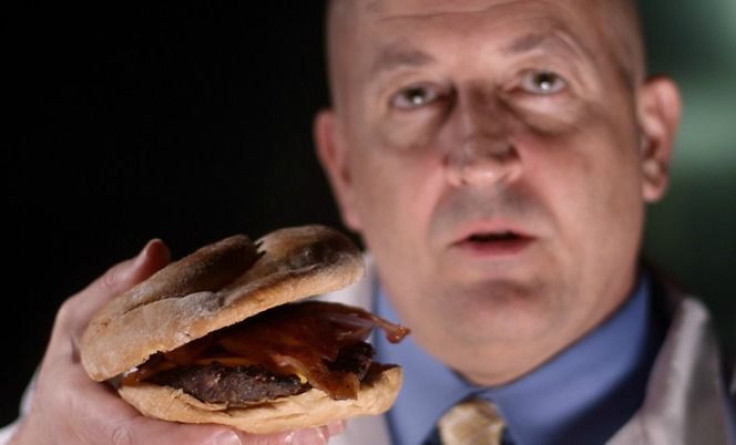 Blair River, the 29-year-old spokesperson for Heart Attack Grill in Las Vegas, died of an actual heart attack in March 2011. And in the gluttony portion of Showtime's 7 Deadly Sins documentary series, restaurant owner "Doctor Jon" Basso doesn't seem the slightest bit sorry.
"It's a sacrifice that has to be made," Basso said. "Somebody has gotta stand here and say, 'Screw it. Wake up, world. You're fat.' No, I'm not going to call you plus-size. I'm not gonna say you're portly. No, you're fat. Lose some weight, or just hurry up and die and be done with it."
The medically-themed restaurant (hosts wear nurses outfits and customers eat in hospital gowns) continually makes headlines for their "Bypass Burgers," which boast nearly 10,000 calories. Their menu, which Basso said was purposefully designed to be offensive, also includes butterfat milkshakes, lard-fried fries, and jello shots served in a syringe. Per the restaurant's website, it's all in an effort to "stop anorexia."
Though it's truly hard to discern what Basso's end goal is (apart from coming across as the worst). He wants his customers to be hyper-aware of their weight, celebrated even, but hopes the restauran'ts infamy spreads and draws in more customers.
A simple task when you consider both River and second, unofficial spokesperson John Alleman suffered heart attacks after eating burges on a daily basis. Alleman actually suffered his on the spot.
Of this, Basso said, "One of the 'nurses' ran back to the kitchen and she says, 'Doctor Jon, someone is having a heart attack.' And I said, 'Business is good!'"
Watch Showtime's trailer for Basso's episode below, and watch an extended clip on Gawker's website.
Published by Medicaldaily.com