Jovan Belcher's Mother Files Wrongful Death Suit: Did 'Repetitive Head Trauma' Cause NFL Linebacker's Suicide? [VIDEO]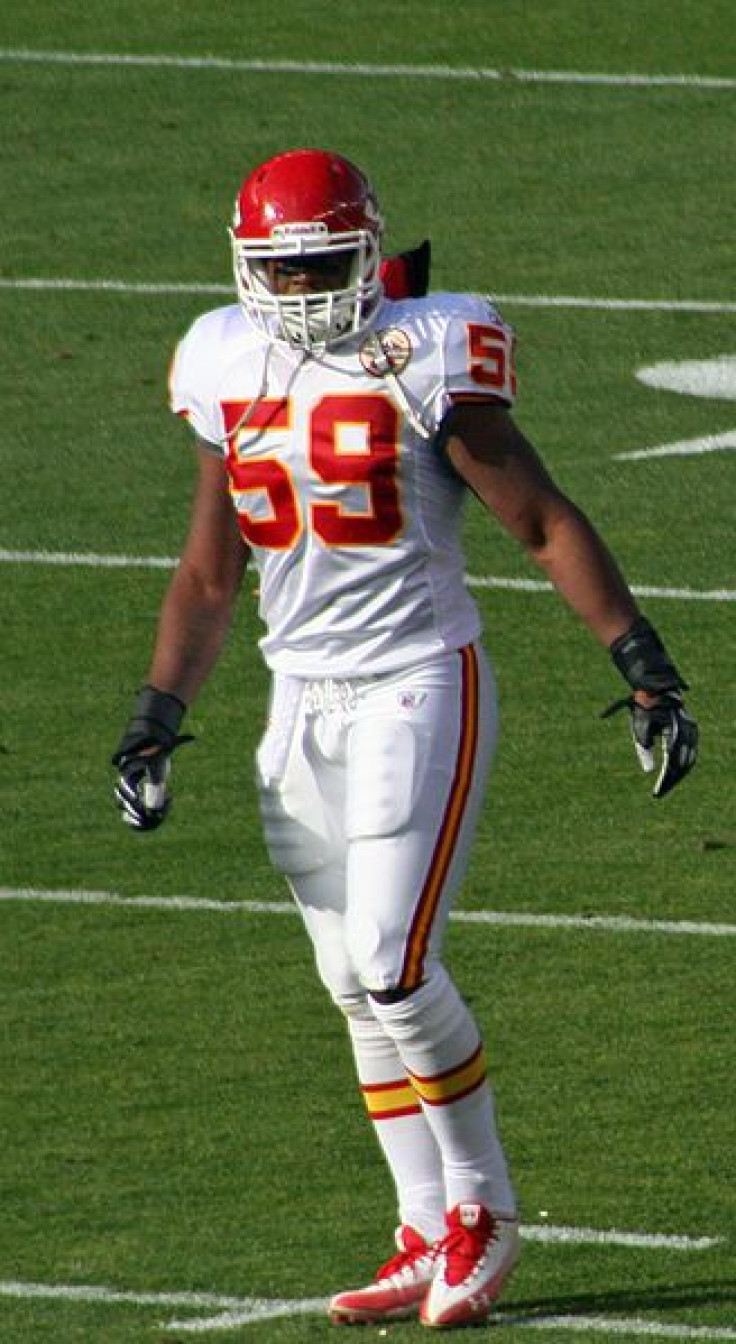 NFL Linebacker Jovan Belcher's mother has reportedly filed a wrongful-death lawsuit against the Kansas City Chiefs alleging Belcher "unknowingly sacrificed his brain" during his career as a professional football player. Belcher killed his girlfriend and himself in 2012. He was only 25 years old. His girlfriend, 22-year-old Kasandra Perkins, had just given birth to the couple's daughter three months before. Now his family believes that in the days and weeks leading up to his death, Belcher showed signs of cognitive and neuro-psychiatric impairment, but the Chiefs did not provide him with adequate medical care.
According to the Kansas City Star, Belcher's body was exhumed from North Babylon Cemetary in Bay Shore, N.Y. at his family's request last month. The NFL player's bizarre behavior leading up to the attack has lead his family to believe that he was suffering from early onset chronic traumatic encephalopathy (CTE) as a result of "repetitive head trauma" he experienced during his NFL career. Though new research at UCLA shows promise in determining when people have the condition while they're still alive, right now doctors can only tell if someone had CTE by performing an autopsy after their death. "If his brain had been examined (when he died), we'd have a better understanding of why he did what he did," said Bennet Omalu, who is credited with discovering CTE, according to the Kansas City Star. "We would have a better understanding about concussions and playing football, and we would advance the understanding of the science of all of this."
CTE is a progressive degenerative disease of the brain that is usually found in people with a history of repetitive brain trauma, according to Boston University's Center for the Study of Traumatic Encephalopathy. The trauma — in athletes, usually concussions — causes brain tissue to degenerate, which then triggers the buildup of a protein called tau. The buildup of tau, over time, has been linked to symptoms like memory loss, confusion, impaired judgment, impulse control problems, and progressive dementia. Former NFL stars like Tony Dorsett and Leonard Marshall have contributed to research on early CTE diagnosis, hoping to get treatment for what they describe as sometimes unbearable symptoms.
"I've thought about crazy stuff, sort of like, 'Why do I need to continue going through this?'" said Dorsett. "I'm too smart of a person, I like to think, to take my life, but it's crossed my mind."
The current lawsuit alleges that Belcher's head injuries and concussions were not documented by the Kansas City Chiefs because they missed the signs of his concussion, which included a play on Nov. 18, 2012 in which he was visibly shaken during his final tackle before his death. The suit also alleges that Belcher was knocked unconscious in a 2009 but was not immediately evaluated by Chiefs staff. The killing of his girlfriend and himself was "uncharacteristic of the loving father, son, teammate, and advocate for victims of domestic violence that (the Chiefs) hired in 2009."
In August, the NFL awarded a $765 million settlement to 18,000 retired football players who suffered concussion-related brain injuries. And, in October, investigative reporters Mark Fainaru-Wada and Steve Fainaru published a book entitled League of Denial: The NFL, Concussions and the Battle for Truth in which they accuse the NFL of tampering with scientific data that highlighted the health risks associated with concussions sustained by athletes. "Football's health crisis featured not millions of anonymous victims but very public figures whose grotesque demises seemed almost impossible to reconcile with their personas," the reporters wrote in their book.
Belcher's mother, Cheryl Shepherd is seeking "in excess of $15,000 for actual damages, punitive damages, and/or aggravating circumstances, for the cost of this action, and for such relief as the court deems fair and reasonable."
Published by Medicaldaily.com