Julio Jones, Atlanta Falcons WR, Seeks 2nd Opinion After Docs Say He's Likely Out For Season Due To Foot Injury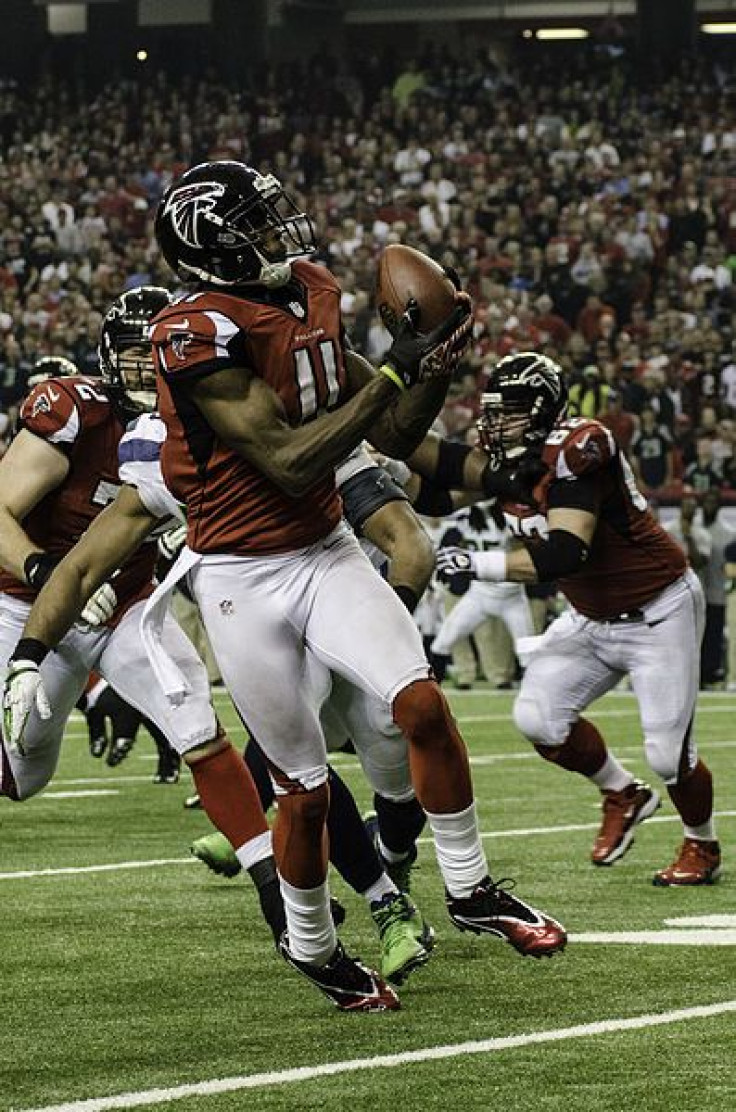 The Atlanta Falcons seem to have caught the injury bug this National Football League (NFL) season with defensive end Kroy Biermann, fullback Bradie Ewing, and linebacker Sean Weatherspoon all placed on the injury reserve (IR) list with Julio Jones as a possible fourth edition.
The 24-year-old star receiver suffered a foot injury during a Monday night football game against the New York Jets (NYJ). Despite the foot fracture, Jones finished Monday night's game in a 28-30 loss to the NJY. While the X-rays taken after the game were clean, the CT scan that the wide receiver had on Tuesday morning could have indicated a possible season-ending injury, ESPN reports.
"I don't want to get into the specifics about what foot it is," said Mike Smith, Falcons Coach, in a Tuesday afternoon news conference. "He did injure his foot last night and was able to complete the game. He had a test this morning and is going for a second opinion tomorrow. The first diagnosis was not that encouraging."
Treatment for the wide receiver's foot injury will remain heavily contingent upon the severity. Football players are particularly vulnerable to foot and ankle sprains and fractures. According to the American Podiatric Medical Association, the podiatrist may attempt to reduce the fracture by lining up the ends of the bones so they can heal properly. For this type of injury, a local anesthetic is administered to numb the area first.
If Jones' fracture is labeled as "unstable," meaning the ends of the bone do not stay in place after a reduction, he will likely have to have surgery for the torn ligaments. While Coach Smith has not made any specific declarations as to how Jones was injured, ESPN notes that the star receiver has been limited in practice throughout the season. On top of his knee problems, Jones banged up his leg in a week-four loss to the New England Patriots.
An unnamed source told ESPN that Jones' recent injury occurred in the same foot that was fractured before the 2011 NFL season. Jones was diagnosed with a broken foot a day after his workout at the 2011 NFL combine. The wide receiver underwent surgery and was selected as the Falcons' sixth overall pick and appeared in 13 games that NFL season.
However, the NFL player's latest injury could be one of the most significant blows to the Falcons team with a disappointing 1-4 record this 2013 NFL season. Jones currently has 41 catches for 580 yards and two touchdowns this season. On Monday night's game, he had a total of eight catches for 99 yards. One of those catches was considered to be a spectacular lunging, one-handed grab as he was draped by NYJ cornerback, Antio Cromartie, reports USA Today.
"We're disappointed. He's a great player, a great human being. But you know the slogan and the philosophy in the NFL is 'Next man, up,'" Arthur Black, Falcons' owner, told USA Today.
Coach Smith will observe from within the team or look at other players from the league for Jones' replacement. "If we have to make a roster move, we will look at all options that are available there. There are wide receivers who have been working with us on the practice squad. They know our offense," Smith said.
Fifth-year receiver Harry Douglas has 16 catches for 219 yards this season for the Falcons, while second-year Drew Davis has only four career catches and none this season, according to ESPN.
Published by Medicaldaily.com