Kathleen Sebelius Prevails In Committee Hot Seat After Healthcare.gov Apology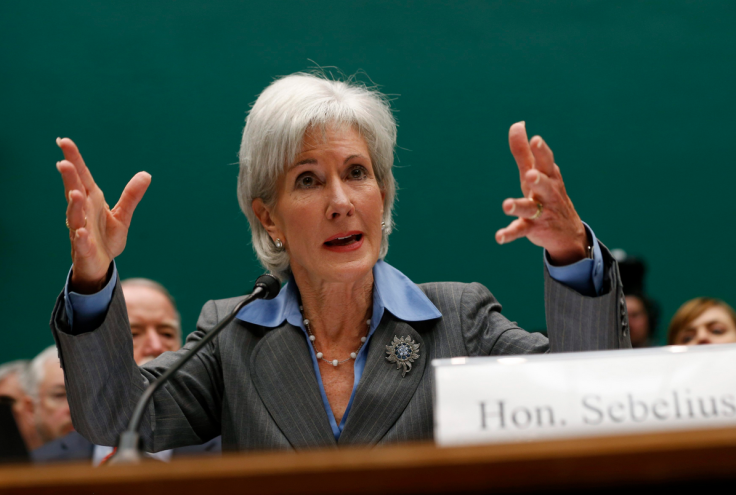 At a House committee meeting on Wednesday, Health and Human Services (HSS) secretary Kathleen Sebelius publicly apologized for the staggering rollout of the Obama administration's signature healthcare reform, delivering herself to Republican lawmakers and news pundits seeking to designate a human scapegoat for the bandwidth and coding issues that continue to stymie prospective enrollees.
"In these early weeks, access to HealthCare.gov has been a miserably frustrating experience for way too many Americans, including many who have waited years, in some cases their entire lives, for the security of health insurance," Sebelius told Congress members and reporters present at the three-hour House Energy and Commerce Committee hearing. "You deserve better. I apologize."
But the apology did not keep staunch Republican opponents of the Patient Protection and Affordable Care Act from voicing their outrage at its sluggish implementation. In a menacing exchange that drew audible sighs and groans, Marsha Blackburn (R-Tenn) attempted to coax additional names and admissions from Sebelius by targeting the team behind Healthcare.gov. But Blackburn's aggressive line of questioning soon foundered on the collected rhetoric of the seasoned Democrat, who proved not to be the soft target the shallow criticism warranted.
"Who was in charge as [Healthcare.gov] was being built?" Blackburn demanded. "At that team, who was in charge?"
When Sebelius said that Michelle Snyder, chief operating officer of the for the Centers for Medicare & Medicaid Services, was in charge of that particular team, Blackburn seized on the opportunity to add a face to the rollout "debacle." "Michelle Snyder is responsible for this debacle," Blackburn submitted, to which a visibly irritated Sebelius replied "No."
"Michele Snyder is not responsible for the debacle," she said. "I'm responsible for the debacle. Hold me accountable."
While Sebelius's exasperated admission will likely continue to echo through Republican circles for the remainder of open enrollment, political commentators doubt that it will have any bearing on her future within the Cabinet. According to Paul Light, a professor of political science at New York University, disciplinary action would be without precedent. "We have no tradition in this country of holding Cabinet members accountable for lower-level or even high-level failures," he said, speaking to USA Today. "If (Janet) Napolitano could not be fired over the Christmas Day bombing plot and (Steven) Chu couldn't be fired over Solyndra and (Eric) Holder has survived over several meltdowns at Justice…why would Sebelius be fired for what appears to be a blended failure between the contractors and her department?"
Republican attacks notwithstanding, news outlets and government workers commended Sebelius on maintaining her composure in the hot seat. In a tweet, Justice Department spokesman Matthew Miller called the hearing a success, as it did not result in any embarrassing statements or YouTube-friendly moments. And for the 113th Congress of the United States, such hearings are few and far between.
Published by Medicaldaily.com