Kevin Ware Breaks Tibia In Horrifying Fashion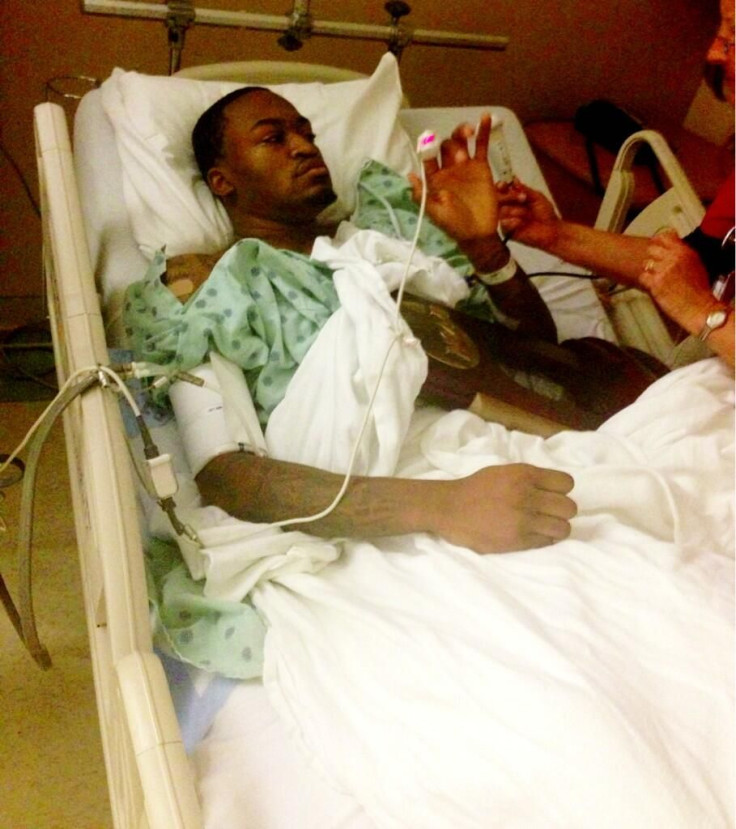 At first glance it was a normal play. Duke's Tyler Thornton stepped back for an open jump shot and University of Louisville guard Kevin Ware, racing from the other side of the court, jumped to contest the shot. The replay proved that Ware's awkward landing was anything but normal.
Ware was flying high heading into Sunday's match up against Duke in the Midwest Regional finals of the NCAA Men's Basketball Tournament. After scoring his career high 11 points against Oregon on Friday, Ware and his teammates were only one win away from their second consecutive trip to the Final Four.
With only 6:33 left in the first half at Lucas Oil Stadium a stunned crowd watched in silence as the 6-foot-2 sophomore was carted off the court with a broken bone in his right leg. He was rushed to Methodist Hospital in Indianapolis to undergo a two hour long surgery where doctors inserted a rod into his right tibia to re-set the bone.
A human's lower leg is made up of two bones, the tibia and the fibula. The tibia is the larger of the two and, therefore, carries the task of supporting any weight that's placed on the bone. Due to this responsibility the tibia accounts for one of the most commonly broken bones in the leg.
As Ware laid on the court by his team's bench in what appeared to be agonizing pain, all his coach and teammates could do was wipe the tears off their faces. After Ware was put on a stretcher and rushed to the hospital, his teammates came back out on the court, and put together a 50 point second half performance that allowed them to hoist the Midwest finals trophy right next to Ware's number five jersey.
Friends and teammates who visited Ware in the hospital late last night tweeted a photo of him post-surgery in his hospital bed with the trophy clutched tightly under his left arm. Ware's "catastrophic" injury drew a great deal of Twitter attention from some other notable names whose careers were shook by their own horrific injury.
Former NFL quarterback Joe Theisman experienced an eerily similar type of injury when Hall of Fame linebacker Lawrence Taylor tackled Theisman forcing his leg to buckle in the same gruesome fashion as Ware's. The former Washington Redskin's quarterback tweeted: "Watching Duke/Louisville my heart goes out to Kevin Ware."
Current San Francisco running back LaMichael James was reminded of his own injury back in 2011 that left many unsure whether he would ever see the field again. James tweeted: "If my bone would have went through my skin it would have look liked Kevin ware injury. saw his injury & flashbacked."
The University of Louisville released a statement late last night saying the surgery to repair Ware's broken leg was successful. He is expected to remain in Indianapolis until Tuesday when physicians are hopeful he'll be able to join his teammates in Atlanta to watch them compete in the NCAA Final Four.
Published by Medicaldaily.com