KFC Kicks Toddler Out Because Her 'Face Was Disrupting Customers'; Girl Was Victim Of Pit Bull Attack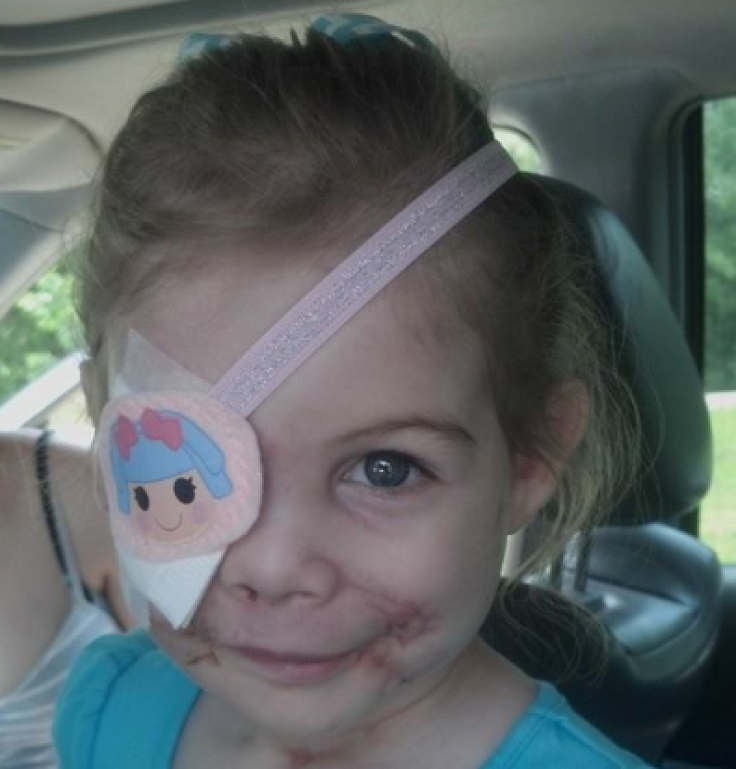 A pit bull attack victim and her grandmother went to dine at a KFC in Jackson, Miss., after physical therapy when they were asked to leave by an employee. The pair, 3-year-old Victoria Wilcher and her grandmother, Kelly Mullins, decided to stop by the fast food chain because the little girl was hungry and was on a feeding tube at the time. Upon ordering a large sweet tea and some mashed potatoes and gravy, Victoria and Mullins were told the girl's facial injuries were "disrupting customers" at the restaurant. So, the pair got in the car and left, as Victoria cried all the way home.
"I ordered a large sweet tea and her some mashed potatoes and gravy because she was hungry," Mullins told WAPT. "She was on a feeding tube at the time, but I figured she could just swallow (the potatoes). They just told us, they said, 'We have to ask you to leave because her face is disrupting our customers.'"
Mullins quickly took to Facebook to report the incident that left her, and especially Victoria, mentally and emotionally scarred. "Does this face look scary to you?" the family posted on the Victoria's Victories Facebook page. "I personally will never step foot in another KFC again and will be personally writing the CEO."
Victoria's supporters showed their solidarity not only on Facebook, but also on Twitter. People like Muhanad Alhassoun expressed disgust for the fast food chain employee and praised Victoria as a "beautiful little girl."
As the social campaign grew quickly, with over 61,000 Likes on its Facebook page, so did KFC's call to action. On Friday, in response to the incident, Richard Maynard, KFC spokesman, wrote: "KFC launched an investigation as soon as we were made aware of this report. We take this very seriously, as we have zero tolerance for any kind of hurtful or disrespectful actions toward our guests." The company said it will donate $30,000 to assist with the girl's medical bills, claiming the entire KFC family is behind Victoria.
Despite the outpouring of support and KFC's issued apology, Victoria is now unable to look in the mirror and doesn't even want to get out of the car. The toddler is embarrassed about what she looks like. As Mullins stated, "(Victoria) understood exactly what they said" when the KFC employee kicked her out, Yahoo! News reported.
Authorities said Victoria was attacked in April while visiting her grandfather, Donald Mullins, divorced from Kelly, in Simpson County, Miss., WAPT reported. One of the man's 10 pit bulls ripped open the back door and jumped on the girl. Two of the other dogs dragged her into the back yard and began to maul her. Upon discovering the attack, the grandfather fatally shot two of his pit bulls. Donald and his girlfriend, Rita Tompkins, were arrested for child endangerment. The eight remaining pit bulls were taken by animal control.
The toddler, who suffered a shattered top and bottom jaw, broken cheekbones, eyesockets, and a broken nose is on antibiotics and has plenty of future surgeries lined up. Currently, Victoria's right side of the face is paralyzed, and she has lost her right eye. Kelly asks people to continue to pray for her. "She surprised us. I think she surprised everybody. She's a fighter," she said.
Victoria is one of the 1,000 Americans who undergoes emergency care treatment for dog bite injury every day.
Published by Medicaldaily.com