Kids' After School Exercise Programs Obviously Improve Fitness, But They Also Boost Cognition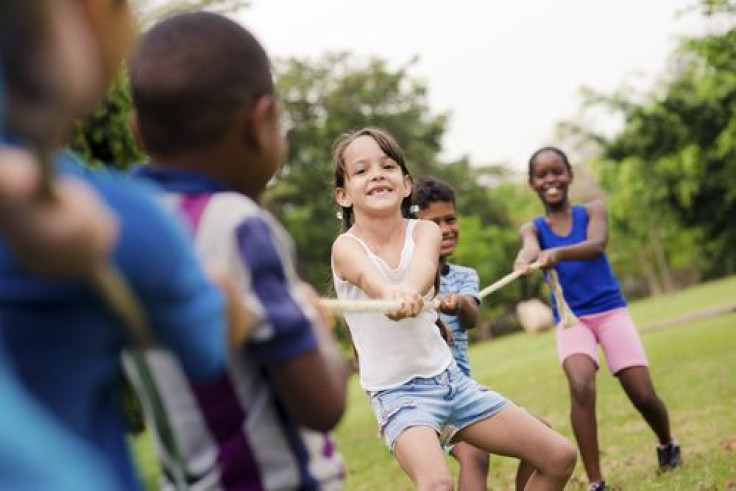 Doctors have long praised the benefits of exercise toward a child's healthy growth and development. Now, a nine-month-long experiment conducted on 221 prepubescent children has further validated this theory. Children who engaged in moderate-to-vigorous physical activity for at least 60 minutes a day after school showed improvements in performance, a better ability to pay attention, avoid distraction, and switch between cognitive tasks. The research was published in the journal Pediatrics.
For the study, half of the children were assigned to the after-school program while the rest were placed on a wait-list. All participants were subjected to cognitive testing and brain imaging at the start and end of the program. "Those in the exercise group received a structured intervention that was designed for the way kids like to move," said Charles Hillman, the University of Illinois kinesiology and community health professor who led the study, in a statement. "They performed short bouts of exercise interspersed with rest over a two-hour period."
The intervention, called FITKids, was based on the CATCH exercise program, a health promotion and childhood obesity-prevention program. Initiated by the National Institutes of Health, it has been widely adopted by schools across the U.S. Kids partaking the FITKids exercise group wore heart-rate monitors and pedometers during their intervention in order to compare levels of exercise to heart rates.
"On average, kids' heart rates corresponded with a moderate-to-vigorous level of exercise intensity, and they averaged about 4,500 steps during the two-hour intervention," Hillman said. The children were active for about 70 minutes per day, helping their fitness levels increase by six percent. Among those who weren't active, fitness levels improved by less than one percent.
There were other noticeable improvements as well. When it came to "cognitive flexibility," which is the ability to switch between multiple intellectual tasks while maintaining speed and accuracy, children who were part of the program showed two times more improvement when compared to those on the wait-list. These results were validated with a recorded increase in brain function. Kids from the program also showed significant improvements in "attentional inhibition," or the ability to avoid distractions and focus on the task at hand.
"Interestingly, the improvements observed in the FITKids intervention were correlated with their attendance rate, such that greater attendance was related to greater change in brain function and cognitive performance," Hillman said.
The study did not, however, consider increased levels of fitness among the control group through social interactions, stimulation, and engagement with other children, among other activities. "Other research at Georgia Regents University led by Catherine Davis has actually used social and game-playing as their control group, and showed that the cognitive effects of their physical activity intervention are above-and-beyond those that are gained just through social interactions," Hillman said.
Social interactions play a huge role in making kids healthy. Part of the reason kids like participating in "structured sports," Hillman said, is because they find it fun while also being able to make friends. "This intervention was designed to meet those needs as well," he said.
Source: Hillman C, et al. Effects of the FITKids Randomized Controlled Trial on Executive Control and Brain. Pediatrics. 2014.
Published by Medicaldaily.com