Kim Kardashian's Psoriasis, And 3 Other Celebrities With Chronic Skin Condition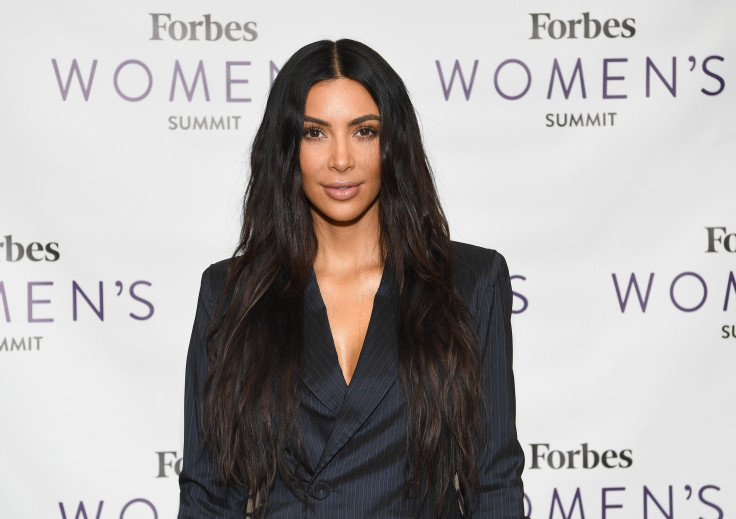 August is Psoriasis Awareness Month, and although the autoimmune condition affects 7.5 million people in the United States, those who live with it often feel isolated and alone. Celebrities with the chronic skin condition are in the public eye more than most, but that spotlight also helps them show that many people, even the rich and famous, struggle with the emotional and physical pain that comes with psoriasis.
According to Psoriasis Speaks, the condition is a chronic immune system disease that causes a number of skin problems such as red, thick, and itchy patches. The condition can also affect the nails, genitals, inside of the mouth, and the joints, the American Academy of Dermatology reported. Here are four celebrities who have been open about their struggle.
Kim Kardashian
Kim Kardashian is one of the most well-known celebrities to be vocal about her psoriasis. Not only has the starlet documented her struggle on her reality TV show "Keeping Up With The Kardashians," but she also shares photos of her outbreaks on social media.
Read: Natural Psoriasis Treatments: Which Alternative Therapies Do And Don't Work
"I don't even really try to cover it that much anymore," she wrote on her app KimKardashianWest.com. "Sometimes I just feel like it's my big flaw and everyone knows about it, so why cover it?"
Cara Delevingne
Model-turned-actress Cara Delevingne has also spoken about her struggles with psoriasis, and how the condition has affected her professional life.
"I have been able to meet a lot of people who have it, which is good," explained Delevingne, PerezHilton.com reported. "People don't talk about it, because it's a weird and embarrassing thing, but it can really screw you up for life if you don't deal with it properly. The side effects of dealing with it are not pretty."
Cyndi Lauper
In recent years, "Girls Just Wanna Have Fun" singer Cyndi Lauper has teamed up with The National Psoriasis Foundation to speak out about her physical, emotional, and social struggles with the skin condition.
"I'm not talking about it because I feel sorry for myself. I'm talking about it because no one talks about it. I didn't understand until I met people from The National Psoriasis Foundation and they brought two other people who had suffered their whole life with it," said Lauper, The National Psoriasis Foundation reported. "And what they told me was really kind of moving, that nobody really talks about it and a lot of times you feel alone. I know I felt alone…"
LeAnn Rimes
Country singer LeAnn Rimes was diagnosed with psoriasis at age 2, and at one point the condition covered 80 percent of her body, Healthline reported. She strives to manage the condition with diet, exercise, and advice from her dermatologist.
"People always used to compliment me on my skin, how beautiful it was, and I'd think, if you only knew what was underneath my shirt or my long dress!" she told Everyday Health in an interview. "As a little girl, it was like, 'I'm not pretty, I'm not normal.' But you learn very quickly where beauty comes from."
There is no cure for psoriasis, but there are diets and treatments that can help keep flare-ups to a minimum. For example, making sure you keep skin moisturized and wrapped up during a flare-up can help to minimize its severity. For more psoriasis tips click here.
See Also:
Psoriasis Treatment: 5 Natural Ways To Alleviate The Skin Disorder At Home
Psoriasis Facts And Myths: 5 Things To Know About Misunderstood Immune Disease
Published by Medicaldaily.com