Kourtney Kardashian's Paternity Test Proves Scott Disick Is Mason's Father: Living In The Spotlight With The Kardashians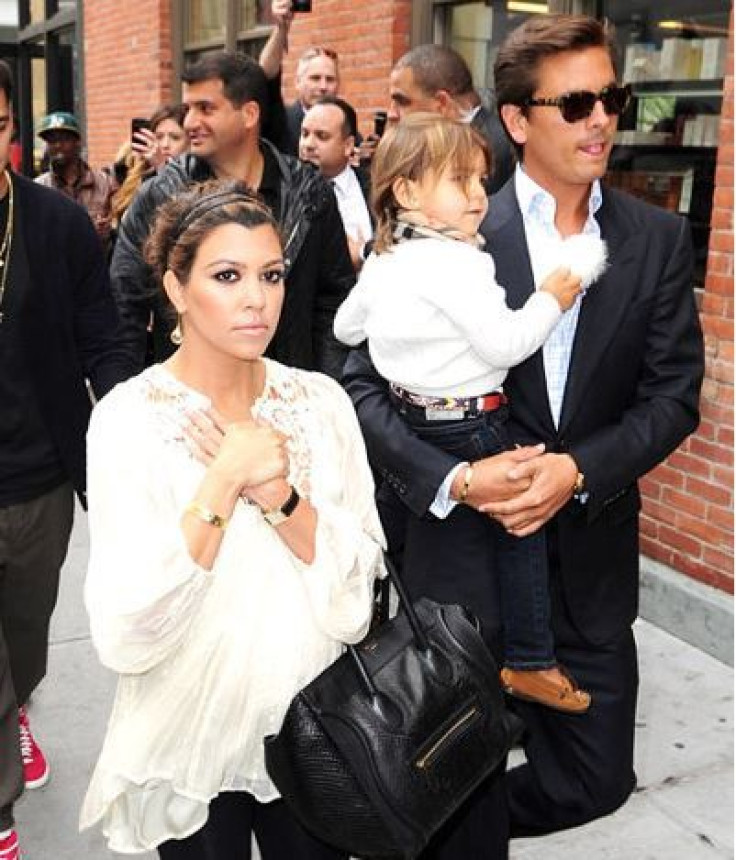 A paternity lawsuit erupted when male model, Michael Girgenti claimed himself as the father of Kourtney Kardashian's son Mason. In order to quell the onslaught of media accusations, long-time boyfriend, Scott Disick, 30, performed a paternity test. The lab test results, which were released on Thursday, prove that he is Mason's biological father, finally putting an end to the ongoing rumor.
"After three-and-a-half years of rumors and lies being spread by an individual I met briefly at a photo shoot, I am setting the record straight that Scott is Mason's father," Kourtney, 34, told E! News. "While it saddens me to have to address these ridiculous lies—especially when the truth was never in doubt—this story must be put to rest."
The paternity lawsuit was filed in L.A. County Superior Court, which requested joint custody of Mason. It reportedly claimed Girgenti had unprotected sex with Kourtney in March 2009, which resulted in the pregnancy and birth of her three-year-old son, Mason, who was born December 2009.
Girgenti claimed when Mason was born, he immediately saw the resemblance and tried contracting Kourtney. When he came up unsuccessful, he tried to get her attention with the unrelenting media and accusations. The lab results were taken on August 12, in order to prove the allegation as false.
Girgenti also claims Kourtney and Scott's one-year-old daughter, Penelope also bears no resemblance to her older brother Mason.
"This individual has been selling false and fabricated stories to the tabloids for years about Kourtney Kardashian and her son, Mason," said. Kourtney's attorney, Todd Wilson. "His claims are absurd and this is simply another shameful attempt to gain publicity and profit from fictional stories about my client."
What Are They Famous For?
Rumors are nothing new for celebrities, especially when it comes to the Kardashian's. Kourtney is on the E! reality television series, Keeping Up With The Kardashians, along with her immediate family, and her young sisters Khloé, and Kim Kardashian.
The 32-year-old, Kim Kardashian sprung her family into fame when she gained notoriety for a $5 million dollar sex tape in 2007. She grew to a net worth of $40 million after her sister-owned makeup and fashion line, Kardashian Kollection; fast-ended marriage with professional basketball player, Kris Humphries; and current relationship with rapper, Kanye West with whom she recently had a baby with in June. The television show, which is going on its 10th season, documents her and her family's lives as they work through day-to-day routines.
The Kardashian empress defends her and her family's frequently questioned fame in an interview with The Guardian: "I have a hit TV show. We've shot more episodes than I Love Lucy! We've been on the air longer than The Andy Griffith Show! I mean, these are iconic shows, so it blows my mind when people say that."
The Guardian questions why the shows are famous because they're not performers. Kim responds, "But to be able to open up your life like that and to be so… if everyone could do it, everyone would. It doesn't make sense to me."
Even though reality stardom is what made the Kardashian's as famous as they are now, they weren't all up for the venture. Kim describes the first inklings of a reality show and decided she'd be good at it.
"I just thought my life seemed interesting. I thought, if only people knew what crazy things that go on in this household, it would be so funny. And everyone kept saying that. They'd come over and be like, 'Oh my God, you need your own reality show,'" Kim said. "I was always on board. Kourtney was the one who wasn't."
Unfortunately, Kourtney had no choice but to be exposed on camera with a reality show, the slew of papazzi and rumors from Girgenti, which can now be put to rest. Except, for Girgenti, he believes the results could have been tampered with and will pursue with his lawsuit. According to Dr. Sanjay Gupta, chief medical correspondent at CNN News, with just a child's DNA and dad's DNA, the test will provide test results that are 99 percent accurate, which is just what Scott and his son, Mason did.
Published by Medicaldaily.com