LA Tour Bus Crash: Feds Look Into Company For 'Unsafe Driving Record' [VIDEO]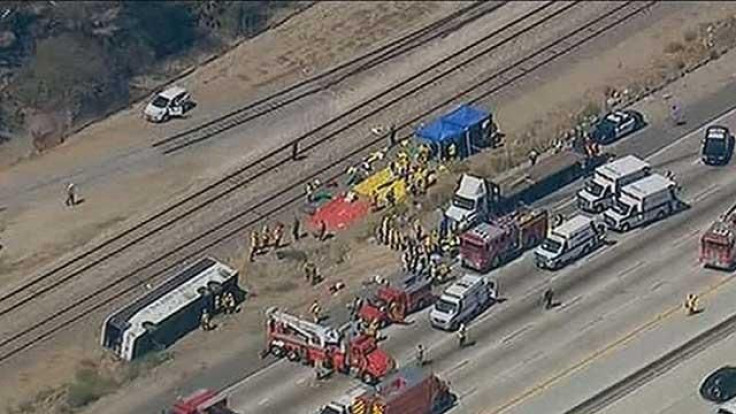 Over 50 injured passengers have been reported after a tour bus crashed on a Los Angeles highway this past Thursday. The federal government has launched an investigation into the Da Zhen bus company for a history of "unsafe driving" violations, NBC Los Angeles reported.
The crash that occurred on the 210 Freeway in Irwindale, Calif., at around 10 a.m. also involved a separate vehicle; however, the driver was left unharmed. Eight bus passengers who needed immediate medical attention were airlifted to Los Angeles County-USC Medical Center where Dr. Leo Rodriguez told the Los Angeles Times that they suffered "pretty basic blunt-force trauma injuries."
Passengers on the bus were from ages 60 to 80 and heading to San Manuel Indian Bingo and Casino in Highland, Calif. Bus driver Jinquan Yang also suffered minor injuries and has not yet been charged with a crime, although California Highway patrol officer Elizabeth Van Valkenburgh claimed an "unsafe lane change" was the cause of the accident.
"The bus somehow made its way to the right shoulder and overturned on the right shoulder," officer Saul Gomez of the California Highway Patrol told the Huffington Post. "The investigation into the cause of the crash is ongoing but we're more concerned with injured people right now,"
Safety inspections performed by the Federal Motor Carrier Safety Administration this year have led to three violations for "unsafe driving" including two speeding violations and one for following another vehicle too closely, according to NBC News. Da Zhen has officially been put on "Alert Status," meaning its poor performance record has been flagged and the company is subject to more frequent inspections.
Published by Medicaldaily.com