Laos Plane Crash: 49 Killed In Airline Disaster Caused By 'Wind Shear' From Typhoon Nari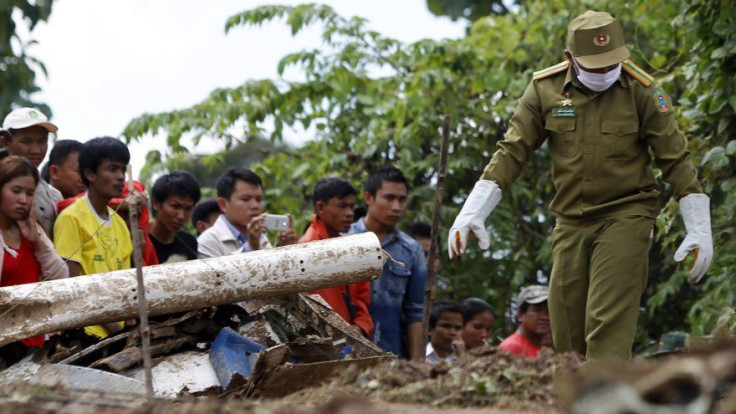 According to officials along the Mekong River, a Laos Airlines plane crash last Wednesday killed all 49 people on board. Wind shear left over from Typhoon Nari, which hit the country this past Tuesday, has been implicated as the cause of the disaster.
"We have asked villagers and people who live along the river to look for bodies and alert authorities when they see anything," Yakao Lopangkao, director-general of Lao's Department of Civil Aviation, told the Associated Press.
Of the 49 people killed in the crash, 44 were passengers and five were crew members from 11 different countries including Australia, Canada, China, France, Lao, Malaysia, Taiwan, Thais, United States, and Vietnam, the Associated Press reports. Boats carrying emergency personnel and divers scoured the muddy river that borders Laos and Thailand to pull bodies from the wreckage.
"We haven't found the plane yet. It is underwater. We're trying to use divers to locate it," Lopangkao told the Associated Press. "There is no hope. The plane appears to have crashed very hard before entering the water."
Heavy rain and winds while the plane was landing at Pakse Airport caused the pilot to lose control of the plane, Chalerm Taiyalad, Laos Airlines' vice president, told CNN. Wind shear refers to a sudden change in wind speed or direction along a straight line.
After Typhoon Nari hit Vietnam on Monday, more than 100,000 people were evacuated, and Vietnam Airlines was forced to cancel several flights. The crash holds the third highest death toll involving an ATR-72 plane, which has also been associated with 16 crashes since 1988.
Both Laos Airlines and the manufacturer of ATR aircrafts have agreed to comply with investigators to figure out the cause of the crash. "The circumstances of the accident are still being determined," a representative from the airplane manufacturing company said in a statement.
Published by Medicaldaily.com