Lap-Band Patients May Need To Closely Monitor Nutrition, Receive Counseling Following Surgery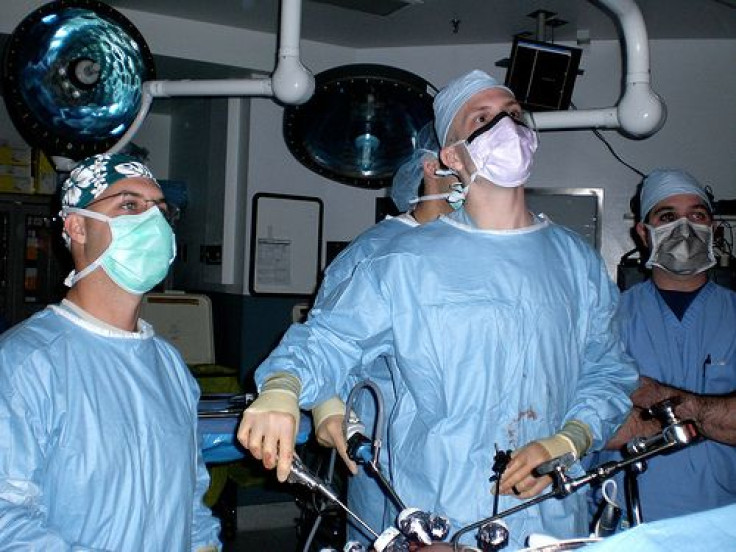 People who have their stomachs surgically reduced in size, via a laparoscopic band — otherwise known as a lap-band — may need to receive clinical counseling and to closely monitor their nutrition, a new study finds, as the majority of participants failed to compensate for their physical disposition.
Lap-band surgery has declined in popularity since 2009, when the procedure hit its peak, but the number of people turning to bariatric surgery, be it gastric bypass or another form of forced, physical reduction, remains high compared to recent decades. And as obesity continues to balloon as an American, and indeed, global pandemic, the numbers will only continue on the uptick. But as more people turn to surgery to solve their weight issues, the more they will fail to deliver adequate nutrients, such as protein, vitamin D, and calcium to their bodies. That is, the researchers argue, unless they stay aware of the risks.
"Our study clearly shows that there are issues regarding nutritional intake in gastric banding patients," said senior author of the study and Chief of the Division of Nutrition and Metabolic Diseases at the University of Texas Southwestern, Dr. Abhimanyu Garg, in a statement. "They may need not only supplementation, but also counseling and constant evaluation."
Lap-banding only accounts for approximately 10 percent of all bariatric surgeries. Sleeve gastrectomy — a procedure that shrinks the stomach to a sleeve-like shape a quarter of its original size — makes up the bulk, at 60 percent. And the more popular, gastric bypass, which, as the name implies, reroutes the intestine to a small pouch cut off from the rest of the stomach, comes in at 29 percent. Because lap-banding is less common and isn't as invasive as the other procedures, people tend to assume it comes with fewer nutritional precautions, Garg explained.
However, the team's small study showed the nutritional precautions are just as important. Twenty-three patients participated in a 12-week trial, with their nutrient levels measured at baseline, six weeks, and at 12 weeks. Overwhelmingly, the team found, people were deficient in a number of measures. At least 86 percent did not meet recommended requirements for calcium and vitamin D, and many subjects showed slight anemia at 12 weeks.
Indeed, the effect may be a result of a common criticism of lap-band surgeries. The people who qualify for such surgeries must be either morbidly obese (defined as a body mass index over 40), or need the weight loss to alleviate conditions related to their weight, such as type 2 diabetes, hypertension, sleep apnea, or other life-threatening conditions. But the one thing that doesn't change is the person's attitudes toward food. They may feel full earlier, but their actual diet must change, too. As the team found, this seldom takes place.
"Bariatric surgery and the lifestyle changes necessary for continued success are serious lifelong commitments," said Dr. Michael J. Lee, assistant professor of surgery and director of metabolic and bariatric surgery at UT Southwestern, in the release.
Between 2003 and today, the number of bariatric procedures has risen dramatically, up from 103,200 in 2003 to a peak of 220,000 in 2009, then levelling off to between 150,000 to 160,000 annually in the U.S. The surgery, which typically costs between $11,500 and $26,000, may or may not be covered by insurance. In order to prevent that cost from leading only to further health problems, Garg advises all patients to follow several broad dietary guidelines:
Consume more food rich in protein, vitamins, and minerals in order to keep the nutrient levels in the body high.
Consume fish high in omega-3 fatty acids, a healthy source of fat.
Consume more fruit, vegetables, whole grains, and nuts to supplement the nutrients and add fiber.
Cook with vegetable oils, such as canola oil and olive oil in order to replace saturated and trans fats
Keep sodium levels low by minimizing processed foods.
Source: Shah M, Adams-Huet B, Rao S. The Effect of Dietary Counseling on Nutrient Intakes in Gastric Banding Surgery Patients. Journal of Investigative Medicine. 2013.
Published by Medicaldaily.com