Is Larq Bottle Worth It? We Answer 5 Biggest Questions About The Self-Cleaning Bottle
Reusable water bottles have become increasingly popular. It's a convenient way to keep us hydrated while also being good to the environment. Taking it up a notch is LARQ, a popular brand of self-cleaning reusable water bottles.
Live More Sustainably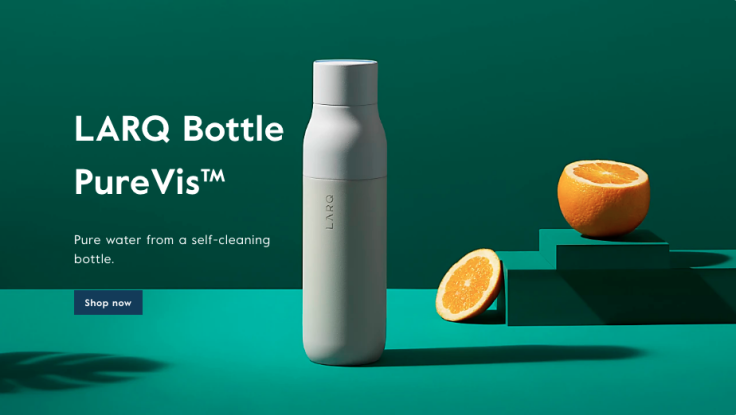 As waste management continues to be a growing global problem, people are encouraged to do their bit in lessening waste. As such, reusable water bottles have grown in popularity as it's a simple way to avoid single-use plastics in our day-to-day life. However, aside from being mindful of the kind of material used for your water bottle, it's also important to keep your water bottle clean. Are soap and water enough to kill all the bacteria?
Here's what makes the LARQ Bottle so popular -- it makes use of the world's first portable digital water purification system. It does this by integrating UV-C LED lights in its design to eliminate 99.99% of contaminants from your water for a safer drinking experience. Interested to know more? Read on.
Is LARQ Bottle Safe?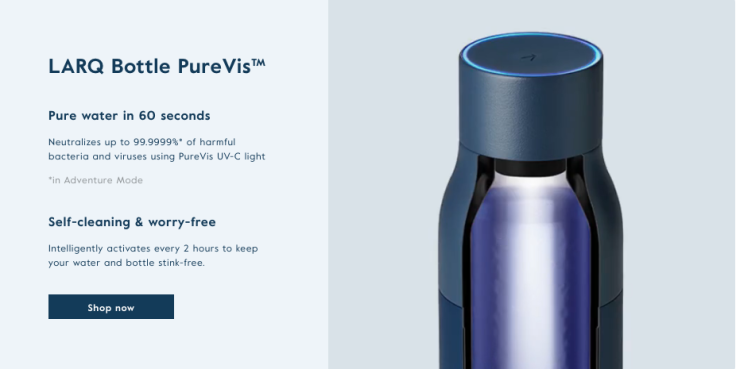 It's incredibly safe. Through its innovative water purification system, the LARQ Bottle eliminates bacteria and viruses by breaking them down at the DNA level, rendering them inactive and unable to grow. Thus, your water becomes safer to drink. Aside from being safe, LARQ Bottles are double-walled insulated bottles that keep your drinks cold for a longer time. *It's important to note that LARQ does not recommend using hot water with its bottles as it may overheat the UV-C.
The bottle also contains a safety mechanism that guarantees the UV-C light only breaks down bacteria while the cap is on to ensure safety.
How does the LARQ Bottle Work?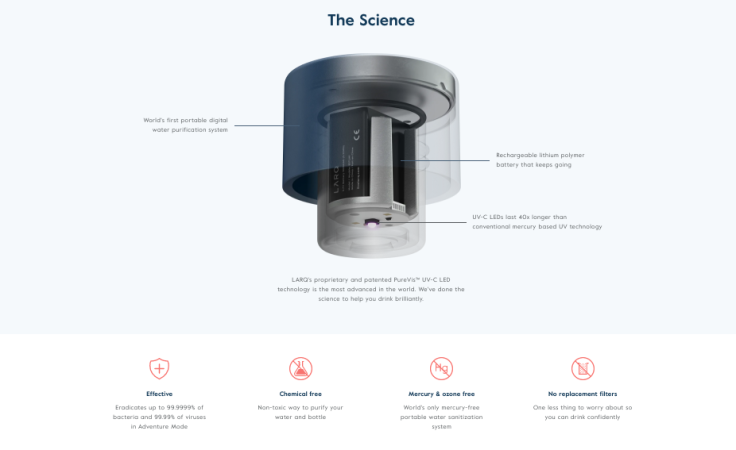 The UV-C technology that the LARQ Bottle uses to sanitize your water is the same technology that hospitals use to sterilize operating rooms. As per studies, UV-C light is capable of breaking down the DNA and RNA structures of harmful bacteria that can survive in water.
The top of the water bottle has a built-in 900 mAh lithium-polymer rechargeable battery, which can be charged via a micro-USB cable that plugs onto the top of the bottle. This battery powers the water purification system, which blasts UVC-light at 280 nanometers inside the unit to eliminate up to 99.99% of bacteria and viruses. Unlike a Brita filtering system, the LARQ bottle doesn't use a filter, eliminating the need to constantly replace them. The BPA-free polished stainless steel build helps the bottle stay clean, while its IPX7 rating means you don't have to worry about it getting wet.
The bottle features two modes -- Normal and Adventure. Normal mode runs the light for 60 seconds and is perfect for daily drinking, while Adventure mode increases the UV-C strength and runs it for 3 minutes. The latter is useful when you're outdoors and you're unsure of how clean the water source is.
To use the bottle, simply touch the button and wait for the UV-C to fully eliminate all germs. One charge should last up to 1-2 months in Normal mode, based on 3-4 cycles daily. For Adventure mode, one charge should last 10-12 days. Thanks to the energy-efficient UV-C LED chip inside, the battery can last up to 100,000 cycles. The charging process is also quick and easy.
Is LARQ FDA-approved?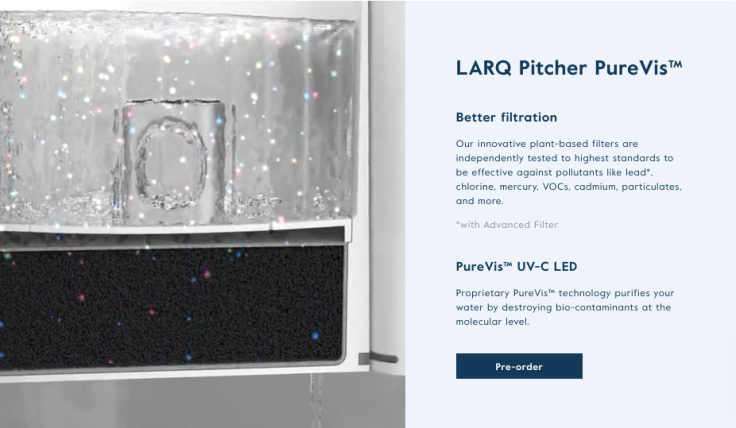 Yes, the bottle, along with its BPA-free polished stainless steel material, is FDA-approved. It's also approved by Harrens Lab, passed FCC standards and is RoHS-compliant.
Based in San Francisco, LARQ started with a vision to develop innovative technology that provides people with sustainable access to clean water.
How Much are LARQ Bottles?
LARQ Bottles are available in three types:
LARQ Bottle PureVis ($95 - in different colors): is the standard self-cleaning bottle that uses UV-C technology to clean your water and is made from double-walled stainless steel to keep your drink cold.
LARQ Bottle Movement PureVis ($78 - in different colors): is a non-insulated but ultra-lightweight bottle that can purify your water on the move.
LARQ Bottle ($35 - in different colors): is a regular triple-wall insulated water bottle without PureVis technology.
Is the LARQ Bottle worth it?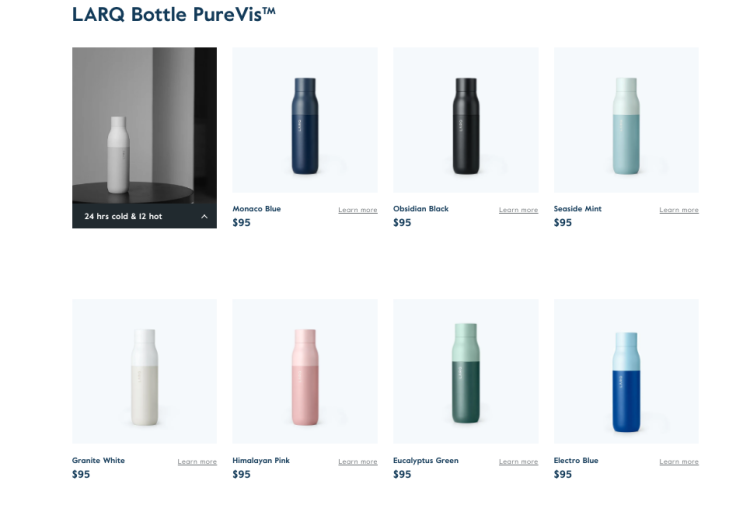 While spending $95 on a water bottle can be a bit pricey for some people, the LARQ Bottle is worth the small investment if you want extra peace of mind.
The LARQ Bottle ensures you always get clean, purified water whether you're at home or out hiking. It is 10,000 times more hygienic than regular reusable water bottles. Additionally, opting for a reusable water bottle helps you cut costs, enabling you to save as much as $1,000 per year compared to buying regular bottled water.
Aside from the LARQ PureVis Bottle, you may also opt for the LARQ Bottle Movement PureVis, which is lightweight and very portable while still making use of UV-C purifying technology.

Buying a LARQ bottle also helps you contribute to a good cause. A part of the company's proceeds goes to help clean up oceans. Ready to get your very own LARQ Bottle? Click here to learn more about LARQ and shop.