Last of Sextuplets Gets a Special Homecoming While Hospital Successfully Delivers Quintuplets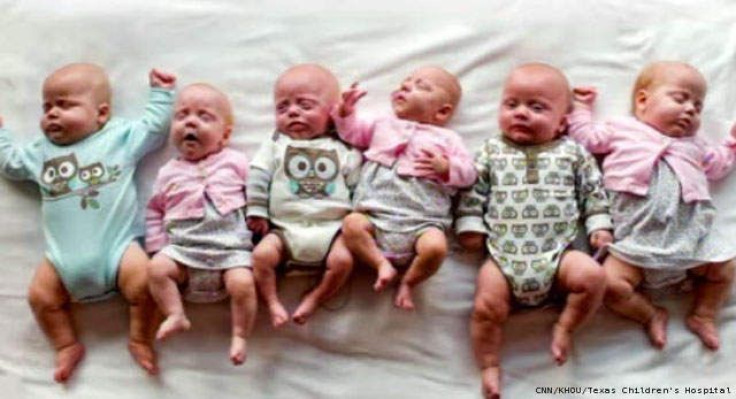 After giving birth to premature sextuplets in April, Lauren and David Perkins now have all six children at home.
In April, Andrew Noah, Benjamin Luke, Levi Thomas, Allison Kate, Caroline Grace and Leah Michelle, weighed between 1 pound 10 ounces and 2 pounds 15 ounces at birth. Today, all sextuplets weigh between a healthy 8 pounds and 3 ounces to 13 pounds and 5 ounces.
Leah Perkins, the last and the smallest of the Perkins clan, was discharged late yesterday afternoon from the Texas Children's Pavilion for Women. The hospital discharged Leah with a special send-off celebration, including everyone who played an integral part in caring for all sextuplets.
Due to Leah's digestive issues, which required two surgeries, she spent four-and-a-half months in the neonatal intensive care unit (NICU).
"We are so excited to finally have all of our children under the same roof. It has definitely been a challenge having to manage our family in two places but we look forward to Leah's homecoming," said Lauren Perkins. "We are very thankful for all of our nurses and physicians at the Pavilion for Women who cared for me throughout my pregnancy, delivered our babies safely and cared for them during their time in the NICU."
While the Perkins' family celebrated Leah's homecoming, the Texas Children's Pavilion for Women celebrated another successful multiple children delivery.
Sarah and Bruce Plauche' welcomed three boys and two girls at 28 weeks. Like the sextuplets, the quintuplets, Owen Parker, Tessa Quinn, Reece William, Miles Shepherd and Corinne Elise (in birth order) required multiple care teams. All babies were taken to the NICU and are currently off of ventilators.
According to Dr. Stephen Welty, chief of neonatology at Texas Children's Hospital and head of newborn section, Department of Pediatrics at Baylor College of Medicine, all quintuplets are critical, however, stable.
As for the Perkins' clan, "Things have been crazy at home, but I feel like I have the babies on a good, manageable schedule. I am so blessed to be surrounded by such a generous community of people that have reached out to us to volunteer their help. I can't tell you how much we appreciate all of the extra hands at feeding times, bath times and in the middle of the night. This is a full time job but we are so blessed that we were chosen to take on this responsibility," Lauren said.
Published by Medicaldaily.com