Lawmakers Want Tougher Vaccine Exemptions Amid Measles Outbreak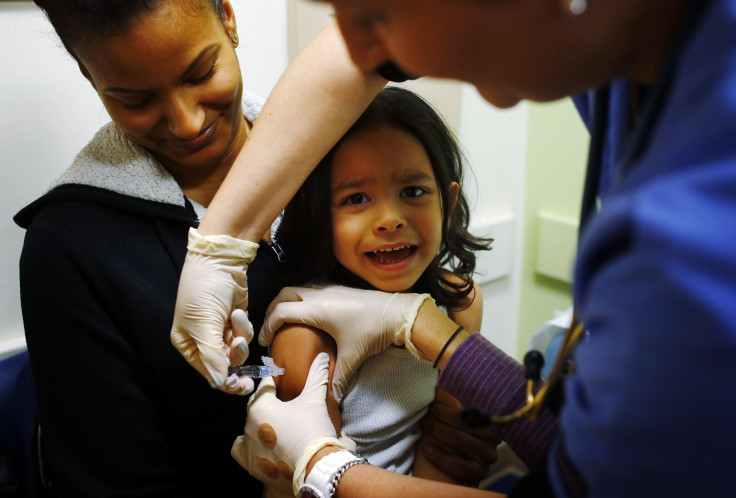 SEATTLE/PORTLAND, Ore (Reuters) - Several U.S. states are considering laws to make it harder for parents to legally opt out of vaccinating their children, as health officials fight a measles outbreak that has sickened some 120 people in more than a dozen mostly West Coast states.
Lawmakers in California, Oregon, and Washington state, which have all had recent measles cases, want to remove exemptions based on personal beliefs, while farther afield, Ohio recently extended a law that covers those entering childcare.
All U.S. states require certain vaccines for students for diseases such as mumps, rubella, tetanus, or polio, but school immunization laws grant exemptions to children for medical reasons, including an inhibited immune system. At least 20 states extend exemptions to include a range of personal beliefs, according to the National Conference of State Legislatures.
"I'm a physician and a mother. I don't want my kids exposed to un-immunized kids," said Oregon Senator Elizabeth Hayward, a Portland Democrat. "These are totally preventable diseases."
Health officials have reported that more than 120 people across the U.S. have been infected with measles, many of them traced to an outbreak that began at a Disneyland theme park in Anaheim in December.
Lawmakers in California, which has 99 confirmed cases, said on Wednesday they would introduce legislation requiring all school children to be vaccinated unless a child's life is threatened.
On Thursday, five babies at a suburban Chicago daycare center were diagnosed with measles. All are under 1 year old and would not have been subject to a routine vaccination, which begins at 12 months.
In Ohio, a law requiring children enrolled in a licensed childcare facility to be immunized against measles and other diseases takes effect in March, a state Department of Health spokeswoman told Reuters.
Oregon, with some of the country's lowest immunization rates, passed a 2013 law requiring parents to obtain a doctor's signature or watch an educational video on vaccination risks and benefits. Colorado forces schools to collect and publish data about vaccination and exemption rates.
"The vast majority of the exemptions currently being used are the personal ones," said Washington state Representative June Robinson.
But some lawmakers are going the other way, backing measures that expand parental freedoms even in the face of mainstream medicine and science supporting vaccinations.
Bills in New York State and Montana would add philosophical and personal beliefs to the current medical exemption, while proposals in Mississippi and West Virginia would add exemptions for "medical reasons or conscientious beliefs" and on religious grounds, respectively.
Debate over vaccinating has even seeped into the 2016 presidential race, with at least two potential Republican candidates in the last week causing a stir after voicing support for giving parents some choice in whether to immunize their children.
(Reporting by Eric M. Johnson in Seattle and Shelby Sebens in Portland, Oregon; Additional reporting by Karen Pierog and Mary Wisniewski in Chicago; Editing by Alan Crosby)
Published by Medicaldaily.com