Lead Found In 20 Percent Of Baby Food Samples, Report Concludes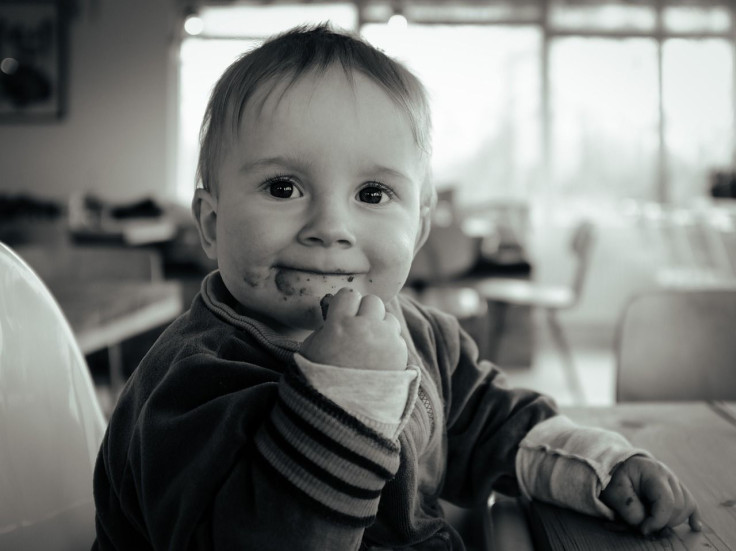 Lead is hiding in at least 20 percent of baby food, according to a new report from the Environmental Defense Fund (EDF).
The nonprofit group looked at 11 years of data collected by the Food And Drug Administration as part of the agency's Total Diet Study. This included more than 12,200 samples of general food as well as baby food.
Read: Flint, Michigan Family Sues City After Water Contamination Causes Toddler's Lead Poisoning
Researchers had data from 2,164 baby food samples, which included 57 different types. The biggest lead culprits were fruit juices, such as grape and apple; root vegetables, including sweet potatoes and carrots; and treats such as Arrowroot cookies and teething biscuits.
"We found that food is a concerning source of young children's exposure to lead," Tom Neltner, EDF Health's Chemicals Policy Director, said in a statement. "While paint and drinking water are the greatest sources of lead in most children living in older homes, all children get some lead from their diet. Even low levels in blood can cause harm. FDA and food manufacturers can and must take action to reduce lead levels in food."
In the report, the EDF recommends a long list of actions to the FDA and manufacturers in order to reduce the risk of lead in food. One suggestion to the FDA is that they update their limits and food safety guidance. Additionally, the EDF suggests manufacturers conduct more frequent tests during the processing of foods. The nonprofit group also encourages parents to take action by asking baby food companies if their products are regularly tested for lead.
Read: Chocolate Manufacturers, Including Trader Joe's And Hershey's, Accused Of Lead Poisoning
Although lead, a naturally occurring element, is found in all parts of our environment, there is no safe level of exposure, according to the U.S. Environmental Protection Agency. Children six years old and younger are especially at risk to the negative health effects of lead exposure, such as behavioral problems, lower IQ, hyperactivity, slowed growth, hearing problems, and anemia. It's less harmful to adults, but they can still experience serious effects from lead exposure such as increased blood pressure, decreased kidney function, and reproductive problems for both men and women.
Lead often makes its way into food from contaminated soil; however, the researchers aren't sure why higher levels were food in baby food compared to general food samples.
"The fact that 55 percent of baby food apple juice samples have detectable levels of lead compared to 25 percent for regular apple juice deserves more examination," Maricel Maffini, a consultant for EDF, said.
See also: A Brief History Of Lead Poisoning: From Ancient Rome To Michigan, Lead Has Plagued Our Bodies For Centuries
Homemade Baby Food Is More Nutritious Than Store-Bought: Does Commercial Baby Food Pose A Health Risk?
Published by Medicaldaily.com