Let's Move!' Challenge: Watch Pres. Obama And VP Biden Tackle Their White House Workout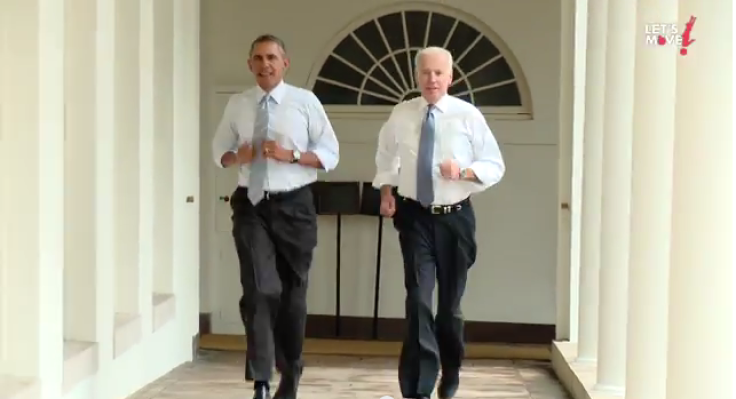 It's nothing out of the ordinary. President Barack Obama and Vice President Biden squeeze in their workout like the rest of us… in a shirt and tie. Don't you? So, it's no wonder when first lady Michelle Obama extended a challenge in honor of the fourth anniversary of her "Let's Move!" campaign, Obama and Biden obliged — right in the comfort of the White House.
"Absolutely, let's do this thing. Let's move," Obama says to Biden as they make their way out in the video. You can see them jogging around the West Wing and outside the White House before returning to the Oval Office, where they cool down with a glass of water. "You did good out there, but after a good workout, you got to drink up," Obama tells Biden. "Otherwise we are going to be in trouble with Jill and Michelle."
Since its launch in February 2010, the first lady's "Let's Move!" initiative has made strides in raising awareness on childhood obesity, despite the fact, just this week, the Centers for Disease Control and Prevention showed that by 2012, childhood obesity has more than doubled in children and tripled in adolescents in the last 30 years. Still, however, a JAMA study released this week showed childhood obesity dropped by 43 percent in the last 10 years in children ages 2 to 5. Some progress is better than none, and the first lady continues to battle the obesity epidemic. On Tuesday, she announced a marketing ban on junk food and sugary drinks in schools across the country.
Published by Medicaldaily.com