Life In The Fast Lane: Indian Daredevil Pulls Yoga Poses On Motorcycle At High Speed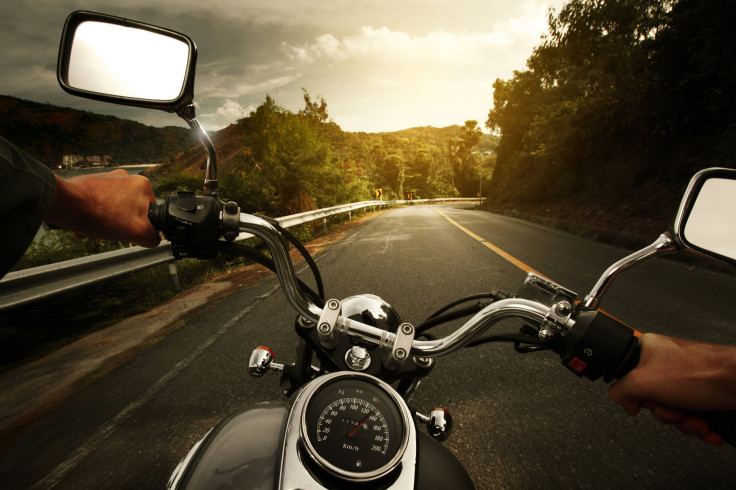 Most people do yoga at the gym, studio, or in the comfort of their own home. But a 40-year-old man from India prefers to do his yoga sessions on the back of his Honda motorcycle at high speeds. Gugulotu Lachiram, a 40-year-old farmer from the Indian state of Telangana, rushes past oncoming traffic and wandering livestock while he's sits, stands, and lays down in yoga poses on his bike.
"I saw people performing dangerous stunts on national television," Lachiram told Barcroft Media. "I thought if they can do it, why can't I? So I started practicing yoga on my bike. I completely love doing stunts on my bike and I will continue to do so for the next 15 years."
The almost fearless Indian daredevil has combined his passion for biking and yoga, and staring death in the face, for the past six years. His need for speed has him hitting about 40 miles per hour, during which he can covers distances of about 3 miles. "I take the risk while I perform and until today I have not had any accidents," he said. "Sometimes I get scared when I perform stunts but it makes me feel happy too."
In yoga, awareness is more important than rushing through a series of poses just to get them done. Practicing these body positions can lead to misalignment, chronic pain, and even surgical replacements if not done properly and with caution. "To be smart and safe in yoga, we need to consider postural alignment and natural joint function, rather than blindly following a list of 'must-do' traditional poses and boot camp challenges," wrote Michelle Edwards, creator of Creator of YogAlign, a pain-free yoga method, in a blog on The Huffington Post. Despite Lachiram's incredible ability to do yoga on high speed motorcycle, it's safe to say yoga and danger don't mix.
The Indian yogi's bike stunts have made him a hero in his hometown, yet several people warning him it's not good for him. Lachiram said people in their 40s and 50s tell him the stunts are dangerous, but the youth appreciate and support him. "They want me to continue performing," he said. However, his son, who is also his biggest fan, says he's proud of him, and that he wants him to continue performing the "brave act."
Lachiram isn't the first yogi to take yoga to new heights. In September, yogi Rachele Brooke Smith complete a yoga move while balancing on a New York City building's ledge. The ledge was barely wide enough to accommodate her foot, as she posed 25 stories above the city. "I did feel safe on that ledge otherwise I would never have done it," she told TODAY Health. "I practice every day and feel extremely confident in the moves that I was doing. It definitely was a little scary being so high but I never felt in any way in danger."
It seems when yoga is presented with stunts, there is a wow factor. But with 20.4 million people practicing yoga in the U.S., safety cannot be stressed enough. The practice can cause a range of injuries among beginners and experienced yogis alike. Yoga is touted for its ability to bring strength, flexibility, and general health.
Published by Medicaldaily.com