Lindsey Vonn Delays Return To Competitive Skiing For Right Knee Surgery Recovery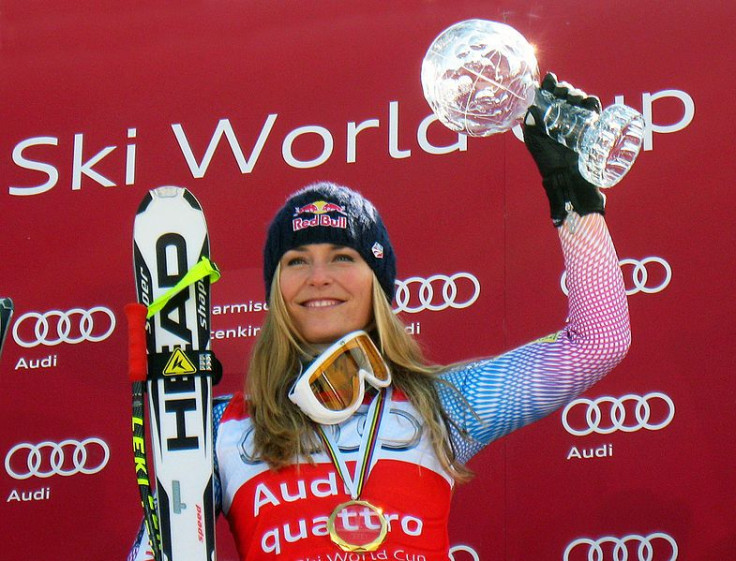 Unexpectedly, America's "Snow Queen," Lindsey Vonn, will not be seen sliding down the slopes at Saturday's World Cup season opener in Austria.
"My training camp in Soelden went very well and I made great progress, but I feel that I need more training before I start racing again," Vonn wrote on her personal website. The 29-year-old Olympic gold medalist is continuing to recover from right knee surgery after landing awkwardly on the Alpine Ski World Championships in Austria in February. Vonn was airlifted from that race to a nearby hospital where she was evaluated and later released, according to the U.S. Ski Team.
The alpine ski racer suffered a complex torn ligament in her right knee: she tore both her anterior cruciate ligament (ACL) and medial collateral ligament (MCL) and had a lateral fracture of the tibial plateau – the upper end of the tibia or shin bone. ACL injuries are the most common injured ligaments of the knee. In addition, about 50 percent of the time these injuries occur in combination with damage to the meniscus, articular cartilage, or other ligaments, says the American Academy of Orthopaedic Surgeons.
A patient who has suffered an ACL tear typivally develops a destabilized knee joint, since the ligament that connects the thighbone (femur) and shinbone (tibia) tears. This type of injury could take two to three months after surgery to fully heal. Unlike ACL tears, MCL tears and tibia break heal on their own for two to four weeks.
Knee injuries are particularly common in alpine ski racing, especially in women. In a study published in the journal Arthroscopy, researchers found knee injuries account for one third of all injuries in adult skiers. Approximately 50 to 70 per 100,000 skiers per day suffer from an ACL injury — a number similar to statistics in American football.
Since August, Vonn has been training in the slopes of the Andes Mountains in Chile to test her knee in preparation for the Soelden race but she felt she wasn't prepared just yet for competitive skiing. "The Soelden race is not in the cards this year. Patience is not my strong suit so not racing is very hard for me but it will only make me more excited for the next one," she explained on her website.
Vonn's knee reconstruction may have cost her the rest of the season but she is still expected to return to the World Cup Championship races in Beaver Creek, Colo., from November 29 to Dec 1, ESPN reports. Vonn continues to prepare for the February Winter Olympics in Sochi, Russia for a chance to win the gold again for the downhill title.
Published by Medicaldaily.com